This gorgeous Grilled Stone Fruit with Mascarpone and Cherry Granola is the ultimate summertime dessert!
I guarantee that your dinner guests will "ooh and aah" when you place this stunning platter on the table – but it will be our little secret that this impressive dessert is very easy to make.
You can use any type of stone fruit in this Grilled Stone Fruit with Mascarpone and Cherry Granola. Right now, our supermarket is loaded with a great selection of yellow peaches, white peaches, nectarines, apricots and Bing cherries – so we used all of them in today's recipe. (But feel free to just use your favorites.)
Simply cut the larger fruit in half and remove the inner stone, and pit your cherries. Then grill the fruit – either indoors on a grill plan or outside on the grill – just until the fruit starts to soften and you have some caramelized char marks on the cut edge.
Then arrange the grilled stone fruit on a platter, sprinkle with some of that delicious Cherry Granola we shared earlier this week, and add dollops of store-bought vanilla mascarpone cheese over the top.
The final touch on this Grilled Stone Fruit with Mascarpone and Cherry Granola is a drizzle of white balsamic reduction over the top.  It adds one more indulgent layer of flavor to this luscious sweet and fruity dessert.
Print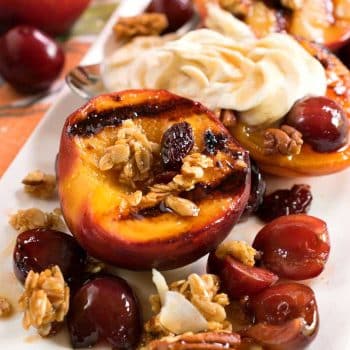 Grilled Stone Fruit with Mascarpone and Cherry Granola
Author:

Prep Time:

15 minutes

Cook Time:

10 minutes

Total Time:

25 minutes

Yield:

8 servings
---
3 fresh ripe yellow peaches
3 fresh ripe white peaches
3 fresh ripe nectarines
3 fresh apricots
1 pint Bing cherries, pitted
Kitchen pan spray
4 cups cherry granola, see recipe here
8 ounces vanilla Mascarpone, sold in most supermarkets
White balsamic reduction (we purchased Alessi brand) or honey
---
Instructions
Cut each stone fruit in half and remove the stone. (When cutting, follow the natural line of the fruit). Do this by making the cut all the way around then twisting each half in opposite directions. If the fruit is not perfectly ripe, the fruit may not separate. If this happens, use a paring knife to separate each half from the stone.
Heat a large ribbed grill pan to medium heat.
Spray the cut tops of each fruit as well as the grill pan and grill for 3-4 minutes cut side down to get nice grill marks. Remove to a platter cut side up.
If you haven't pitted the cherries, do that now and place them on the same hot grill and grill for about 3-4 minutes or until slightly charred.
Pour the cooked cherries over the cooked cut fruit in a random pattern.
Sprinkle the cherry granola over the fruit letting it spill out onto the platter.
Place the mascarpone in a pastry bag with a star tip and squeeze out over the platter in an attractive design.
Finally drizzle the balsamic reduction or honey over the entire platter and serve.
---
Disclosure: This post contains affiliate links:


You may also like: