Thank you to OXO for providing us with a complimentary set of the cooking tools featured in this post.  All opinions expressed are 100% mine. #WHATAGRILLWANTS

Happy July everyone!!
In honor of National Grilling Month, we're starting things off by sharing one of our go-to meals during the summer – Grilled Steak and Corn Salad!  This salad is super flavorful and easy to prepare – making it a perfect summertime family meal-in-one!
We're also teaming up with OXO today to show you some of their awesome, functional cooking and grilling tools in action so summer meals like this one are even easier to prepare!
When it comes to grilling steak – sometimes simple seasonings are best!  Sure – we love a good marinated steak sometimes, but when your steak is tender already, just a simple seasoning of salt and pepper is all you really need to make a steak taste great!  For our grilled steak and corn salad, we simply seasoned then tenderized a petite sirloin using OXO's Bladed Meat Tenderizer
.  This handy tool is something that everyone should really have in their kitchen!  It does a great job tenderizing even inexpensive cuts of beef (like the beef we used in this recipe) and that's great for any family budget!
Next, use OXO's Silicone Basting Brush
to brush some olive oil on the steak before grilling so it doesn't stick while it cooks.
All of the cooking for this salad is done on the grill – making cooking and clean up easy (and you won't have to heat up your kitchen on a hot summer day)!
At the same time the steak is grilling, also grill your corn!  (Those OXO 16-Inch Tongs
are perfect for grilling too – their longer length allows you to reach the grill without having to get too close to the heat!)
Then – once the corn has cooled a bit, peel the charred corn husks away and use OXO's Corn Stripper
to cut the kernels off the corn.  (It's so easy with this tool – and the kernels collect in the little compartment rather than bouncing all over your counter top!)
Slice your cooked steak into strips once it has had a chance to rest and add it to a salad made from crisp salad greens, the grilled corn kernels, olives, tomatoes, some crumbled blue cheese and some hearty homemade croutons.  Then pour on some of our simple red wine vinaigrette that you've mixed up in OXO's convenient OXO Good Grips Little Salad Dressing Shaker
and serve.
Your family will love this salad!
Print
Grilled Steak and Corn Salad
Prep Time:

30 mins

Cook Time:

15 mins

Total Time:

45 minutes

Yield:

4-6 servings
---
Description
*Using a tenderizer like the one from OXO gives you some leeway when it comes to the quality of the steak. We used a fairly inexpensive cut of meat which was about half the price of a full sirloin steak. The tenderizer was used to pierce the meat and the resulting steak was juicy and tender.
---
3

ears fresh unhusked corn on the cob

1 ½

pounds petite sirloin (*see note above)
Salt to sprinkle on steak
Freshly ground black pepper to sprinkle on steak
Olive oil to brush on steaks

6 ounces

salad greens of your choice

½ cup

oil cured olives (we used Pastene brand)

1 cup

grape or cherry tomatoes
Hearty Homemade Croutons, see recipe here

½ cup

crumbled blue cheese
Simple Red Wine Vinaigrette, see recipe here
---
Instructions
Peel husks back from corn but not off and remove silk. Then wrap husks back up. Place corn cobs with husks in a large bowl or your sink and cover with water. Use a heavy pan to submerge them and let them soak for 30 minutes.
Heat grill to medium high heat.
Place corn in husks on grill and cook for about 10 minutes, turning every few minutes. Depending on your grill, this may take longer. Remove to a platter and remove husks. Using OXO's Corn Stripper, remove kernels and set aside.
Heat grill to scorching hot.
Liberally salt and pepper both side of steaks.
Using OXO's Bladed Meat Tenderizer, pierce meat in several places on both sides. Then brush both sides with olive oil using the OXO Silcone Basting Brush.
Using the OXO 16″ Tongs, place the steaks on the hottest part of your grill and grill to your preferred level of doneness. (Our steaks were about 1 ½ inches thick and they took about three minutes on each side for medium rare.) Remove steak to a platter and let rest for ten minutes.
While steak is resting, start assembling salad with greens, corn, olives, tomatoes, croutons and blue cheese.
Once steak has rested, cut against the grain on the bias to about ¼ inch to ½ inch wide slices and layer across top of the salad.
Finally dress the salad with the simple red wine vinaigrette using the OXO Little Salad Dressing Shaker and serve.
---
Disclosure: This post contains affiliate links.
You may also like these other recipes featuring OXO products:
Fall Harvest Vegetarian Corn and Butternut Chowder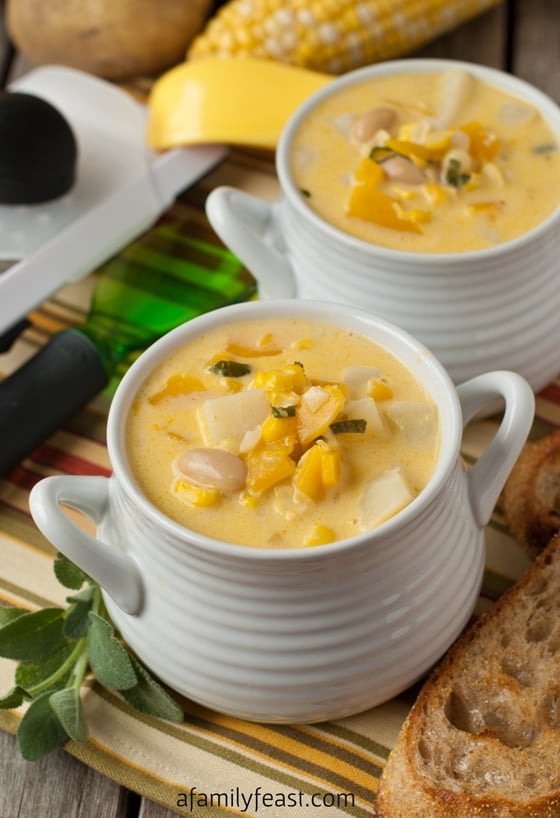 Soft Pumpkin Chocolate Chip Cookies