This sweet and sour Green Tomato Relish is the perfect way to use up end-of-season, green garden tomatoes.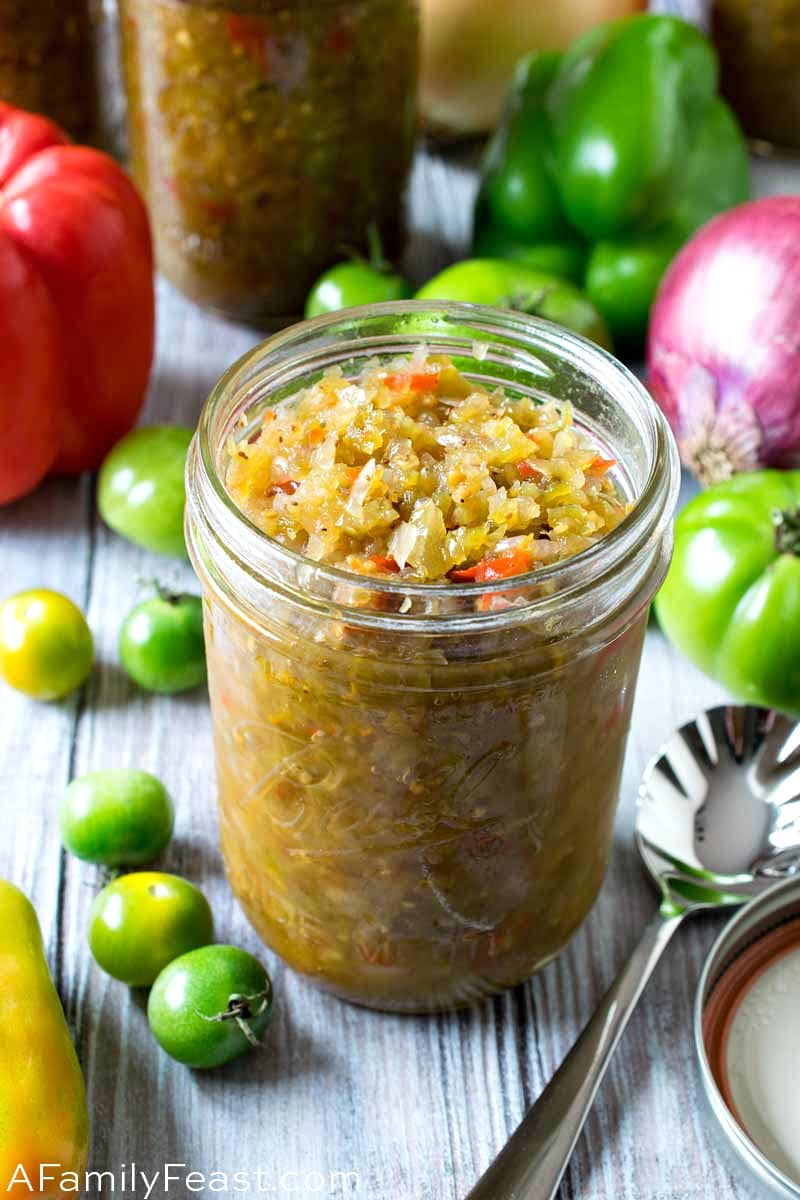 We've been enjoying a warm, mild Fall season here in New England. With such warm weather over the last month, our backyard garden tomato plants have still been producing fruit – although most of the tomatoes were still green.
But cooler temps – and the first major frost – finally hit us this week. So, before the impending frost killed the garden, my husband Jack gathered up all of the green and slightly-ripe tomatoes off the vine. Then, he challenged me to come up with some way to cook with them.
We've made some great green tomato recipes already – a classic fried green tomato recipe, a creamy and delicious green tomato soup with Black Forest ham, and even a green tomato salsa recipe we were given by a neighbor. (All great options!)
Then I found this Green Tomato Relish recipe, and I decided to give it a try. We had quite a few green tomatoes to use up (7 pounds!) and this recipe makes a big batch. But if you have fewer green tomatoes on hand, feel free to cut this recipe back to make a smaller quantity.
How do you make Green Tomato Relish?
It's actually quite easy! You'll finely chop green tomatoes, red and green peppers, as well as yellow and red onions in a food processor. Place in a large strainer, then sprinkle with canning salt – a pure salt that doesn't include any of the anti-caking ingredients that are in table salt. (Affiliate Link: You can buy canning salt online, but -FYI – a box is only a couple of dollars at stores like Walmart.) Let the vegetables drain for a few hours and give up their liquid.
Then simmer the chopped vegetable mixture in a pickling liquid of apple cider vinegar, sugar, celery seed and mustard. Once the mixture cooks and thickens (after about 30 minutes) ladle it into canning jars and process in a water bath for about 15 minutes.
A few helpful tips and tricks when making this Green Tomato Relish
As mentioned above, this recipe makes a large batch (8 to 10 pints) so you'll need a large stock pot for cooking the mixture. A 12-quart stock pot or dutch oven will work great.
We really recommend using a food processor to finely chop the vegetables for this relish. (I suppose you could chop by hand – but it will take you a long time!) Even using a larger, 14-cup food processor, it took us several batches to chop all of vegetables.
You'll need a large strainer (even two!) to strain all of the vegetables of their liquid.  We have a strainer similar to this one and it worked perfectly.
Place the strainer over a taller bowl or pot, leaving enough space under the strainer so that the liquids will drain out below. Avoid having the bottom of strainer sit in the liquid – it will just slow the draining process.
Use a large spoon or even a smaller, mesh strainer with handle to press the vegetables down in the strainer – this will release the liquid more quickly.
The original recipe gave a yield of 8 pint jars – but we filled 10 pints of green tomato relish ourselves (our onions were very large) so have a few extra canning jars on hand, just in case the yield varies.
This recipe is very forgiving – so you can change up the quantities of onions, peppers and tomatoes a bit, based on what you have on hand.
How do I serve Green Tomato Relish?
This Green Tomato Relish has a nice sweet and sour kick to it – so the sky's the limit. It's great on hot dogs or hamburgers (of course). I added a spoonful as a topping to tossed salad. And, another idea is to add relish to your favorite meatloaf recipe for a nice savory kick of flavor.
You may enjoy these other green tomato recipes:
Print
Green Tomato Relish
Author:

Prep Time:

4 hours

Cook Time:

50 minutes

Total Time:

4 hours 50 minutes

Yield:

8-10 pints

Category:

condiment

Method:

canning

Cuisine:

American
---
7 pounds green tomatoes (we used a variety of green cherry/grape, beefsteak and Roma tomatoes – no need to peel or remove the seeds), cut into quarters (cherry tomatoes can be left whole)
4 large yellow onions, skin and root ends removed and cut into wedges
2 large red onions, skin and root ends removed and cut into wedges
3 large green bell peppers, stem, seeds and core removed and cut into wedges
2 large red bell peppers, stem, seeds and core removed and cut into wedges
4 teaspoons canning salt
5 cups apple cider vinegar
4 cups granulated sugar
2 tablespoons celery seed
4 teaspoons mustard seed
---
Instructions
In a food processor, process tomatoes, onions, and peppers in batches until finely chopped. (We found it easier to get more uniform chopping if we didn't mix the vegetables together in the food processor.)
Combine vegetables in a large bowl and stir in canning salt. Divide the vegetable mixture in two large strainers, and place the strainers over a deep bowl to drain – being careful to avoid having the bottom of the strainer sit in the drained liquid.
Let the vegetables sit for about 3 hours to drain. If you'd like, use the back of a large spoon or the back of a smaller mesh strainer with handle, press on the vegetables and encourage them the drain more quickly.
Discard liquid that the vegetables released during the draining process. Pour drained vegetables in a large 12-quart stockpot. Add in vinegar, sugar, celery seed and mustard seed, then stir to combine.
Bring mixture to a boil. Reduce heat to a moderate simmer and cook uncovered for 30 to 35 minutes, stirring frequently. The mixture should be thickened with most of the liquids simmered off.
While the relish mixture is simmering, prepare a boiling water bath canner. Heat pint jars in simmering water until ready to use. Wash lids and bands, as well as a ladle and funnel with warm, soapy water. Set aside until ready to use.
Once the relish mixture has simmered and thickened, carefully ladle the hot relish into the prepared pint jars, leaving a ½-inch head space. Remove air bubbles and wipe rims clean. Place lids on the jars; screw on bands until finger tight.
Place jars in water bath canner with simmering water, making sure that the top of the jars are covered with water. Bring to a boil and process for 15 minutes. Carefully remove jars and cool on a rack – checking to make sure that the jars are sealed once cool.
---
Keywords: green tomato relish