My husband's creative outlet is cooking and this Glazed Fig Salad with Prosciutto and Feta Cheese is one of his recent creations.  We had a random collection of ingredients in the refrigerator – so Jack does what he does best and created this fabulous salad!
The fresh salad greens are first lightly tossed with our Favorite Vinaigrette.  Then the salad is topped with figs in a rich and sweet reduction of balsamic vinegar and jam, as well as toasted walnuts, a little bit of salty prosciutto, pineapple chunks and tangy but creamy feta cheese.  This salad is a wonderfully fresh burst of flavors in your mouth.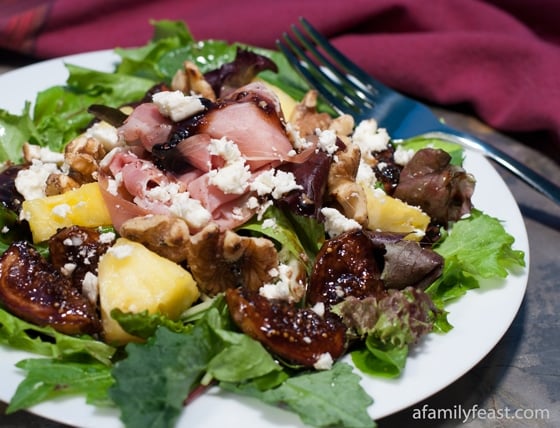 While I'm more of a planner when I cook, Jack has a talent for creating great meals out of whatever ingredients he can find in the kitchen.  So much so, that we refer to impromptu meals (that turn into winning recipes!) like this as "A.I." – our code name at home for "Available Ingredients."  When Jack tells me we're having "A.I." for dinner – I never quite know what to expect, but it's usually pretty delicious!
What are some of your favorite "A.I." dishes?  We'd love to hear about them!
Print
Glazed Fig Salad with Prosciutto and Feta Cheese
Prep Time:

10 mins

Cook Time:

10 mins

Total Time:

20 minutes

Yield:

2-4 servings
---
8

ripe Mission figs tops cut off and figs quartered

1 ½ tablespoons

balsamic vinegar

3 tablespoons

fig jam

½ cup

pecans or walnuts, your choice
Baby greens or salad mix of your choice
Favorite Vinaigrette (see recipe here)

¼

pound thinly sliced and roughly chopped prosciutto

½ cup

fresh pineapple cut into chunks (canned may be substituted)

¼ cup

feta cheese
---
Instructions
Place figs, vinegar and jam in a small saucepan and heat gently for 3-4 minutes, spooning liquid over quartered figs. Remove from heat and set aside.
Dry toast the pecans or walnuts in dry fry pan for 3-4 minutes over medium heat until lightly browned. Set aside.
In a medium bowl, mix greens with a small amount of vinaigrette (just enough to coat).
Place dressed salad on salad plates. Place a pile of prosciutto in center. Arrange fig quarters, pineapple chunks and nuts around plate. Drizzle remaining fig sauce over each salad and top with feta cheese.
---
You may also like:
Mixed Greens with Pear, Goat Cheese, Dried Pecans and Spiced Pecans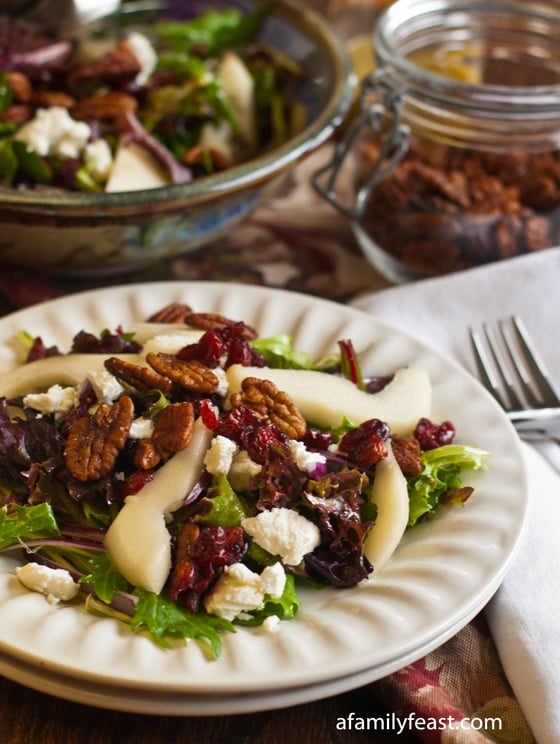 20+ Sensational Healthy Salads