Today's recipe for Crispy Apple Crusted Pork Chops is a delicious and different way to enjoy the delicious flavors of the season!
Thick boneless pork chops (we used thick two-inch chops) are first coated in a flavorful mixture of applesauce, mayonnaise, mustard and honey – then dipped in a wonderful crumb coating made from crispy apple chips
and Grape-Nuts cereal plus other herbs and seasonings!   The wet coating helps keep these chops tender and juicy as they bake, and the apple crumb mixture is a surprisingly sweet, savory and crunchy coating!
The crispy apple chips we used in this recipe are available in most grocery stores. At our local market, we found them in the produce aisle near the fresh apples, but we've also found them in the snack aisle as well as the health food aisle. (If you can't find them locally, try here
.)
These crispy apple crusted pork chops are the perfect family dinner for the fall! Enjoy!
Print
Crispy Apple Crusted Pork Chops
Prep Time:

15 mins

Cook Time:

40 mins

Total Time:

55 minutes

Yield:

2-4 servings
---
Description
If you decide to use sweetened apple sauce, you may omit the agave or honey.
---
2

2-inch boneless pork chops (

1 ½

to

2

pounds total)

4 ounces

Crispy apple chips (find them hereone !important;margin: 0px !important" src="http://ir-na.amazon-adsystem.com/e/ir?t=afafe-20&l=as2&o=1&a=B00CF5C10K" alt="" width="1″ height="1″ border="0″ />)

1 cup

Grape Nuts cereal

1 teaspoon

dry thyme

¼ teaspoon

celery salt

¼ teaspoon

freshly ground black pepper

¼ teaspoon

garlic powder

1

4-ounce container of unsweetened (natural) apple sauce (see note)

½ cup

mayonnaise

½ teaspoon

sriracha

½ teaspoon

Worcestershire sauce

½ teaspoon

Dijon mustard

½ teaspoon

Agave nectar or honey
Non-stick cooking spray
---
Instructions
Preheat oven to 425 degrees.
Trim pork chops of any visible gristle or large pieces of fat.
In a small food processor (like this one) or with a mortar and pestle, pulverize the apple chips and Grape Nuts to a fine crumb. Add thyme, celery salt, pepper and garlic powder. Mix to combine and pour out onto a dinner plate or pie plate.
In a small bowl combine apple sauce, mayonnaise, hot sauce, Worcestershire sauce, mustard and agave or honey. Pour out onto a dinner plate or pie plate.
Spray a 9×13-inch baking dish with non-stick cooking spray.
Dry pork chops with a paper towel and dip into mayonnaise mixture coating all sides. Then dip into Grape Nuts mixture pressing on all sides to stick. Place into prepared baking dish. Repeat for second pork chop.
Spray breaded pork chops on tops and sides with cooking spray and place uncovered in the oven.
Bake for 30 – 40 minutes depending on the thickness of your chops. Do the poke test in the center. If it bounces back it is done. If you are not sure, insert a probe thermometer in from the side. The safe cooking temperature of pork according to the USDA should be 145 degrees which has been lowered from the long time cooking temperature of 160 degrees. The meat will still be slightly pink but don't worry – it is safe to eat and will be nice and juicy.
Allow the chops to rest for ten minutes before carving. Serves slices cut on the bias or if you are feeding very hungry large men, serve one pork chop per person.
---
Disclosure: This post contains affiliate links.
You may also like: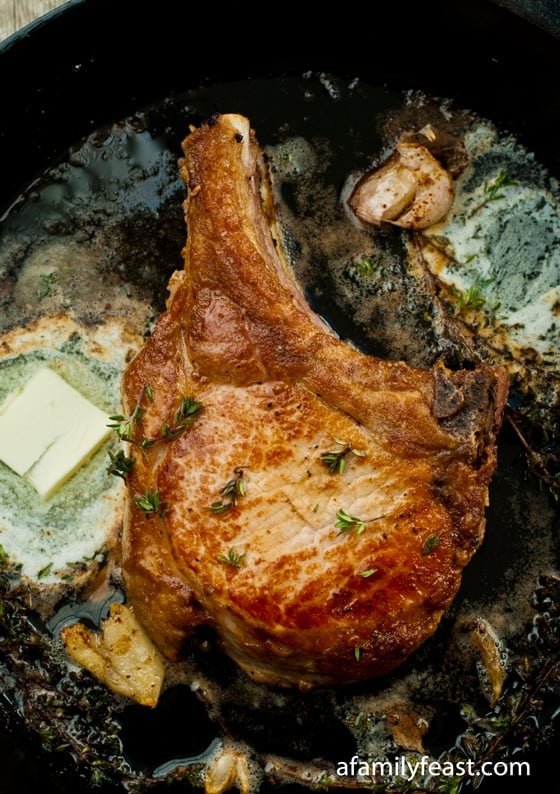 Herb Crusted Grilled Pork Tenderloin with Crispy Shallots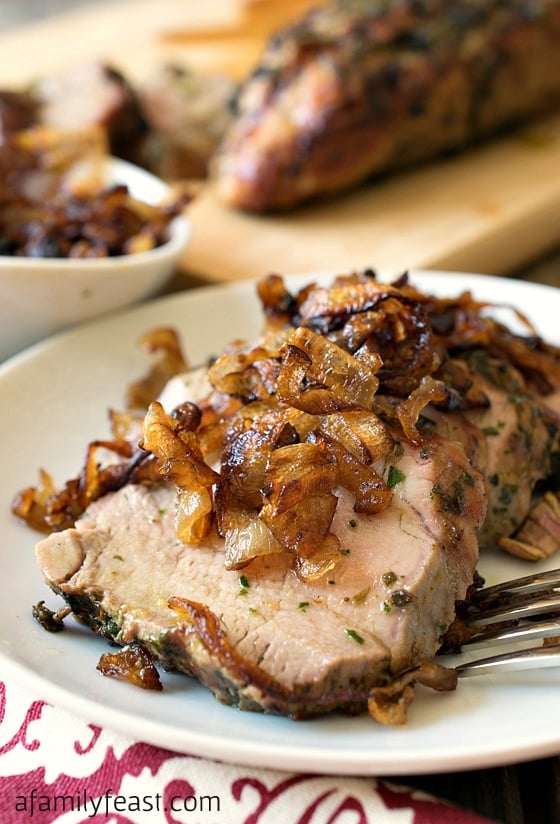 Pork Tenderloin with Pomegranate Pan Sauce