Creamed Tuscan Kale is delicious comfort food that's loaded with healthy Tuscan Kale.
My husband Jack loves Tuscan kale – so much so that he decided to grow it in our backyard garden this summer.
As the leaves on the Tuscan kale plant grow to be about 12 inches in size on the stalk, he harvests them by cutting off the large leaves, leaving the smaller leaves to grow in behind.
So far, we've had three good-sized 'harvests' from each our 16 garden plantings – and this easy Creamed Tuscan Kale is our latest way to prepare this healthy and delicious green vegetable.
What is Tuscan kale?
Tuscan kale is also known as Lacinato, dinosaur, or black kale, and it has dark green, thick, ridged leaves with almost a curly appearance. It's more tender than the curly green and red kale varieties, and we think it has a better flavor too.
You can actually eat Tuscan kale raw, so it's a great addition to salads. But most of all, we enjoy it cooked until just tender, and this Creamed Tuscan Kale will make any person a fan of Tuscan kale.
How to you make Creamed Tuscan Kale?
After removing the leaves from the stems, coarsely chop your Tuscan kale into bite-sized pieces. Thoroughly rinse, then drain the kale.
In a large skillet, saute shallots, garlic and a pinch of red pepper flakes in oil. Then add the rinsed kale to the pan to wilt.
Next, add heavy cream, salt and pepper, plus little bit of freshly ground nutmeg and cover, then cook for a few more minutes. Remove the lid of the skillet and simmer for a few minutes more to thicken the cream sauce, then top off with some freshly grated Parmesan cheese.
This delicious, rich Creamed Tuscan Kale will make anyone a fan of Tuscan kale!
You make like these other Tuscan kale recipes:
Print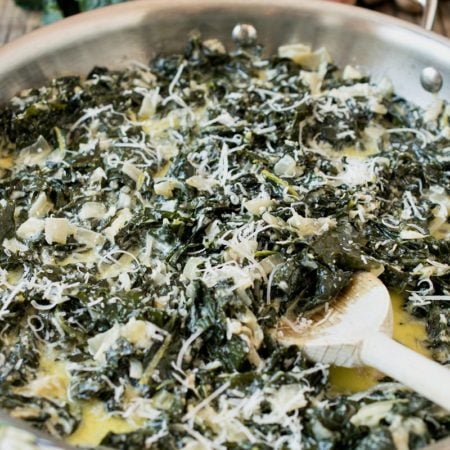 Creamed Tuscan Kale
Author:

Prep Time:

30 minutes

Cook Time:

30 minutes

Total Time:

1 hour

Yield:

8 servings

Category:

side dish

Method:

sauteed

Cuisine:

Italian
---
Ingredients
1 pound cleaned Tuscan kale leaves (start with two pounds to yield one pound cleaned)
3 tablespoons extra virgin olive oil
4 ounces shallots, trimmed and cut into half inch pieces
1 tablespoon minced garlic
Pinch red pepper flakes, optional
2 cups heavy cream
1 teaspoon kosher salt
½ teaspoon freshly ground black pepper
¼ teaspoon freshly ground nutmeg
1 cup freshly grated Parmesan cheese, plus more for serving
---
Instructions
Trim the leaves from the kale by grabbing the leaves starting on the thick stem end and pulling down gently. This will strip the leaves from the stem.
Discard the stems and coarsely chop the leaves then place in a strainer and thoroughly rinse with cold water. Let the strainer sit over the sink while you prepare the other ingredients.
In a very large skillet or saute pan, heat olive oil over medium and once hot, add the shallots, garlic and optional red pepper flakes. Saute for five minutes stirring often. The shallots should be soft but not browned.
Add the wet kale and saute and toss with the cooked shallots, then cook to wilt the kale, about two minutes.
Add the cream, salt, pepper and nutmeg, lower heat to medium low, cover and cook for three minutes.
Uncover and cook for two more minutes then add the Parmesan cheese and remove from heat.
Taste and serve with additional Parmesan cheese.
---
Keywords: creamed Tuscan kale