We're sharing this delicious recipe for Creamed Turkey on Toast as part of a sponsored post for McCormick Gourmet.
Every week or so, my husband Jack and I sit down together to brainstorm recipe ideas to share here on A Family Feast! In the weeks leading up to this holiday season, we've both been reminiscing about many of the recipes that our parents used to cook for us back when we were kids!
Both Jack and I each have fond memories of our mothers making Creamed Turkey on Toast as a way to use up leftover turkey after Thanksgiving! Both versions were served over sliced white bread (that's what we all ate back then…) but Jack's mother's version used leftover gravy, while my mother made a simple, seasoned white sauce.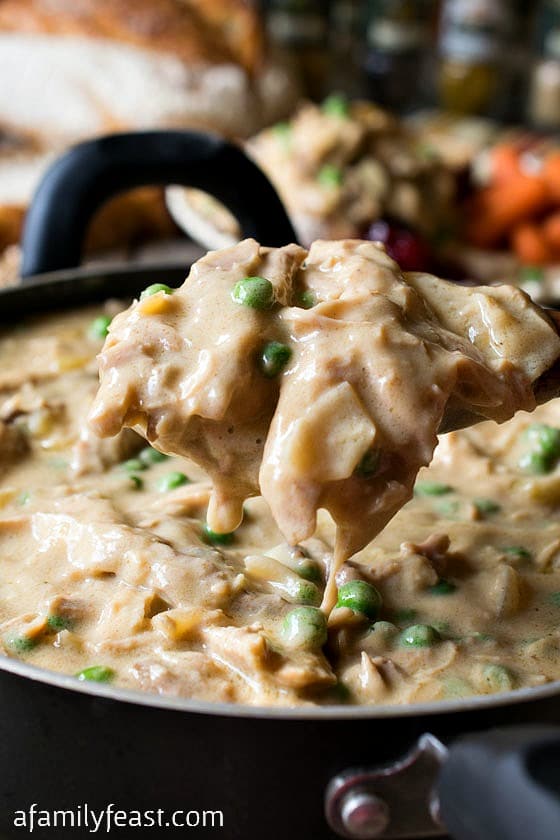 We both loved Creamed Turkey on Toast (talk about pure comfort food!) so we were excited to try making an updated version of a favorite childhood meal! Today – as home cooks and food bloggers – we are so lucky that McCormick Gourmet offers a great variety of different spices and seasonings, and we can make a long-time family favorite recipe even better!
Our updated version of Creamed Turkey on Toast follows the lead of my mother and starts with a thick and creamy white sauce that we've seasoned with McCormick Gourmet's Nutmeg, White Pepper, Onion Powder, and California Garlic Powder, plus a little bit of Curry Powder for a wonderful depth of flavor! We also added some green peas to our recipe – but adding them is optional.
What's also great about this Creamed Turkey on Toast recipe is that you can change up the spices and seasonings to suit your own preferences! In fact, you can create your own FlavorPrint profile at McCormick.com/FlavorPrint and discover your own favorite Thanksgiving (or Thanksgiving leftovers) recipes!
And for more family recipes, be sure to also visit McCormick's American Homemade – their salute to American home cooks and the regional and cultural diversity that makes all of their homemade recipes so unique and flavorful! It's a great resource for recipes along with heart-warming family stories!
Print
Creamed Turkey on Toast
Prep Time:

15 mins

Cook Time:

30 mins

Total Time:

45 minutes

Yield:

6-8
---
Description
For a slightly thinner consistency, use ½ cup of flour instead of the ¾ cup noted in the recipe. Also, feel free to use 1 quart of half & half instead of the cream and milk.
---
1 quart

of turkey or chicken stock

2

pounds cooked turkey or chicken meat

2 cups

heavy cream (see note above)

2 cups

whole milk (see note above)

1

stick butter

½

pound onion sliced into thick half moons (about

one

medium to large onion)

¾ cup

flour (see note)

1 teaspoon

kosher salt

¼ teaspoon

freshly grated McCormick Gourmet Nutmeg

½ teaspoon

McCormick Gourmet Dry Mustard

¼ teaspoon

McCormick Gourmet White Pepper

¼ teaspoon

McCormick Gourmet Onion Powder

¼ teaspoon

McCormick Gourmet Garlic Powder

¼ teaspoon

McCormick Gourmet Curry Powder

2 cups

frozen green peas, thawed
Unsliced white or hearty country bread
---
Instructions
The stock needs to reduce down from one quart to three cups so place on stove and simmer until reduced.
If you have part of a turkey leftover and are using the meat from that for this recipe, place the whole carcass in with the stock. It will help soften the meat so you can remove it from the bone. This step is only an option if you don't already have the two pounds of cooked turkey or chicken and are picking meat from a turkey or chicken.
Once the stock has reduced, add milk and cream and heat just until hot. Keep warm over low heat.
In a large skillet, melt butter over medium and add onions. Cook until translucent and no longer crunchy.
Add flour and cook for three minutes.
Add stock and cream mixture one third at a time to the skillet, stirring each time with a wire whip.
Once all of the liquid is in, add salt, nutmeg, mustard, pepper, onion powder, garlic powder and curry powder.
Cook over low heat for a few minutes and add cooked turkey or chicken shredding as you add.
Bring up to hot but be careful not to scorch.
Add frozen peas, stir and hold over low heat while you slice and toast the bread.
Slice bread into thick slices and lightly toast.
To serve, place single slices of toast on dinner plates and top with a generous portion of the creamed chicken.
Great served with steamed carrots.
---
You may also like these other great recipes using McCormick Spice:
Garlic Lemon Shrimp with Savory Root Vegetable Rice Pilaf