Chicken Carbonara Spaghetti Pie has a bottom spaghetti crust, topped with a fantastic chicken carbonara filling.
Ever since we shared our earlier spaghetti pie recipe, I've been dreaming about all sorts of other delicious flavor combinations that we could turn into a spaghetti pie.  This Chicken Carbonara Spaghetti Pie went to the top of the list!
Chicken Carbonara is, hands down, one of my all-time favorite pasta dishes. And the same creamy, cheesy chicken and bacon sauce makes a great filling for this Chicken Carbonara Spaghetti Pie!
How do you make Chicken Carbonara Spaghetti Pie?
You'll start off by cooking spaghetti, just shy of al dente. (The pasta will continue to cook as you bake your Chicken Carbonara Spaghetti Pie, so it should still be a bit chewy.)
Combine the cooked spaghetti with melted butter, Romano cheese, and eggs – then form it into a crust in the bottom of a deep dish pie plate. Refrigerate until firm.
Next, cook up some bacon – reserving some of the rendered bacon fat, which you'll use to cook up onions, red bell pepper, and garlic. Next add chopped chicken to cook along with the sautéed vegetables.
Then, you'll create a luscious, creamy white sauce – and add the cooked chicken mixture to the sauce, along with the cooked bacon and some melty Fontina cheese.
Now – you're ready to assemble your Chicken Carbonara Spaghetti Pie. Spoon some ricotta cheese over the spaghetti crust, then pour the cheesy chicken carbonara on top. Bake for about 40 minutes, then top with some shredded mozzarella cheese – and bake again until the top is melted and golden brown.
How do I serve Chicken Carbonara Spaghetti Pie?
After your Chicken Carbonara Spaghetti Pie comes out of the oven, let it sit (covered with foil) for a good 20 minutes or so. This will allow the pie to set up a bit before slicing.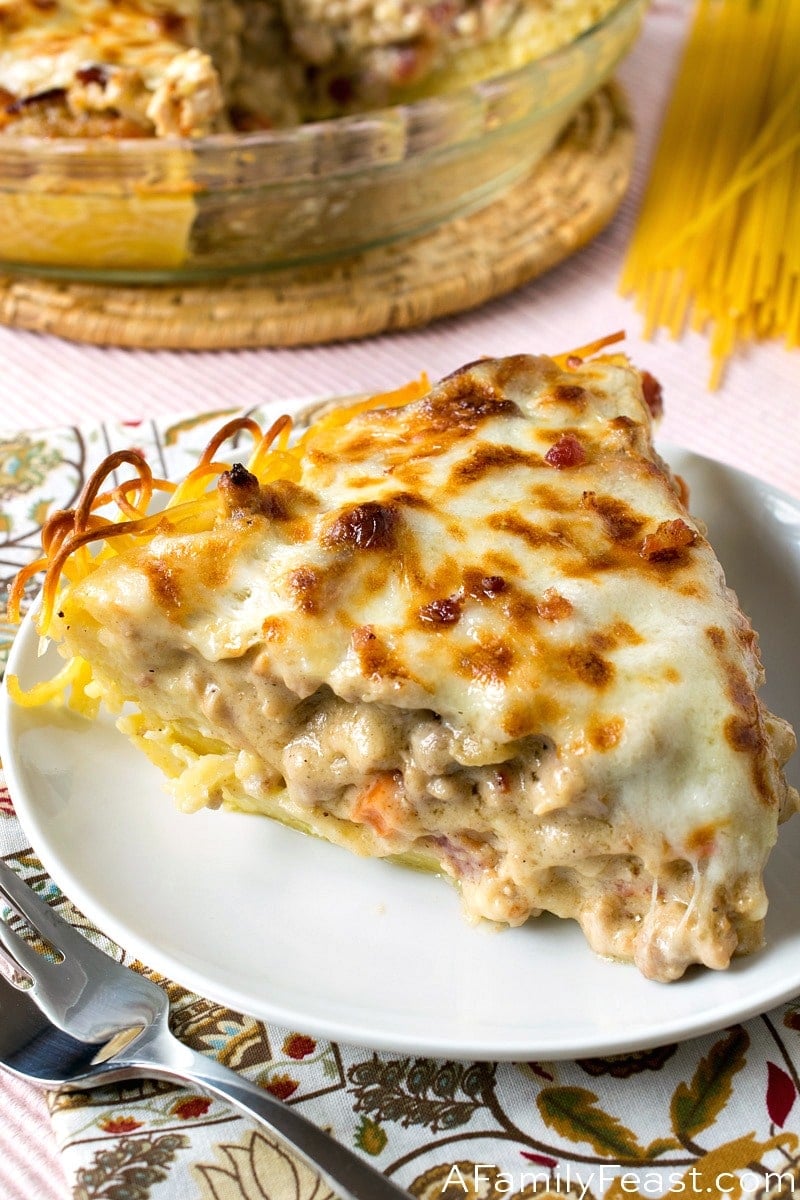 Then, serve your Chicken Carbonara Spaghetti Pie with a nice salad on the side.
 You may enjoy these other Pasta recipes:
Print
Chicken Carbonara Spaghetti Pie
Author:

Prep Time:

30 minutes

Cook Time:

1 hour

Total Time:

1 hour 30 minutes

Yield:

8 servings

Category:

pasta

Method:

baked

Cuisine:

Italian
---
Butter, to grease a 10" pie plate
8 ounces dry spaghetti
2 tablespoons butter, melted
½ cup Romano cheese, grated
2 whole eggs, beaten
8 ounces bacon (about 8 slices), divided *see Note below
1 ½ pounds raw boneless chicken (mix of white and dark)
½ cup onion, diced
Half a red bell pepper, diced
1 tablespoon fresh garlic, minced
1 cup whole milk
1 cup heavy cream
1 egg yolk
2 tablespoons butter
4 tablespoons all-purpose flour
½ teaspoon kosher salt
½ teaspoon freshly ground black pepper
¼ teaspoon dry mustard
Few grinds of nutmeg
1 cup Fontina cheese, shredded on large holes of box grater
1 cup ricotta cheese
1 cup shredded mozzarella cheese
---
Instructions
Butter a 10" deep dish pie plate.
Preheat oven to 350 degrees F.
Cook spaghetti, two minutes short of package directions, in salted water. It still should be a bit chewy. Drain and rinse under tap water to stop cooking. Pour back into the pan after cooled and drained.
Add melted butter, Romano cheese and the two eggs to the cooked spaghetti and mix to combine then pour into the prepared pie plate. Press down and up the sides. Place a parchment circle or plastic wrap over top and press another pie plate down so that it forms a depression. Weight the top plate down and refrigerate while you prepare the remaining ingredients.
Cook the bacon in a large skillet to crisp and remove to paper towels then coarsely chop and set aside. Save three tablespoons of bacon fat and save the remaining fat for some other recipe or dispose.
Coarsely cut up the chicken and place in a food processor and pulse until the meat is chopped. Some pieces can be as large as a grape and others as small as a grain of rice.
Heat the large skillet over medium high heat and add two tablespoons of the bacon fat. Once hot, add the onion, pepper and garlic and cook three minutes.
Add the remaining tablespoon of bacon fat and add the chicken. Cook until the chicken is no longer pink then remove from heat and set aside.
Mix the milk and cream in a microwave safe bowl and heat to hot.
In a small bowl place egg yolk and slowly whisk in about a cup of the hot milk mixture then add that back into the hot milk and whisk. This process tempers the egg yolk so it does not scramble in the hot liquid. Set aside.
In the pan used to cook the spaghetti, heat the butter over medium heat and once melted, add in the flour and cook for about three minutes stirring occasionally.
Whisk in the hot milk mixture one third at a time, letting each third thicken before adding the next.
Season this sauce with salt, pepper, mustard and nutmeg then remove from heat.
Drain off liquid that formed in the bottom of the cooked chicken pan and pour the solids back in along with the cooked sauce, the cooked bacon and the fontina cheese. Stir to combine.
Remove the spaghetti lined dish from the refrigerator and make sure the spaghetti kept its shape up the sides.
Spread the ricotta along the bottom over the spaghetti then pour in the chicken mixture, leaving a spaghetti top edge (like a pie crust edge).
Bake for 40 minutes, remove and sprinkle on the mozzarella then bake for five more minutes.
Place under broiler for 2-3 minutes until golden.
Let the pie sit loosely covered with foil for 20 minutes to set up then cut into six or eight portions and serve with a pie server.
---
Notes
The bacon you choose for this dish is critical. A very smoky tasting hickory or cheery wood bacon will make the overall dish taste smoky. Bacon is a crucial ingredient in carbonara and this recipe uses 3 tablespoons of bacon fat to saute the vegetables and chicken. Chose a brand you are familiar with and like the overall taste.
Keywords: Chicken Carbonara Spaghetti Pie