About a month after I first started dating my husband Jack, he invited me out to lunch so I could meet his daughter Courtney. We went to a local chain restaurant called the "99" right around the corner from where Jack lived, and I distinctively remember Courtney ordering a dish very similar to today's recipe for Chicken and Broccoli Pasta Bake.
The reason I remember this is because, at the time, there were only a few dishes that Courtney enjoyed eating – pasta with chicken and broccoli being one of them! So typically, anytime Courtney came over for dinner, Jack would make this dish for her. (In fact, Jack really wanted us to name today's recipe the "Courtney Bake"!) 🙂
To this day, anytime I see pasta with chicken and broccoli on the menu – I think of Courtney! And I can totally understand why she loved this dish so much!
It starts with a light and creamy Alfredo sauce combined with cheese, pasta, tender chunks of chicken and broccoli florets, all mixed together and then placed in a baking dish. The cheesy pasta is covered with buttered Ritz cracker crumbs and more shredded cheese before being placed in the oven to heat until melted and golden brown on top.
Although it has probably been years since Courtney ate this Chicken and Broccoli Pasta Bake (she's quite the adventurous foodie now!) – this delicious comfort food will always remind me of Courtney when she was younger and we were first getting to know each other.
Print
Chicken Broccoli Pasta Bake
Prep Time:

45 mins

Cook Time:

45 mins

Total Time:

1 hour 30 minutes

Yield:

8-10 servings
---
1

pound cooked chicken meat (We used grilled breasts but a supermarket rotisserie works well)

1

pound raw pasta such as elbow macaroni, penne or ziti

1

pound broccoli florets

1 quart

whole milk

1

5.2-ounce package Boursin cheese

1 cup

heavy cream

¼ cup

sour cream

1

whole egg beaten

2 cups

cheddar cheese, shredded

2 tablespoons

butter

2 cups

onions, diced

3 tablespoons

all-purpose flour

1 teaspoon

kosher salt

½ teaspoon

white pepper
Pinch of freshly ground nutmeg
Pinch dry mustard
Kitchen pan spray
Topping
1

sleeve Ritz crackers crumbled

2 tablespoons

melted butter

1 cup

shredded cheddar cheese
---
Instructions
Preheat oven to 350 degrees F.
Cut cooked chicken into bite sized pieces, set aside.
Cook pasta according to package directions except make it a little undercooked.
While pasta is cooking, blanch broccoli in boiling salted water for 1 ½ minutes then cool under cold water to stop cooking process. Set aside.
Heat milk to hot in a sauce pan but do not boil. Hold on heat.
In a large bowl, mix Boursin cheese, heavy cream, sour cream, beaten egg and the two cups of shredded cheddar. Set aside.
In a pan larger than the milk pan, heat butter until melted and add onions and cook for three minutes, then add flour to form a thick roux. Cook four minutes over medium until the raw flour smell is gone. Add hot milk to the butter and flour mixture one third at a time, whipping during each addition. Add salt, pepper, nutmeg and mustard and stir to combine. Remove from heat.
Drain hot pasta and add to large bowl with cheese mixture and stir to combine.
Add cooked chicken and blanched broccoli and stir to combine.
Finally stir in the hot milk mixture and pour into a four quart casserole dish that has been sprayed with kitchen pan spray. Mixture will be loose but firms up after it comes out of the oven and rests.
In a small bowl mix crushed Ritz, butter and cheddar and sprinkle over the top of the casserole dish.
Bake for 45 minutes uncovered. Remove from oven and let rest for 10-15 minutes before serving.
---
You may also like: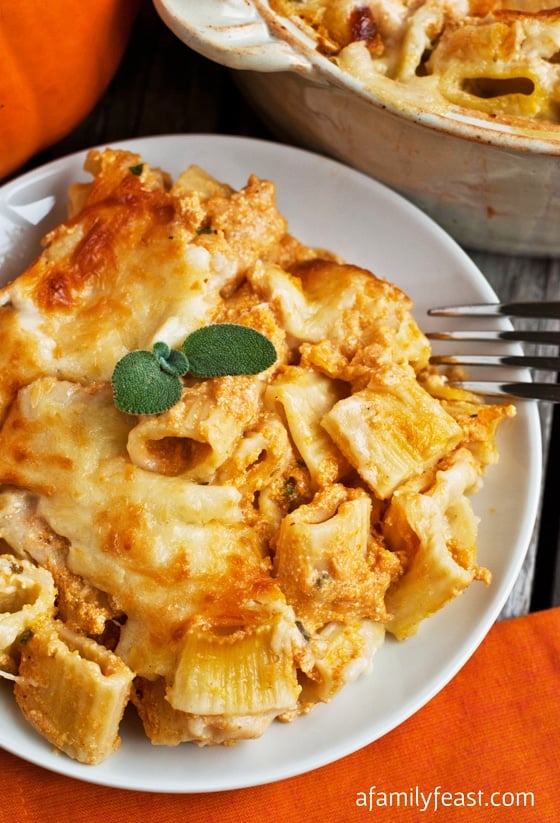 Macaroni and Cheese with Roasted Tomatoes