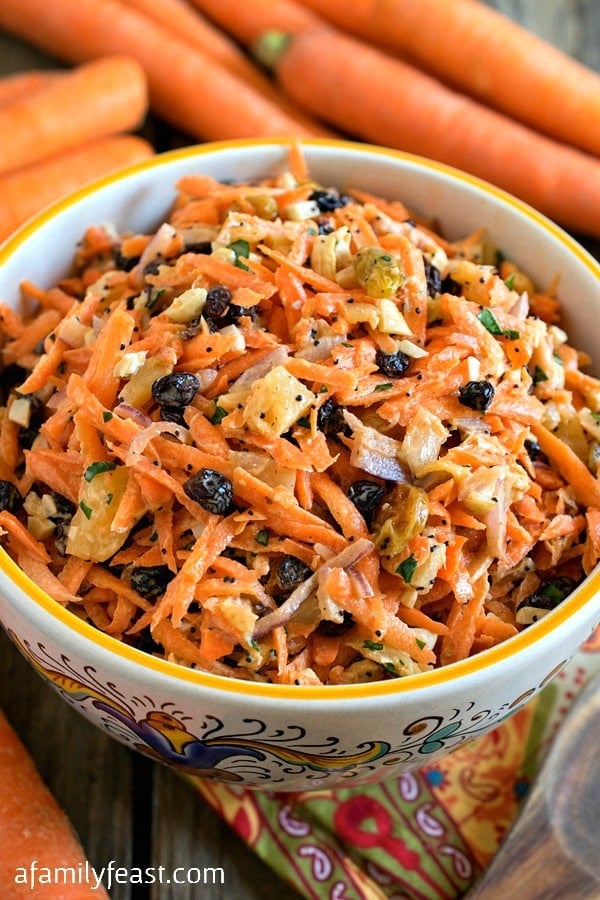 We developed this Carrot Salad recipe as part of our ongoing Ambassadorship with Peapod.  All opinions are 100% mine.
After a long, cold winter – it thrills me to see all kinds of fresh, colorful produce in the market again, now that Spring is here! This Carrot Salad recipe is a delicious way to cook with in-season fresh carrots. It's a little bit sweet and a little bit savory – making it a versatile side dish to serve at any springtime celebration or meal.
We started out by shredding some fresh carrots and mixed in some crushed pineapple, golden raisins and currants.  Some thinly sliced red onion is also added – a savory flavor that perfectly complements the sweeter ingredients – plus some chopped cashews for a little bit of crunch! A light and wonderful dressing made from mayonnaise, lemon juice, a little bit of sugar, celery salt and poppy seeds – plus some chopped fresh parsley brings this carrot salad all together!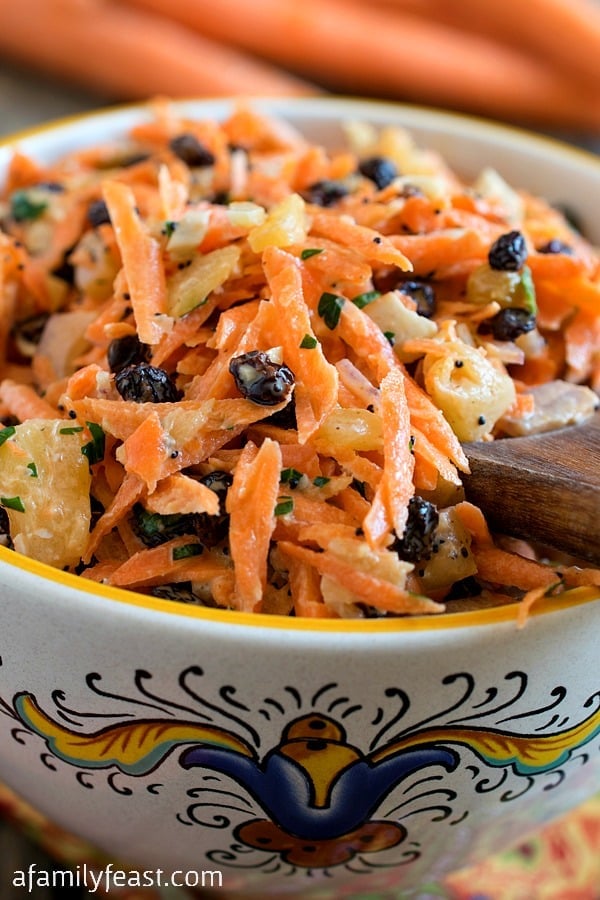 This Carrot Salad is a wonderful side dish to serve at your first springtime cookout of the year, and it is equally fabulous adding it to a Reuben or a pulled pork sandwich.
We found all of the ingredients to make this Carrot Salad over on Peapod!  The convenience of having all of your groceries delivered to your home when you want is sure to make all of your warm weather entertaining a lot more hassle-free!
Peapod carries thousands of items such as farm-fresh produce (including natural and organic items), quality meats and seafood, money-saving store brands, and more – so no matter what you need for your family meals or springtime parties, you can order it online or by using the Peapod app on your mobile device.
To learn more about Peapod's grocery delivery service, visit them here.
And – for this wonderful Carrot Salad recipe (plus many more delicious recipes from me and my fellow bloggers), click over to From the Pod.
You may also like: