This Banana Chocolate Chip Sheet Cake with Cream Cheese Frosting is easy to make and absolutely delicious!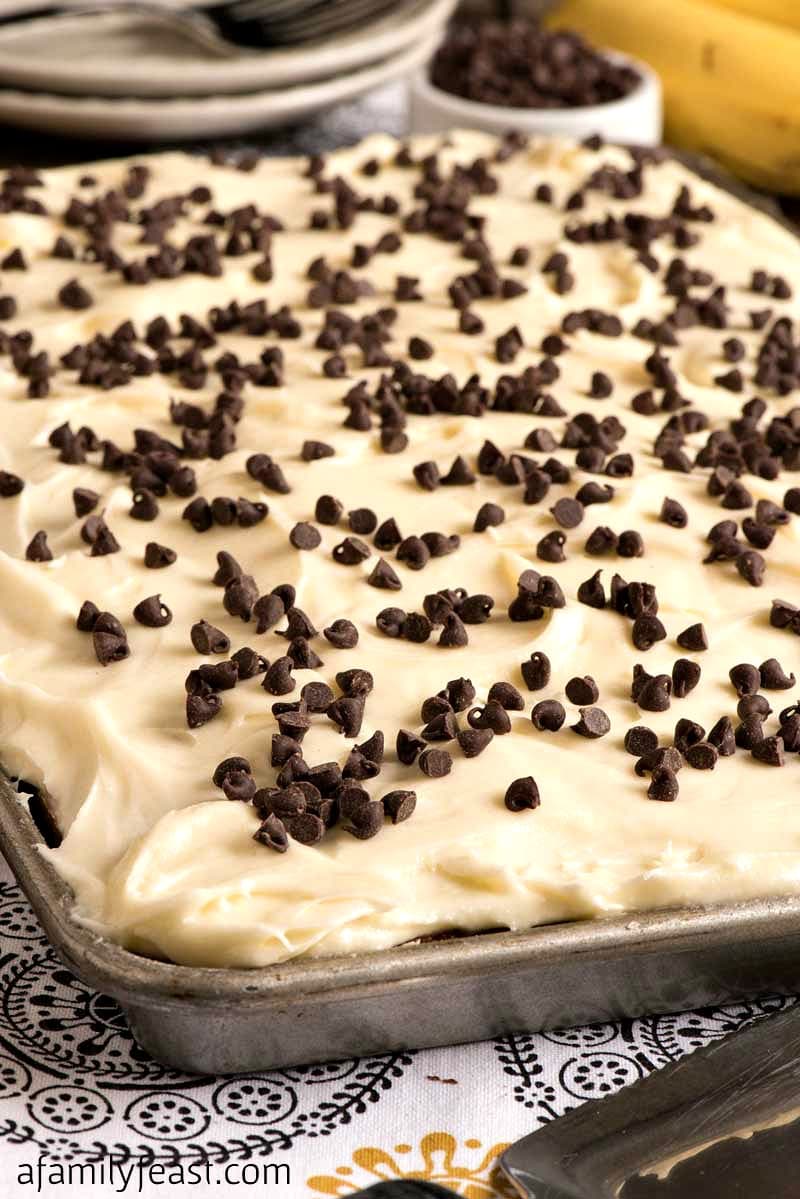 My idea of the perfect sheet cake is this Banana Chocolate Chip Sheet Cake with Cream Cheese Frosting!
It's a luscious banana cake studded with mini chocolate chips and topped with a smooth and creamy cream cheese frosting. Then – we sprinkled mini chocolate chips over the top for a little extra chocolaty sweetness.
This Banana Chocolate Chip Sheet Cake with Cream Cheese Frosting has fantastic banana flavor – thanks to adding as many as four very ripe bananas to the cake batter.
As you cut into this easy-to-bake Banana Chocolate Chip Sheet Cake, you'll notice its wonderful texture.  The cake is soft, spongy, and moist – and surprisingly light (even with all of those bananas we added to the batter)!
And the cream cheese frosting is equally fantastic! It is essentially a cream cheese butter cream frosting, and it goes perfectly with the rich banana cake. The frosting is sweet and creamy with the perfect amount of tang from the cream cheese – and adding the sprinkle of chocolate chips on the top is a perfect finishing touch.
All of the credit for this delicious cake goes to Frugal Haus Frau – who originally shared a version of this banana sheet cake recipe on her blog after having been given the cake recipe by a friend. The friend was asked for the recipe so often, that anytime she brought the banana sheet cake to a party, she would carry printed copies of the recipe in her bag ready to be given out because she knew she'd be asked for the recipe. (Yes – this cake is that good!) The cream cheese frosting recipe is adapted from Ina Garten's recipe.
In addition to this being one of the best sheet cake recipes I've baked in a long time, what I loved about this Banana Chocolate Chip Sheet Cake with Cream Cheese Frosting is that I was able to use up some super-ripe, brown bananas we had in our freezer!
This banana sheet cake recipe is also very versatile. You can swap in different nuts, toffee bits, or caramel chips for the mini chocolate chips – or leave them out all together.
Print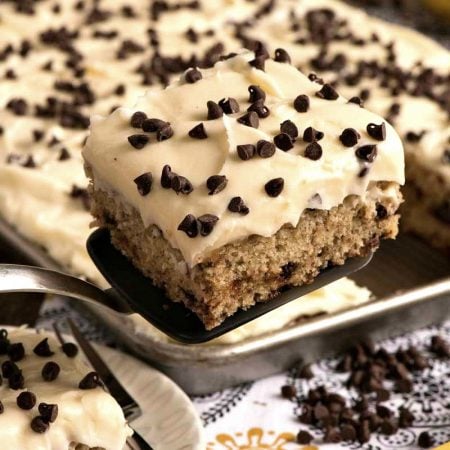 Banana Chocolate Chip Sheet Cake with Cream Cheese Frosting
Prep Time:

30 minutes

Cook Time:

30 minutes

Total Time:

1 hour

Yield:

12-15 pieces

Category:

desserts

Method:

baking

Cuisine:

American
---
For the Cake
1 2/3 cup granulated sugar
1/3 cup butter, softened to room temperature
2 eggs
1 teaspoon vanilla extract
2 ¼ cups all-purpose flour
1 teaspoon baking soda
1 teaspoon salt
1½ cups very ripe mashed bananas (approximately 3–4 large bananas)
2/3 cup buttermilk
2/3 cup mini chocolate chips
For the Frosting
8 ounces cream cheese, softened to room temperature
12 tablespoons (1 ½ sticks) unsalted butter, softened to room temperature
½ teaspoon vanilla extract
3 ½ cups sifted confectioner's sugar
1/8 cup mini chocolate chips for garnish (optional)
---
Instructions
To Make the Cake
Preheat oven to 350 degrees F.  Grease and flour a jelly roll pan – we used this 9 ½ x 14-inch pan from USA Pan but a 10 ½ x 15-inch quarter sheet pan will also work.
In a large bowl with a mixer, beat together butter and sugar until the mixture resembles crumbs. Add eggs and vanilla and mix again.
In a separate bowl, whisk together flour, baking soda, and salt.
Add the dry flour mixture to the butter mixture, scraping sides and bottom of the bowl to mix completely. (Do not over mix.)
Add mashed bananas and buttermilk to the batter and mix until completely blended on low speed. Fold in chocolate chips with a rubber scraper or wooden spoon.
Pour the batter into the prepared jelly roll pan and bake for 25 to 30 minutes (the smaller 9 ½ x 14-inch pan we used took about 32 minutes to bake) turning halfway through baking. You'll know the cake is done when the corners start to pull back from the sides of the pan and the top of the cake springs back when pressed gently in the center.
Remove cake from the oven and cool completely on a rack before frosting.
To Make the Frosting
Once the cake has cooled, prepare the frosting.
In the bowl of a stand mixer fitted with the paddle attachment, place the cream cheese, butter, and vanilla. Mix on medium speed just until combined, but do not whip.
Slowly add the confectioner's sugar and mix until smooth.
With an offset spatula, evenly spread the prepared Cream Cheese frosting over the cooled Banana Chocolate Chip Sheet Cake.  Sprinkle the top with the mini chocolate chips.
Keywords: Banana Chocolate Chip Sheet Cake with Cream Cheese Frosting
Disclosure: This post contains affiliate links.


You may also like:
White Chocolate Banana Cream Pie