Baked Carrot Casserole is a delicious way to eat more vegetables!
 Old family recipes are near and dear to our hearts – especially the recipes that get passed down through generations. This Baked Carrot Casserole is one of those recipes.
We found it in the Maine Bicentennial Community Cookbook (affiliate link) – that was published this year as part of the celebrations for Maine's 200th anniversary of Statehood.
Two hundred recipes were selected for the cookbook after a call for recipe submissions from anyone with a connection to the wonderful state of Maine. This Baked Carrot Casserole is one of our favorites (so far) from the cookbook.
How do you make this delicious Carrot Casserole?
Cooked and coarsely-mashed carrots are combined with sauteed onions and bell peppers, then baked with eggs and milk – giving this Baked Carrot Casserole a comforting, creamy consistency. (The original recipe called for green bell peppers, but we used red instead – either will work!)
The sweet carrot flavor is balanced nicely by the peppers and onions, and this really is a nice, savory side dish that is sure to become a family favorite.
This carrot casserole recipe was submitted to the cookbook by Doreen Duck of Rockport, Maine who wrote, "My mother, Eleanor Hall, got this recipe from her local church and it became a mainstay at every family gathering. This recipe has been shared so many times with friends, and many people have requested the dish to be brought for gatherings, especially at Thanksgiving."
We agree – this would be a great addition to your Thanksgiving menu!
Can you make this casserole ahead of time?
Absolutely – and that's one of the reasons this Baked Carrot Casserole would be ideal for Thanksgiving. You can mix it up ahead of time, then bake for an hour before serving.
It also reheats nicely – so when oven space is tight on Thanksgiving Day – you could bake it ahead of time, then reheat while the turkey rests after coming out of the oven.
You might like these other carrot recipes:
Print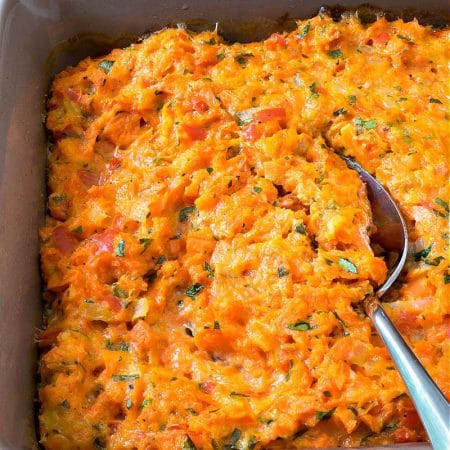 Baked Carrot Casserole
Author:

Prep Time:

30 minutes

Cook Time:

1 hour 30 minutes

Total Time:

2 hours

Yield:

8 servings

Category:

side dish

Method:

baked

Cuisine:

American

Diet:

Vegetarian
---
2 pounds carrots, peeled and sliced
½ cup butter
1 cup red bell pepper diced
1 cup sweet onion, diced
½ teaspoon kosher salt
½ teaspoon freshly ground black pepper
2 tablespoons granulated sugar
2 tablespoons all-purpose flour
1 cup whole milk
1 egg beaten
2 tablespoons flat leaf parsley, chopped
---
Instructions
Preheat oven to 350 degrees F.
Place the sliced carrots in a 3-4-quart pan and cover with water and bring to a boil and cook until soft, about 15-20 minutes. Drain and cool.
Butter a 9X9 baking dish and set aside.
While the carrots are cooking, in a large saute pan or skillet over medium heat, melt butter and cook peppers and onions for three minutes.
Add the salt, pepper and sugar and stir, then add the flour and cook for two minutes, stirring occasionally.
Heat the milk in the microwave or in a small sauce pan to hot but not boiling and add to the onion and pepper mixture half at a time, stirring during each addition.
Cook this mixture one minute then remove from heat.
Once the carrots are cooked, drain and cool to room temperature. I laid them out on a plate to cool quicker.
After the carrots are cooled, place back in the pan they were cooked in and ladle one ladle full of the mixture from the other pan. This will help to mash the carrots.
Use a potato masher and mash like lumpy mashed potatoes. You want some bits and pieces and not mashed to a puree.
Whisk the egg and add it along with the parsley to the carrots and mix.
Add the carrot and egg mixture to the pan with the onion and peppers and mix to combine all the ingredients.
Scrape the carrot mixture into the prepared pan and bake uncovered for one hour. Remove and serve.
The dish can be prepared a day ahead and baked one hour before serving. Let the mixture sit at room temperature for about 15 minutes before baking if preparing the day before and refrigerating.
---
Keywords: Baked Carrot Casserole