Apple Snickerdoodle Scones are loaded with sweet apples and cinnamon spice flavors. Bake up a batch for breakfast or brunch!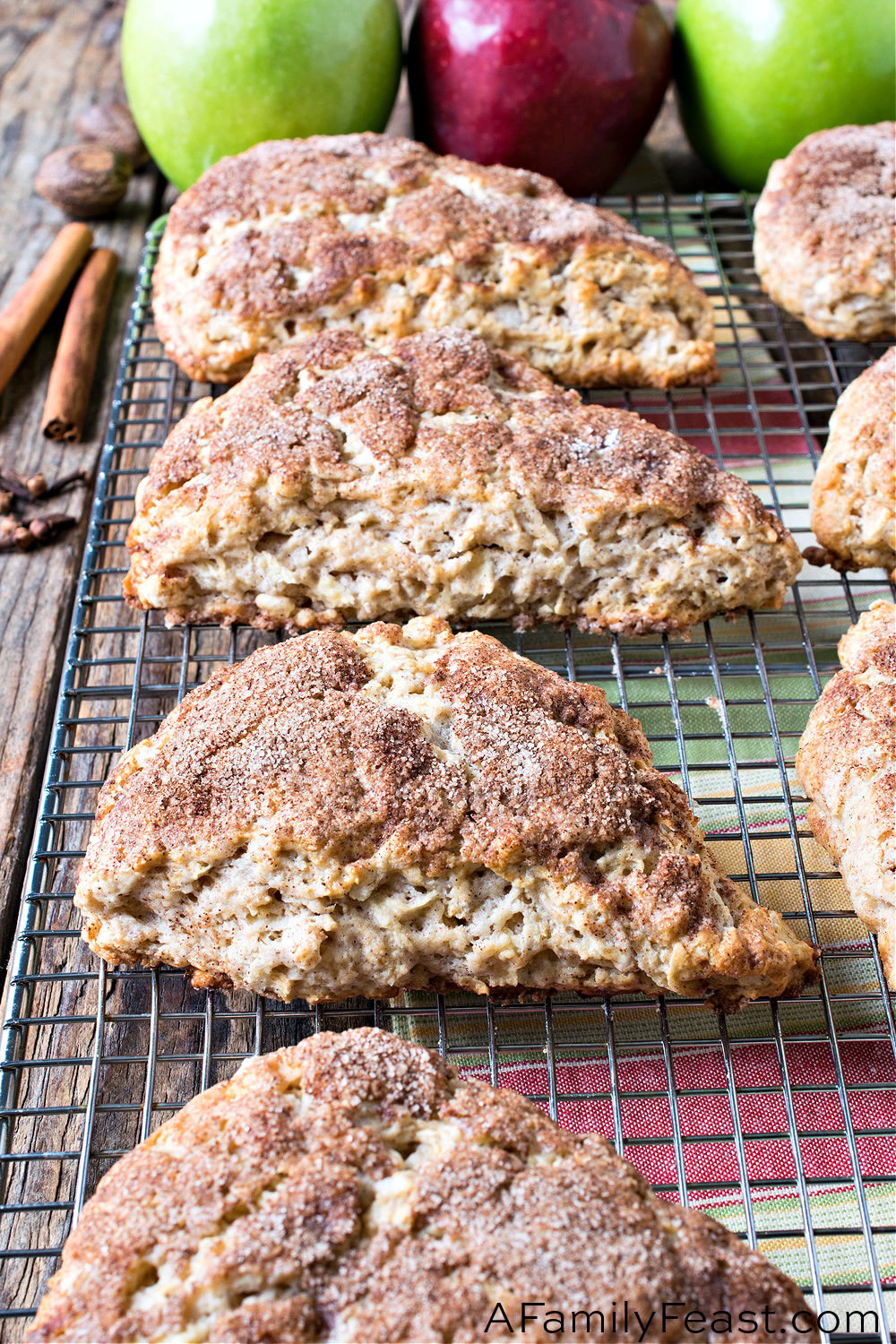 Your morning is going to get off to a very delicious start with these Apple Snickerdoodle Scones.
Tender, buttery, freshly-baked scones are chockful of two kinds of apples and flavored with vanilla, and a mix of spices including cinnamon, nutmeg and cloves.
These heavenly pastries bake up to a soft, pillowy texture, and a sprinkle of cinnamon sugar on top adds a touch of crunch to every bite as well as sweetness. These are great served with a schmear of melted butter or softened cream cheese, with a hot cup of coffee on the side.
What are scones?
A scone is a rich, baked pastry that can be savory or sweet.
In England – where scones are almost always served with afternoon tea – they are very similar to a lightly sweetened biscuit. The texture is dense – thanks to butter and cream in the batter – but a leavening agent ,such as baking soda or powder, gives it a flaky texture.
In the United States, scones tend to be much sweeter and often have fresh or dried fruit added to the dough. You'll often find scone batter formed into a round, then cut into triangles as we've done in today's recipe.
What are snickerdoodles?
Snickerdoodles are sugar cookies rolled in cinnamon sugar before baking. Cream of tartar is typically used as the leavening agent – giving the cookies a unique tangy flavor and chewy texture.
In our Apple Snickerdoodle Scones, we used cream of tartar as well – giving the scones that same distinctive flavor and a wonderful texture too.
Why You'll Love Apple Snickerdoodle Scones
The aromas filling your kitchen as the scones bake are truly wonderful.
Quick prep and a quick bake means freshly baked treats can be on your plate in no time.
Freeze the extras – then warm to reheat and enjoy scones every morning!
Key ingredients and Substitutions
Apples – We used both Granny Smith and Red Delicious apples in our scones. Granny Smith have a sweet-tart flavor, while the Red Delicious have a mellow sweetness. Together, they are delicious!
Butter – You'll use a full stick (eight tablespoons) of butter in this recipe. Salted butter can be used instead but leave out the additional salt.
Leavening Agents – Cream of tartar and baking powder are both added to give these Apple Snickerdoodle Scones a light and tender texture.  
Spices & Flavors – Ground cinnamon, nutmeg and cloves are mixed into the dough, and cinnamon sugar is added to the top of the scones before baking. Vanilla extract also adds delicious flavor.
Heavy Cream – Heavy whipping cream adds a ton of moisture and flavor. Don't be tempted to swap in milk or half and half – the texture won't be quite the same.
Special supplies needed
Medium and large mixing bowls
Box grater – for grating the apples
Baking sheet pan lined with parchment paper – for baking the scones
How do I make Apple Snickerdoodle Scones?
Cut butter into small pieces and freeze on a dinner plate – avoiding letting them overlap each other.
Combine flour, baking powder, cream of tartar, salt, cinnamon, nutmeg and cloves in large mixing bowl.
Combine egg, whipping cream, vanilla, brown sugar and the shredded apples in another bowl.
Cut frozen butter into dry ingredients using a pastry cutter.
Stir wet ingredients into dry ingredients – mixing just until the dry gets absorbed into the wet.
Shape dough into an eight-inch round disc on a floured surface.
Brush cream over the top of the disc of dough, then sprinkle cinnamon sugar on top.
Cut into 8 wedges (or 10 if you want smaller scones), then place the wedges on a parchment-covered baking sheet. (See Chef's Tip below.)
Bake for 25 minutes or until lightly golden brown.
Serve immediately out of the oven, or cool on a rack for serving later.
Chef's Tip – The scone dough will be very soft. Use a floured spatula to move the wedges from the counter to the prepared pan trying to keep the wedge shape.
Frequently asked Questions
Can I make Apple Snickerdoodle Scones ahead of time? Yes! You can prepare the scones and keep on the parchment-lined pan under refrigeration until ready to bake. Do not bring to room temperature before baking – just go from refrigeration directly to the oven.
How do I store leftovers? Store in an air-tight container at room temperature for up to two days.
How do I reheat leftovers? You could gently warm these in the oven or microwave.
Can I freeze? Yes, the baked scones freeze very well.
You might like these other Scone recipes:
Print
Apple Snickerdoodle Scones
Author:

Prep Time:

20 minutes

Cook Time:

25 minutes

Total Time:

45 minutes

Yield:

8 scones

Category:

breakfast

Method:

baked

Cuisine:

English, American
---
½ cup unsalted butter (1 stick)
2 ½ cups all-purpose flour
2 tablespoons baking powder
½ teaspoon cream of tartar
¼ teaspoon salt
2 teaspoons ground cinnamon, divided
Few grinds fresh nutmeg
¼ teaspoon ground cloves
1 whole large egg
1/3 cup brown sugar, packed
½ cup plus two tablespoons heavy whipping cream
1 ½ teaspoons vanilla extract
1 medium Granny Smith apple
1 medium red delicious apple
2 tablespoons granulated sugar
---
Instructions
Preheat the oven to 375 degrees F with oven rack in the center.
Line a rimmed sheet tray with parchment paper, (not a rimless cookie sheet).
Cut the stick of butter in half the long way then each half in half the long way. Take these four long sticks and cut small pieces from one end to the other and lay them out on a dinner plate. Place the dinner plate with butter in the freezer.
In a large bowl, whisk flour, baking powder, cream of tartar, salt, one teaspoon of the cinnamon, nutmeg and cloves.
In a medium bowl, beat the egg. Whisk in the brown sugar, ½ cup of the cream and the vanilla extract.
Peel, core and shred the apples on the large holes of a box grater and stir into the egg and cream mixture.
Use a pastry cutter or two firm forks and cut the butter into the flour mixture until the butter is pea sized.
With a firm rubber spatula, scrape the wet ingredients into the dry and mix just until there is no more dry showing. Do not over work the dough.
Scrape out onto a well-floured surface and with your hands, gently shape into an eight-inch circle.
Brush the top using the two tablespoons of heavy cream.
Mix the granulated sugar with the remaining teaspoon of cinnamon and sprinkle over the cream topped circle.
Using a sharp knife or a bench scraper, cut into eight or ten wedges.
Flour a flexible spatula and pick up one scone at a time and gently slide onto the prepared pan. Line them up so that they sit every other for perfect pan placement (two rows, point of wedges faces left, then right, etc.).
Bake 25 minutes then test for doneness by gently poking top and inserting a toothpick into center. If the toothpick still has raw dough, bake in two-minute increments until done. Ours took exactly 25 minutes.
Serve warm. Or cool on a wire rack to be served later.
Store in an air tight container once cooled, for up to two days.
---
Keywords: Apple Snickerdoodle Scones, apple cinnamon scones