Today we're sharing one of my favorites from my husband Jack's old playbook full of recipes from his former food service days!  This White Vegetable Lasagna was a popular dish and served quite often every place he worked.
And for me, this white vegetable lasagna is the perfect end-of-summer meal!  It's a combination of tender zucchini and yellow summer squash (great for using up your summer garden veggies) as well as spinach and mushrooms, in a delicious creamy white sauce made from a blend of cheeses.  A touch of nutmeg and some red pepper flakes add the perfect amount of spice and heat to complement the rich, creamy sauce.
It's a taste of summer in the form of comfort food, and – now that we're already in back-to-school-mode as of this week – a pan of this delicious white vegetable lasagna is great for dinner one night, with plenty of leftovers to pack for lunch the next day!
Print
White Vegetable Lasagna
Prep Time:

45 mins

Cook Time:

1 hour 15 mins

Total Time:

2 hours

Yield:

8-12 servings
---
1

pound dry lasagna noodles

¾

pound zucchini

¾

pound summer squash

¼ cup

extra virgin olive oil, divided

½ teaspoon

salt

¼ teaspoon

black pepper

¼ cup

shallots, chopped large dice

2

cloves garlic chopped

8 ounces

baby portabella mushrooms
Few grinds black pepper
Pinch red pepper flakes

1

10-ounce package frozen spinach, thawed and drained (squeeze all liquid out)

1 pint

heavy cream divided

1

pound whole milk cottage cheese

1 teaspoon

salt

2

eggs divided

1

pound whole milk ricotta

¼ cup

grated Parmesan Reggiano

¼ cup

grated Asiago cheese

2 tablespoons

chopped Italian flat leaf parsley

2 tablespoons

chopped fresh basil

2 ¾ cup

whole milk

1

stick butter

4 ounces

flour

1 ½ teaspoons

salt

½ teaspoon

black pepper

1 teaspoon

freshly grated nutmeg

4 ounces

shredded Fontina cheese

8 ounces

fresh mozzarella
---
Instructions
Bring a large stock pot of salted water to boil and cook lasagna noodles for five minutes and drain. Noodles should be hard but flexible enough to work. Keep noodles wet so they don't stick together and set aside.
Preheat oven to 425 degrees.
Slice both squashes the long way into thick slices. Should get about five or six long slices per squash. Lay them on a sheet pan and brush with the olive oil. Only use enough oil to brush both sides. Sprinkle the half teaspoon of salt and ¼ teaspoon pepper and roast for 20 minutes, flipping the squash over after 10 minutes. Set aside.
Lower oven to 375 degrees
In a medium sauté pan, pour remaining olive oil and heat over medium to medium high. Add shallots and sauté 2 minutes. Add garlic and sauté another minute. Add mushrooms, black pepper and crushed red pepper flakes and sauté 2 more minutes. Remove from heat and set aside. Mixture will finish cooking in the oven.
In a medium bowl place thawed and drained spinach, ¼ cup of the heavy cream, cottage cheese, salt and one egg. Drain the mushroom mixture in a strainer and add to cottage cheese and spinach. Mix and set aside.
In another medium bowl, place the other egg, ricotta, Parmesan, Asiago, chopped parsley and chopped basil. Mix and set aside.
In a small pan, heat milk and remaining cream to scalding. Turn heat off and hold. Melt butter in a large sauce pan or medium pot and add flour. Cook over medium heat for three to five minutes or until raw flour smell is gone. Add milk mixture to butter and flour mixture one third at a time whipping smooth each time. Add the one and one half teaspoons of salt, ½ teaspoon black pepper and the full teaspoon of nutmeg. Stir and set aside.
In a deep 9×13-inch pan, layer the bottom with a ladle or two of the sauce.
Next layer noodles, overlapping each other on the edges. Use about four or five lasagna noodles per layer. There will be three layers of noodles so plan the number of pieces per layer.
Next layer half of the cooked squash.
Next layer all of the ricotta mixture.
Next layer more noodles.
Next layer the spinach and cottage cheese mixture.
Next layer the Fontina cheese.
Next layer more of the sauce. (About 2 cups)
Next layer the remainder of the squash.
Next layer the remaining noodles.
Cover the top with sauce reserving any leftover sauce to serve at the table over each portion.
Finally slice the fresh mozzarella and lay over the top.
Cover with parchment paper and foil. Place the covered pan on a foil lined sheet pan to catch the drips.
Bake for one hour and remove foil and wrap. Bake uncovered for an additional 15 minutes to brown.
Let rest and firm up for 30 minutes before cutting and serving.
---
You may also like: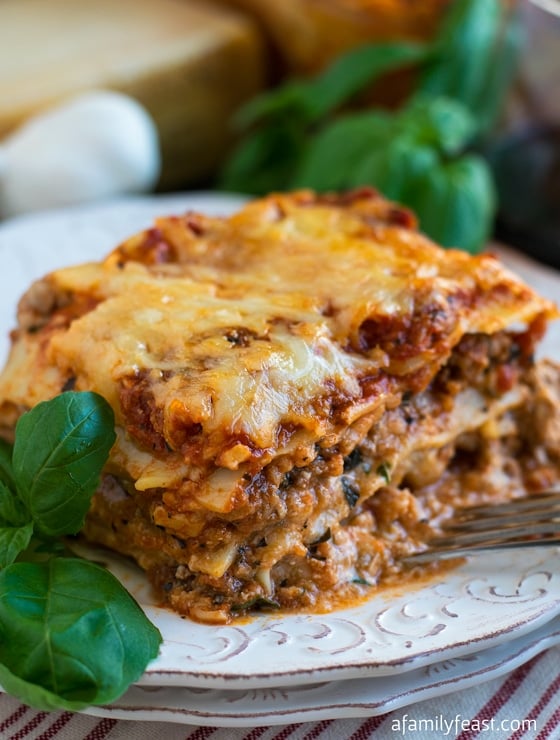 Mexican Lasagna with White Sauce