As food bloggers, one of the most rewarding things about what we do is receiving comments and feedback from our readers who are inspired to try our recipes!  We love hearing when you've enjoyed a wonderful meal using one of our recipes!  And – we even appreciate hearing from you when you have a correction or suggestion about how we can make our recipes better!
Our recipe inspiration comes from a number of different places – family recipes, available ingredients in the refrigerator, cookbooks, and sometimes other blogs.  However, this recipe for White Chocolate Apricot Scones was inspired by one of our wonderful readers!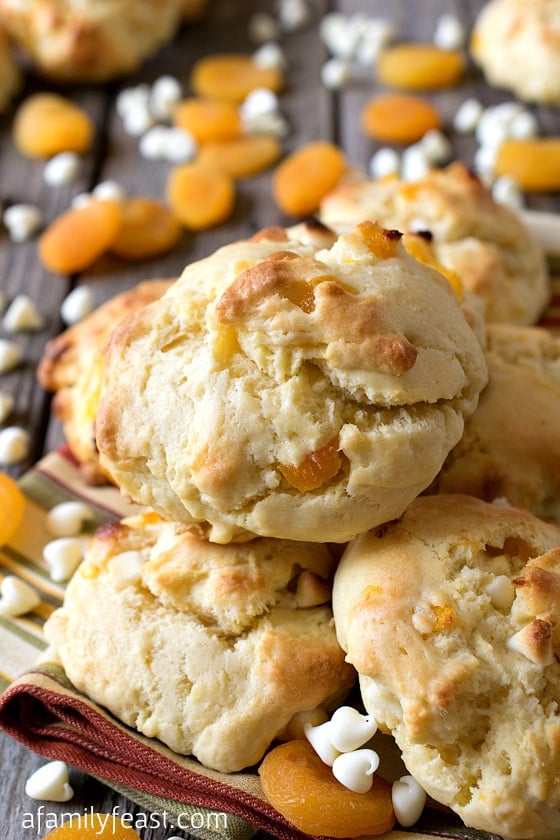 A few weeks ago, over on our Facebook page, I posted a link to our chocolate chip scones recipe.  One of our fans, a reader named Sue, commented that she had once eaten some delicious white chocolate apricot scones at a bagel shop, and she had never forgotten how wonderful they were!
The combination of white chocolate and dried apricots stuck in my head, and for weeks – every time I walked past the dried apricots at the supermarket – I thought of Sue's scone comment! So finally, I decided to give it a try – and these white chocolate apricot scones are delicious!
This recipe uses the same, super moist and delicious scone recipe that we used here and here, a versatile passed-down family recipe from my sister-in-law Pam!  (See – I told you – recipe inspiration comes from many places!) I bumped up the sweetness just a bit in this version and added in a mix of chopped dried apricots and white chocolate chips.
Sue – you were totally right!  The combination of white chocolate and apricots in these scones is fantastic!  Thank you so much for the recipe inspiration!
Print
White Chocolate Apricot Scones
Prep Time:

1 hour

Cook Time:

25 mins

Total Time:

1 hour 25 minutes

Yield:

12 scones
---
3 cups

all-purpose flour

1 tablespoon

baking powder

1/2

pound unsalted butter (

2

sticks), softened

½ cup

sugar

3

large eggs

1/3 cup

low-fat plain yogurt or sour cream

½ cup

white chocolate chips

½ cup

chopped dried apricots
---
Instructions
Whisk together flour and baking powder in a medium sized bowl.
In the bowl of a stand mixer, beat the butter until creamy. Add sugar and beat 3 minutes on high until pale and fluffy.
Add eggs one at a time, mixing well after each addition.
Slowly add the flour and baking powder mixture into the egg mixture, blending well.
Then add yogurt, again mixing until blended. Fold in white chocolate chips and dried apricots until blended throughout the dough.
Refrigerate for at least 45 minutes. (This recipe may be made in advance and refrigerated overnight.)
When ready to bake, preheat oven to 350 degrees. Filling a 1/3 cup measuring cup, make scones and form into round balls. Place on ungreased cookie sheet.
Bake at 350 degrees for 15 minutes. Then turn the oven down to 325 degrees and bake for 10-11 minutes more until lightly golden.
---
You may also like: