You are never going to believe how easy it is to make this Turkish Flatbread!
The two main ingredients in this Turkish Flatbread are all-purpose flour and full-fat Greek yogurt – mix the two together and your flatbread dough is ready. (I told you it was simple!) You could stop there – but we decided to add some lemon juice, kosher salt, and some chopped fresh oregano for additional flavor.  You can add any fresh herbs to the dough that you'd like.
No rising, proofing or resting is necessary – simply roll the dough into a log and slice into twelve equal pieces.
Then – roll each piece out flat and dry-cook on both sides in a non-stick skillet or griddle (use just a touch of non-stick cooking spray if needed) until golden brown. This Turkish Flatbread will bubble up a bit as it cooks, but that is totally expected – the bubbles will deflate once the flatbread cool.
Turkish Flatbread is traditionally served with hummus and tabbouleh – but Jack and I used them to make sandwich wraps! The herbs and lemon we added gave the sandwiches a delicious boost of extra flavor.
This Turkish Flatbread is loosely adapted from a recipe found in the cookbook, The Free Range Cook: Simple Pleasures. In the original version, Annabel Langbein brushes her finished flatbread with extra virgin olive oil that she flavored with herbs, chili flakes, and salt, plus a sprinkle of sesame seeds.
Print
Turkish Flatbread
Prep Time:

10 minutes

Cook Time:

5 minutes

Total Time:

15 minutes

Yield:

12 - 7" flatbreads
---
2 cups all-purpose flour
1 teaspoon kosher salt
2 tablespoons fresh oregano chopped (or any fresh herb of your choice)
2 teaspoons freshly squeezed lemon juice
1 cup full-fat Greek yogurt, plus 2 tablespoons.
Non-stick cooking spray
---
Instructions
In a medium to large bowl, mix flour, salt and oregano to combine.
Add lemon juice and yogurt and mix with a wooden spoon or by hand to form a soft dough.
Roll into a log. Cut the log in half then each half in half then each quarter into thirds to yield 12 even slices.
On a well-floured surface, roll each piece out to seven inches. Flouring the rolling pin will help it from sticking.
Each piece will be paper thin but they are easy to handle and will not break apart.
Heat a large non stick skillet, sauté pan or grill to medium high heat.
Spray a quick spray of pan spray into the pan once hot. Shake off any excess flour from one flat bread and lay into the hot pan and spray a quick spray over the top.
Cook for about 1 ½ minutes. The dough will bubble in places, this is normal.
With tongs, check the bottom and if browned, flip and repeat for the other side for about the same cooking time.
Remove to a platter and wipe the hot pan with a paper towel to remove any excess flour.
Repeat for the remaining pieces.
Serve immediately or cool and wrap in a bag or plastic wrap. Will keep for about a day.
---
Disclosure: This post contains affiliate links.


You may also like:
Hummus with Caramelized Cauliflower and Onions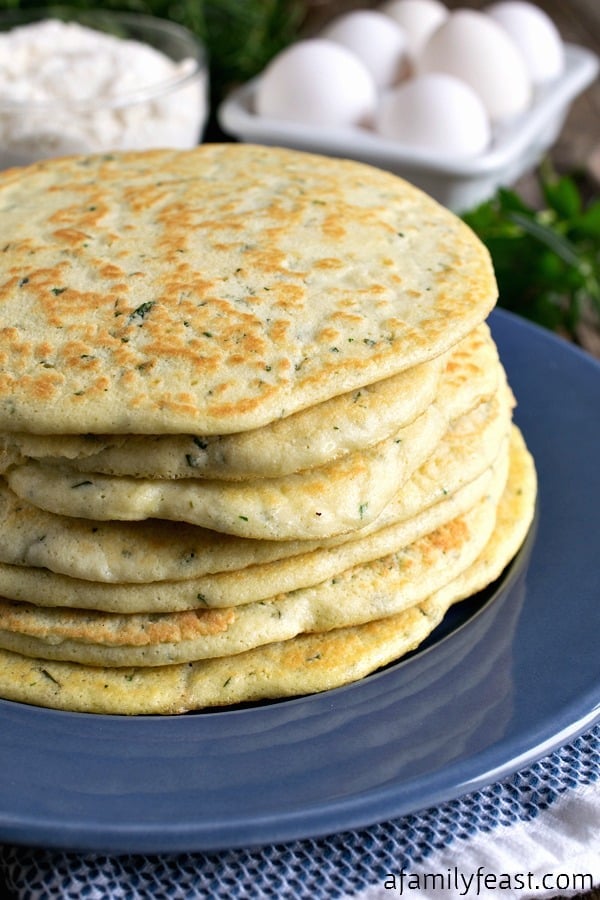 Mujadarra (Brown Rice & Lentils with Caramelized Onions)