This flavorful Three Mustard Chicken Fricassee will make your taste buds dance and sing! Tender pieces of meat and vegetables in a luxurious, creamy sauce with a kick of mustard flavor.
Sharing a chicken fricassee recipe has been on our 'blog-to-do-list' for quite some time – and today we've put our own spin on a delicious, classic recipe!
A fricassee (or fricassée) is a method of cooking chicken (or other poultry, meat or fish) whereby it is cut into pieces, sautéed, braised until cooked through – then served with its sauce.  Traditionally, a fricassee has a creamy white sauce, but we decided to change things up with a triple mustard sauce in today's recipe.
This Three Mustard Chicken Fricassee has amazing flavor! The creamy sauce includes a blend of yellow salad mustard, Dijon mustard, and dry mustard powder in a white wine and chicken stock base flavored with fresh rosemary and sage. Plump mushrooms as well as carrots, onions and celery are also added to the braising liquid.
We recommend serving this Three Mustard Chicken Fricassee alongside our Tuscan Roasted Potatoes (a recipe we brought back from our honeymoon in Italy).  Simply line a large serving platter with the prepared roasted potatoes, then place the cooked chicken fricassee on top – spooning the creamy mustard sauce over both the chicken and the potatoes. Finally, crisp pieces of cooked bacon get sprinkled over top for some additional, wonderful flavor.
After one bite of this Three Mustard Chicken Fricassee – your taste buds will be in heaven!  The chicken is fall-apart tender and super flavorful.  The potatoes also soak up some of the sauce – and it tastes so good!
This Three Mustard Chicken Fricassee recipe makes a generous amount so it's perfect for feeding a hungry crowd. It's fancy enough to serve for a dinner party, but it's also perfect for a comforting family supper.
Print
Three Mustard Chicken Fricassee
Prep Time:

30 minutes

Cook Time:

1 hour 45 minutes

Total Time:

2 hours 15 minutes

Yield:

8 servings
---
½ pound thick sliced bacon
½ cup yellow salad mustard
3 tablespoons dry mustard (we recommend Colman's)
4–5 pounds chicken parts, bone in and skin on
8 ounces baby bella mushrooms, cut in half
1 large onion (3/4 pound or so), cut into bite sized pieces
½ pound carrots (2 large), cut into bite sized pieces
2 stalks celery (about 6 ounces), cut into bite sized pieces
2 cups white wine, such as Chardonnay
2 cups chicken stock
3 sprigs rosemary, about six inches long
6 large fresh sage leaves
5 tablespoons butter, softened
6 tablespoons all-purpose flour
1/3 cup Dijon mustard (you can also use country-style whole grain mustard if you prefer)
Tuscan Roasted Potatoes, prepare this recipe for serving
---
Instructions
Cut bacon into half inch strips (called lardoons).
Mix yellow salad mustard with dry mustard.
Place chicken pieces on a sheet pan or platter, skin up and thoroughly pat dry. Then smear on half the mustard mixture.
Heat a heavy bottomed 5 ½ quart pan to medium heat. Once hot, add bacon and cook until slightly done but not crisp, ten minutes. Remove bacon to paper towels to drain. Pour bacon fat into a bowl and add one tablespoon back into the pan. Reserve the rest of the bacon fat. Leave pan on medium heat.
Add the mushrooms and cook for five minutes at medium heat, stirring occasionally. After five minutes, remove to a bowl.
Add two more tablespoons bacon fat.
Once the pan is back to hot, place chicken mustard side down into the pan without crowding. (You will need to sear chicken in two to three batches). Brush the exposed side with the mustard, saving enough for each batch.
You only want a light sear so after four minutes, use a spatula and flip. (Make sure you use a spatula and not tongs otherwise the sear will stay on the pan instead of the chicken.) Cook for four more minutes and remove to a platter or tray, again using a spatula. Repeat for remaining chicken.
Add remaining bacon fat into the pan and increase heat to medium high.
Add onion, carrots and celery and sauté for five minutes, stirring occasionally with a wooden spoon.
Add wine and stir to scrape up any brown bits on the bottom.
Add stock and place mushrooms and chicken (skin up) back in the pan, leaving the tops exposed.
Lay the rosemary over a foot long piece of butcher's twine. Stack the sage leaves in the center and wrap the string around several times, finishing with a knot. Tuck this herb bundle into the pan.
Once the liquid starts to bubble, reduce to low, partially cover and simmer for 45 minutes. The liquid should be at a medium simmer.
While the chicken is cooking, make oven roasted potatoes or your favorite potato or rice.
Mix the softened butter with the flour to form a paste. Unlike a roux which is cooked, this mixture is put into the liquid without cooking it first and will cook in the sauce as it simmers. This paste is called Beurre Manie.
After 45 minutes, remove the chicken to a platter, and with a large slotted spoon, also remove the vegetables to the same platter and loosely cover with foil to keep warm. Keep burner on medium high.
Remove the rosemary and sage and discard.
Add the Beurre Manie and the Dijon to the liquid and stir with a whip to dissolve. Simmer for three minutes on a medium heat to cook the raw flour out and blend the flavors. Taste and adjust seasoning.
To serve, place roasted potatoes around outer edge of chicken and vegetable platter, pour some sauce over chicken and vegetables and serve remaining sauce on the side.
Finally top with the cooked lardoons of bacon.
---
You may also like: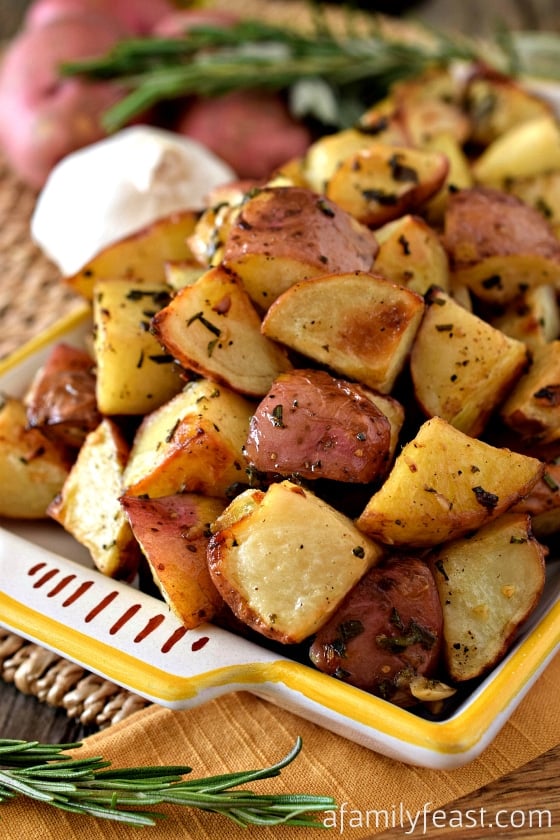 Chicken Breasts with Onion Mushroom Dijon Sauce