My husband Jack is back today to share the story behind these Strawberry Brambles – delicious, little, sweet treats that he learned to make years ago when he attended culinary school. Here's Jack!
When I first entered culinary school, our large commercial teaching kitchen was laid out with baking lessons on one side and cooking lessons on the other side. The baking instruction was taught by a wonderfully talented Hawaiian gentleman named Mr. Ahola. (Yes – that was really his name!)
Mr. Ahola was a very patient instructor, easy to work with, and I definitely learned a lot during my classes with him. In fact, he was a main source of inspiration for my decades-long career in the culinary field: His kind demeanor and vast knowledge of cooking and baking and running a kitchen was extremely inspiring to a young chef like me at the time.
One of the very first recipes he taught us to make were Strawberry Brambles. Looking back, I'm not sure if the name of this recipe is a nod to the sweet jam filling made from berries typically found in a briar patch (In British English, these are referred to as "brambles") or a recipe Mr. Ahola brought from Hawaii.  Either way – they sure were good, and they were immediately eaten by everyone in our class shortly after they were baked!
Strawberry Brambles are basically little tarts – or hand pies – with a top and bottom crust. The dough is delicate and the finished Strawberry Brambles – a little bit time-consuming to make just right, are worth the extra effort! We filled our Strawberry Brambles with some jarred strawberry jam we had in our cabinet – or you could also make them with our delicious Christmas Jam (a mix of strawberries and cranberries).
Print
Strawberry Brambles
Prep Time:

1 hour 30 mins

Cook Time:

20 mins

Total Time:

1 hour 50 minutes

Yield:

24 brambles
---
Description
Feel free to also add some different spices to the jam filling if you'd like…cinnamon and nutmeg added to strawberry jam gives these Strawberry Brambles a very unique and delicious flavor!
---
2 cups

all-purpose flour

1 cup

cake flour

1 cup

powdered sugar

¼ teaspoon

salt

¼ cup

cold vegetable shortening

12 tablespoons

(

1 1/2

sticks) cold butter, cut into pieces

1 teaspoon

vanilla extract

1

egg beaten

¼ cup

ice cold water

¾ cup

strawberry jam (or Christmas Jam – see recipe)

1

egg for egg wash

¼ cup

Turbinado sugar or other coarse sugar
---
Instructions
In the bowl of a food processor, place both flours, powdered sugar and salt. Pulse once or twice.
Place cold butter and cold shortening into flour mixture and pulse about six times until fat forms small pea sized shapes.
Add vanilla and egg and pulse to combine.
Add cold water and pulse just until mixed.
On a floured surface, pour contents of food processor and form with your hands into a thick disk shape dough. Cover tightly with plastic and refrigerate one hour.
After the hour, remove plastic and place dough on floured work surface and roll to 18 X 24 inches. Using a three inch cookie cutter cut out circles. Collect and roll out scraps again on a floured work surface and cut more circles to yield a total of 48 circles. Discard remaining scraps.
Lightly dust work surface and lay out the 48 circles. Place 1 ½ teaspoons of cold jam into the center of 24 circles.
Preheat oven to 375 degrees.
Dip your fingers in a little bowl of water and wet the outside edge of a filled circle. Pick up a plain circle and press it in your fingers to make it slightly larger than the circle it will cover. Lay it over the circle you just wet and press down all edges. Repeat for the remaining circles until you have 24 complete. Use a fork and go back over all 24 brambles and gently press all of the edges of each.
Prepare two sheet pans by lining them with parchment.
Place 12 on each pan. If they stick to the counter a bit, use a bench scraper or spatula to lift them from counter and slide onto the pan.
Beat the egg with a tablespoon of water and brush the tops of each bramble. Sprinkle the turbinado sugar over the egg washed tops. Finally with a toothpick make a small vent hole in the top of each.
Bake for 20 minutes. Towards the end of the bake time, just as they are finishing browning, the jam will ooze from the vent hole. This is what you want and is part of the look of this pastry.
Remove to a cooling rack immediately so they don't stick to the parchment paper while cooling.
Serve immediately or, once cooled, store tightly covered at room temperature.
---
Disclosure: This post contains affiliate links.
You may also like: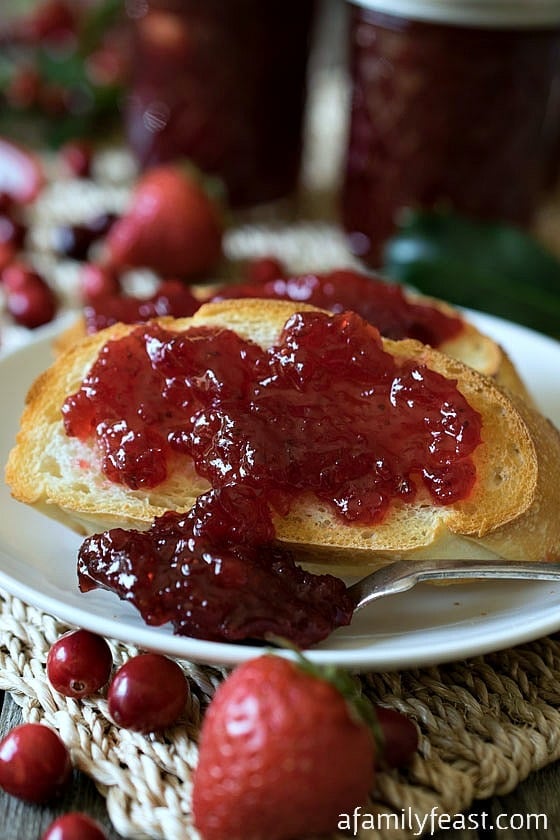 25 Sweet and Savory Strawberry Recipes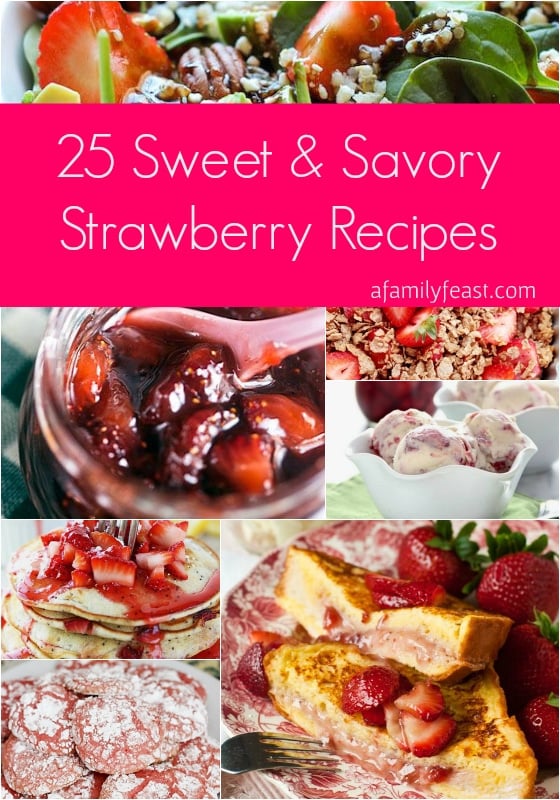 Roasted Strawberry Crème Fraîche Ice Cream