I've created a bit of a problem with these Spiced Pecans…my husband Jack can't stop eating them!  These spiced pecans are so addictively delicious, he keeps snacking on them and says that they are the best pecans he's ever had!
A few months ago, we made some of these awesome Chinese fried walnuts, and since we had everything set up in the kitchen for that recipe, I decided to experiment a bit with a bag of pecans that we had on hand in the kitchen.  I adapted our walnut recipe by cutting back a bit on the sugar and adding in some cinnamon, cumin and cayenne pepper to the salt that gets sprinkled over the pecans after they are fried.
Oh my – these spiced pecans are perfection!
Frying pecans gives them a light and crunchy texture (they aren't greasy at all!).  And the salty-sweet combination of flavors is enhanced by the spices which lend a gentle heat that is just perfect with the taste of the pecans!
Be sure to come back tomorrow because we're sharing a great salad recipe that uses these spiced pecans.  And, here's a little extra advice…if you're going to make this recipe, you might as well make a double batch because these spiced pecans are sure to become your new favorite snack!
Print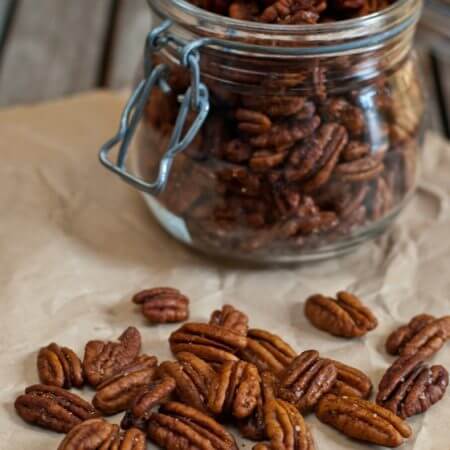 Spiced Pecans
Prep Time:

10 mins

Cook Time:

20 mins

Total Time:

30 minutes

Yield:

4 cups
---
½ teaspoon

cinnamon

½ teaspoon

cayenne pepper

½ teaspoon

cumin

1 ½ teaspoons

kosher salt

6 cups

water

4 cups

pecans (approximately

1

pound)

¼ cup

sugar
Canola oil
---
Instructions
In a small bowl, add cinnamon, cayenne, cumin salt and mix to combine. Set aside.
In a large saucepan over high heat, heat 6 cups of water to boiling. Add pecans and bring back to a boil. Cook for 1 minute. Drain and rinse under running hot water. Drain completely.
Pour drained nuts into a large bowl. Sprinkle with sugar and toss to coat the nuts completely with the sugar.
Meanwhile, in a deep-sided skillet or saucepan, heat about 1 inch of canola oil to 350 degrees. (It's recommended that you use a candy thermometer to make sure that you have the oil at the correct temperature – too hot will burn the nuts, too cool will not cook the nuts quickly enough and you won't get the crisp texture.)
Once the oil is at 350 degrees, with a slotted spoon (a 'spider strainer' like this works really well for this task), carefully add about half of the pecans to the oil (be careful as the wet nuts being added to the oil will splatter up!). Fry about 3 minutes – stirring often. Note that the pecans will continue to cook after they are taken out of the oil so it's important to not let them get too browned, otherwise they will end up burned.
With a slotted spoon, remove pecans from the oil and place into a coarse sieve or colander over a bowl to drain. Sprinkle with the half of the salt-spice mixture and keep tossing the pecans so that they don't stick together as they cool. Transfer the pecans to waxed paper to cool completely. Repeat with the remaining pecans.
Store cooled nuts in a tightly covered container.
---
Disclosure: This post contains affiliate links.
You may also enjoy:
Mixed Greens Salad with Pears, Goat Cheese, Dried Cranberries and Spiced Pecans
Toffee Pecan Bundt with Caramel Drizzle