Slow Cooker Mexican Crack Chicken has shredded chicken and vegetables in a creamy, zesty sauce.
"Crack" chicken recipes are an internet sensation – with most versions of this easy recipe seasoned with Ranch spices and served on a sandwich roll. For a delicious change of pace, we decided to change things up with zesty Mexican-inspired flavors, and serve ours over rice.
What is Crack Chicken?
It's typically a slow cooker chicken recipe made with shredded cooked chicken, sausage, cream cheese and other melty cheese, plus seasonings. You can serve it as a casserole, on sandwiches, or as a dip with chips. But no matter how you serve it – the combination of flavors is so addictively-good, you'll crave it!
Why You'll Love our Slow Cooker Mexican Crack Chicken
The zesty flavors and creamy texture of this dish are simply fantastic.
Prep is easy in the slow cooker – and no need to turn on the oven!
This dish is great for feeding a hungry family or a crowd at a party.
Key ingredients and Substitutions
Boneless, skinless chicken thighs and tenderloins. We chose a combination of chicken thighs and tenderloins for easy cooking and flavor. You can just use chicken thighs, or substitute boneless breast meat for the tenderloins. But – at least some thigh meat should always be used because it gives this dish a certain amount of fat and flavor.
Diced tomatoes with chiles – A can of Rotel is an easy way to add zesty Mexican-inspired flavors and choose the spiciness level you prefer. You could swap in a can of diced tomatoes and a can of green chiles instead.
Mexican spices – Our recipe includes Mexican oregano, cumin, coriander and chili powder, plus other basic seasonings. We also included a poblano pepper in the mix for zesty flavor. You can use a green bell pepper if you prefer a more mild dish.
Cheese – Adding cream cheese is a must for this recipe, and we also added Oaxaca and pepper jack cheese. If you can't find Oaxaca, choose any other mild cheese that melts easily such as Fontina or a mild cheddar.
Cilantro and Spanish chorizo, for garnish – Cilantro could be substituted with flat leaf Italian parsley if you prefer. Spanish pork chorizo is a cured product (not to be confused with Mexican chorizo which is raw and needs to be cooked.) The taste and texture is similar to pepperoni, except spicier.
Rice – We served our Slow Cooker Mexican Crack Chicken over rice, but you can serve it rolled up in tortillas instead.
Special supplies needed
Chef's Tip  

An easy way to remove the tendon from the tenderloin is to start by exposing the end of the tendon with a small knife. Then grab that piece with a paper towel and slip the tendon between the tines of a fork. Hold the paper towel and pull. The tendon will pull up through the fork tines while the tenderloin stays on your bench. There are dozens of videos if you search for this on line. Takes practice but works.
How do I make Slow Cooker Mexican Crack Chicken?
Layer meat, vegetables (tomatoes, onions, peppers) and spices in the slow cooker.
Add cream cheese and slow cook – on high for 3 ½ hours or low for 7 hours.
Shred the cooked chicken right inside the slow cooker crock.
Add additional shredded cheeses and cook on high until melted.
Serve over with rice with chopped cilantro and diced chorizo on top.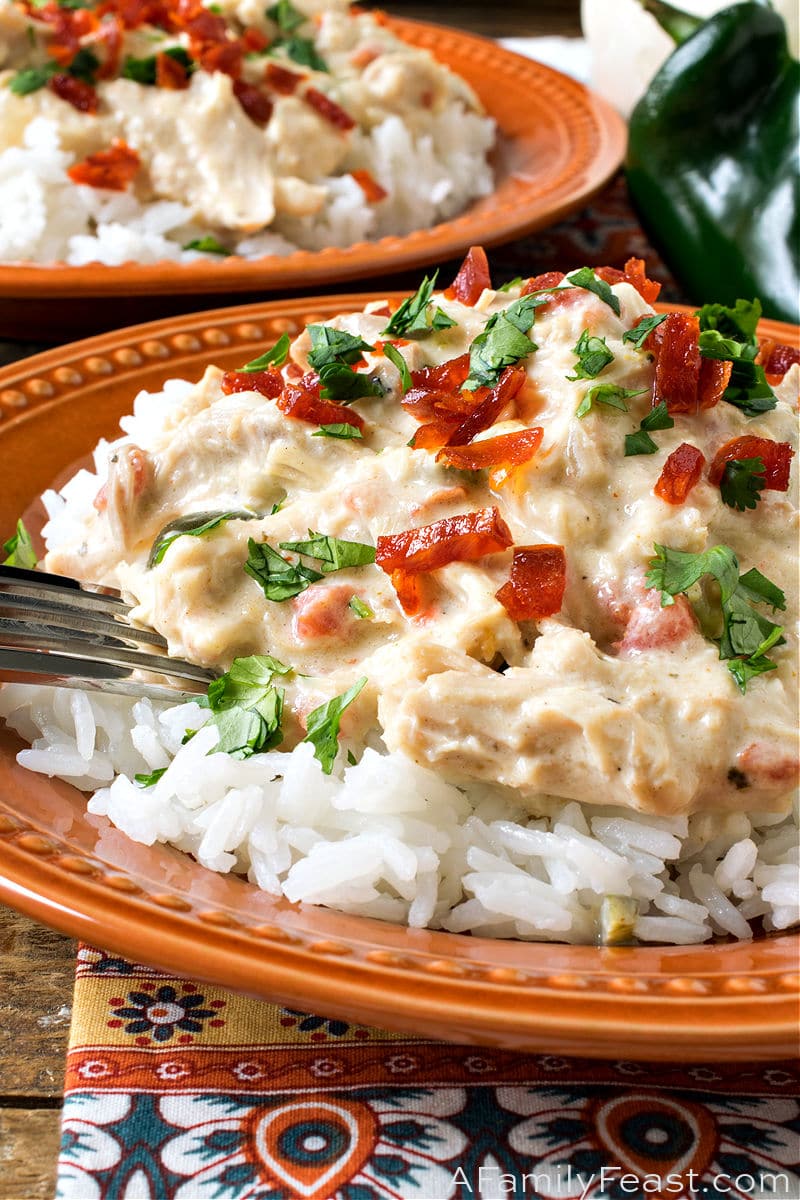 Frequently asked Questions
Can I make this ahead? Yes – you can slow cook this dish ahead of time, add the shredded cheeses and stir – then refrigerate to be heated and served later. Please note ceramic slow cooker crocks cannot stand extreme hot to cold and cold to hot so cool before chilling, and bring back to room temperature before reheating on high. (We typically heat the mixture in a non-stick pan on the stove, then place it back in the slow cooker to keep warm before serving.)
How do I store the leftovers? Keep refrigerated for up to three days in an air-tight container.
Can I freeze the leftovers? No…cheesy dishes like this do not freeze well.
Is it OK to put raw chicken in a slow cooker? Yes, as long as the correct heating temperature (low or high) is reached in under four hours.
Why is my slow-cooked chicken dry? White breast or tenderloin meat often tastes dry when cooked in a slow cooker simply because you've cooked it for too long. Try all thigh meat in your recipe, or a mix of thigh and white for better results.
Do you need liquid in a slow cooker for chicken? Depends on the recipe. For this one – no – as long as you follow the recipe as written and add all of the other ingredients, no extra liquid is needed.
Is it dangerous to slow cook chicken? No, as long as you follow the recipe and cooking method.
You may enjoy these other slow cooker recipes:
Print
Slow Cooker Mexican Crack Chicken
Author:

Prep Time:

15 minutes

Cook Time:

7 hours

Total Time:

7 hours 15 minutes

Yield:

8 servings

Category:

entree

Method:

slow cooker

Cuisine:

American
---
Ingredients
1 ½ pounds boneless skinless chicken thighs
1 ½ pounds chicken tenderloins
1 can Rotel diced tomatoes with chilies (mild or regular), drained
½ cup diced white onion
½ cup diced poblano pepper
2 tablespoons corn starch
1 ½ teaspoons Mexican oregano
1 ½ teaspoons ground coriander
1 ½ teaspoons ground cumin
1 teaspoon chili powder
½ teaspoon kosher salt
1 teaspoon white pepper
2 teaspoons dehydrated minced garlic
2 teaspoons dehydrated minced onion
2 8-ounce packages cream cheese cut into quarters
1 ½ cups Oaxoca cheese, shredded
1 ½ cups pepper jack cheese, shredded
Chopped cilantro, for garnish
4 ounces Spanish cooked pork chorizo, peeled and diced small, optional
Cooked rice, for serving
---
Instructions
Trim chicken thighs of all visible fat.
Remove tendon from tenderloin.
Place the thighs in the bottom of the slow cooker then top with the drained tomatoes and lay the tenderloins over the tomatoes.
Cover the tenderloins with the diced onion and peppers.
In a spice grinder or a small food processor, place the corn starch, oregano, coriander, cumin, chili powder, salt, pepper, minced garlic and minced onion and process into a fine powder.
Sprinkle this over the peppers and onions.
Top with the eight pieces of cream cheese, cover and cook on low for 7 hours or high for 3 ½ hours.
If serving with rice, cook that now.
Once the chicken is done, use two forks and shred, then add in the Oaxoca and pepper jack cheese and heat until melted into the mixture, about 15-20 minutes with slow cooker on high.
Serve with rice and garnish with the optional chorizo and chopped cilantro as garnish.
Alternatively, you could omit the rice and allow guests to use warm flour or corn tortillas with the chicken mixture in the center and rolled.
---
Keywords: slow cooker crack chicken, crack chicken, slow cooker Mexican crack chicken