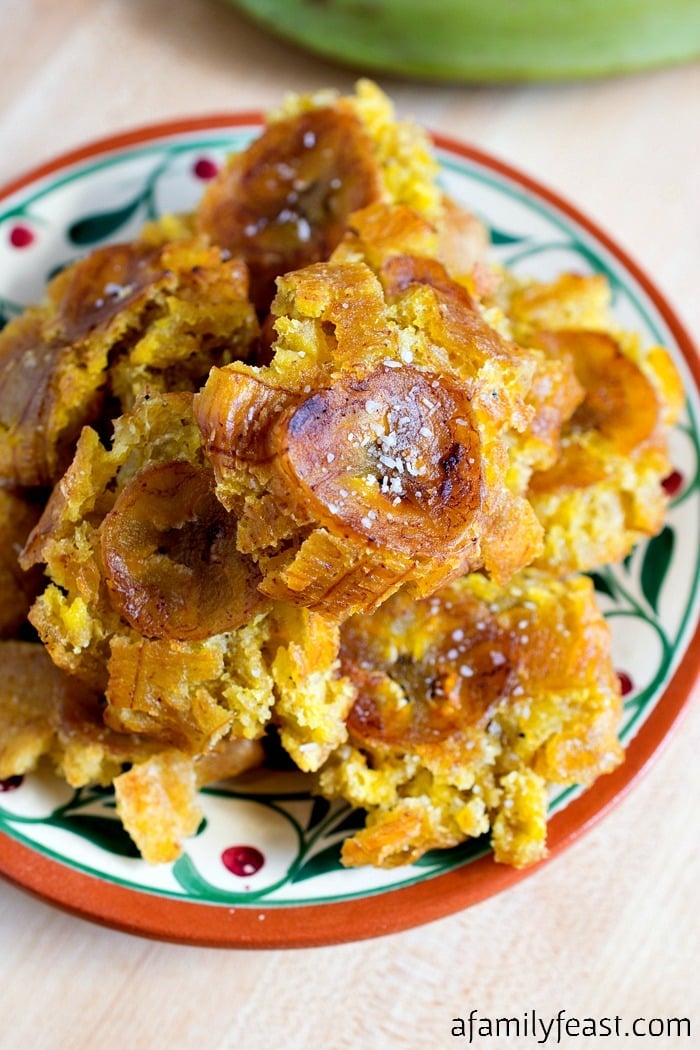 Savory Fried Plantains are a delicious and easy, must-make recipe to serve alongside our Filipino Picadillo that we shared with you earlier this week. In the Philippines, fried plantains are a commonly served dish – sometimes sweet and sometimes savory (like today's recipe).
The general rule of thumb is that if you are making Savory Fried Plantains – you'll want to use green, un-ripened plantains which have a flavor similar to a thick, rustic potato. Use ripe, yellow plantains if you are making sweet fried plantains – the ripe plantains have a flavor similar to a mild banana.
Here are the basic steps: Peel, slice and fry the plantains until golden and tender.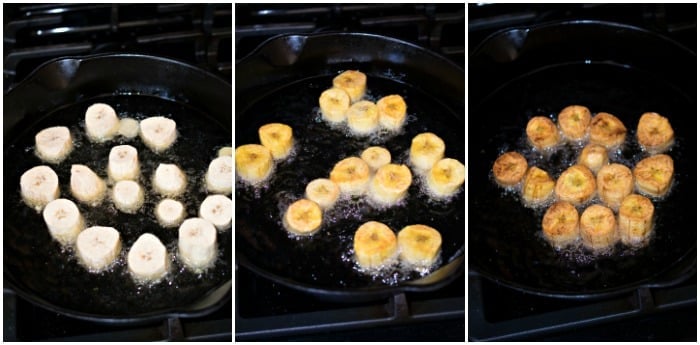 Drain the plantains on a paper towel to absorb the excess oil, then flatten each slice between two pieces of parchment paper (a meat tenderizer like this works well.)
Then – quickly dip each flattened plantain slice into a mixture of hot water and garlic.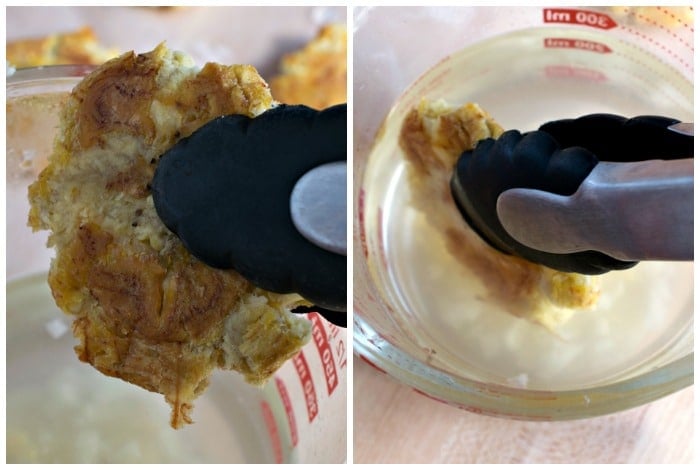 Finally, fry once again until crispy and golden brown.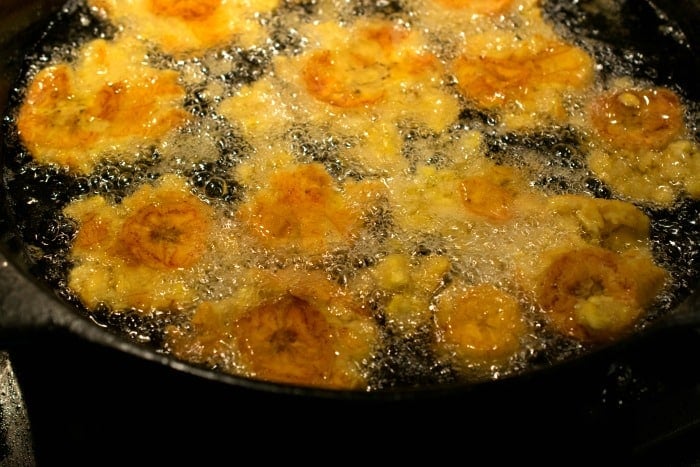 A final sprinkle of kosher salt and these Savory Fried Plantains are ready to be served alongside Filipino Picadillo.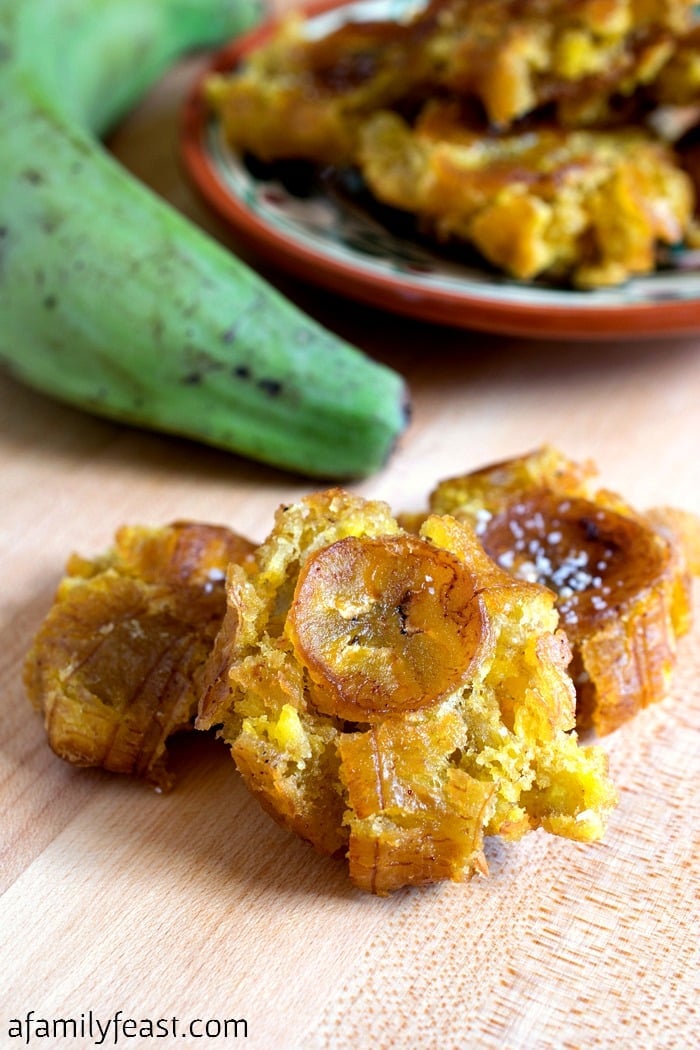 Print
Savory Fried Plantains
Prep Time:

5 mins

Cook Time:

15 mins

Total Time:

20 minutes

Yield:

2-4 servings
---
3

large green plantains, not the ripe yellow plantains
Peanut oil to fry them in

1 ½ cups

boiling water

2

cloves garlic, chopped

1 teaspoon

kosher salt
More salt, for sprinkling over cooked plantains
---
Instructions
Cut the ends off all three plantains.
Run a sharp knife down one side, then the other of each plantain without letting the knife pierce the fruit under the skin.
Use you thumb to pry the skin off on one side then the other. Do this for all three.
Cut each peeled plantain into one inch thick slices.
Place the boiling water, garlic and the teaspoon of salt in a bowl or right in the measuring cup and set aside.
Fill a cast iron pan or a heavy bottomed sauté pan with half an inch of the oil and heat over medium high.
Cut a small piece of plantain and drop it in the hot oil. Once it starts to sizzle and fry, you can add the rest of the slices.
Do this with a pair of tongs and place cut side down into the hot oil.
Fry for about two minutes or until the bottom is golden. Turn each one over with the tongs and again cook for about two minutes or until golden.
Remove to a rack that is sitting over a pan to collect the drippings.
Lay out a piece of waxed paper and place one or more plantains onto the paper cut side down and place a second piece of waxed paper over them.
Using a heavy object (we used a meat press), press each one down so they burst out from the sides and flatten to about one quarter inch.
If you turned off the heat to the oil, reheat as before.
Once the oil is hot, with tongs, dip each plantain in the water, shake off excess and place in the hot oil. It may splatter a little. (VERY IMPORTANT: When you dip them into the water, do it quickly or they will fall apart.)
Fry for about a minute to a minute and a half on each side until deep brown in color but not too brown.
Remove to paper towels and sprinkle with salt while they are hot.
Serve immediately or seal in an air tight container until ready to serve.
---
Disclosure: This post contains affiliate links.


You may also like: