Sweet, spiced pumpkin sugar cookies with the perfect texture plus a crunch of sugar on top!
Our Pumpkin Spice Sugar Cookies scream "Fall!" loud and clear. Without a doubt, they deserve a spot on your cookie tray for Halloween and Thanksgiving, or any other time you want a delicious taste of pumpkin.
These easy cookies are cakey, chewy and crunchy all at the same time. Intensely flavored, spiced cookies puff up and spread as they bake, then settle down into a soft cake-like cookie. But as you bite into them, that cakey texture compresses a bit, giving you a nice chewy feel. Then – the Demerara sugar on top gives each bite a nice satisfying crunch.
These soft pumpkin spice cookies check all of the boxes on my perfect-cookie list!
Key ingredients and Substitutions
Pumpkin puree – Follow our homemade pumpkin puree recipe, or buy canned pumpkin puree. Just be sure to avoid the canned pumpkin pie filling – it's not appropriate for this recipe.
Pumpkin pie spice – Sold at most supermarkets, this pumpkin pie spice mix is a combination of ground cinnamon, ginger, nutmeg and allspice.
Dark Molasses – This dark sugary syrup adds a deep rich flavor to these cookies and also lends that distinctive, chewy texture.
Demerara sugar – Sometimes called raw sugar, demerara sugar stays crystallized as it bakes and adds a nice crunchy topping to these cookies. You can also use turbinado sugar which is a similar texture, but has a milder flavor.
Special supplies needed
Stand mixer for easy mixing, or a hand-held mixer
Cookie baking sheets lined with parchment paper
Chef's Tip –

Start preparing the cookie dough two hours before you plan to bake. The cookie dough needs time to firm up in the freezer before baking.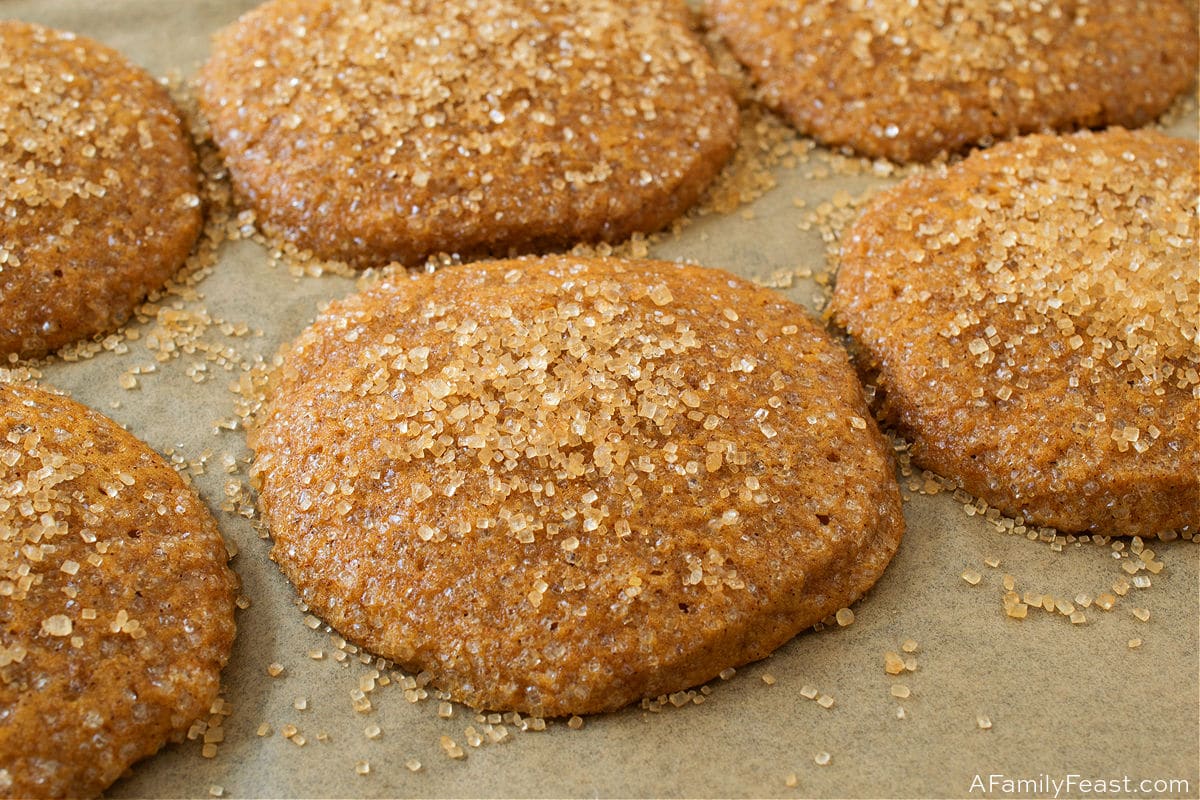 How do I make Pumpkin Spice Sugar Cookies?
Sift flour, salt, baking powder and pumpkin pie spice together in a bowl.
Beat butter until fluffy, then add in the granulated sugar and beat again. Add molasses, eggs, then pumpkin puree, mixing after each addition.
Add the dry flour mixture to the wet ingredients and mix just until combined.
Divide dough into five 8-inch logs, wrap in plastic and freeze for two hours.
Unwrap each dough log and cut into 12 circles per log. Press each circle into the Demerara sugar, then place on parchment lined cookie sheets. Sprinkle more sugar on top.
Bake until done, then sprinkle on even more Demerara sugar as they come out of the oven.
Cool cookies on cooling racks until firm, then serve.
 Chef's Tip –

Once mixed, this cookie dough will be very sticky thanks to the molasses and pumpkin. Follow the steps outlined in the recipe – rolling the dough into logs and freezing before baking.  The freezing step will make the dough more manageable to portion out, and the frozen center of each cookie stays a little bit chewy as they bake up to the final consistency.
Frequently asked Questions
Can I make these Pumpkin Spice Sugar Cookies ahead of time?  Yes – the dough can and should be made ahead and frozen. The final cookie could also be made in advance.
How do I store the cookies? Store baked cookies in an air-tight container and refrigerate.
Can I freeze these cookies? Yes. Both the raw dough and the finished cookie freeze very well, although some of the sugar on top may fall off as the cookies are wrapped.
This Pumpkin Spice Sugar Cookie recipe originally appeared on A Family Feast in October 2015. After some reader comments that the cookie dough was too soft to handle, we've revised the recipe and updated the photos.
You may enjoy these other Pumpkin Cookie recipes:
Print
Pumpkin Spice Sugar Cookies
Prep Time:

2 hours 30 minutes

Cook Time:

15 minutes per batch

Total Time:

3 hours 15 minutes

Yield:

5 dozen

Category:

cookies

Method:

baking

Cuisine:

American
---
3 ½ cups all-purpose flour
½ teaspoon salt
2 teaspoons baking powder
3 tablespoons pumpkin pie spice
2 sticks butter, softened (1 cup)
1 ¼ cups granulated sugar
1/3 cup dark molasses
2 large eggs
1 cup pumpkin puree (see our homemade recipe here or buy canned pumpkin)
2 cups Demerara sugar (raw or turbinado sugar may also be used), divided
---
Instructions
In a large bowl, whisk flour, salt, baking powder and pumpkin pie spice. Set aside.
In the bowl of a stand mixer with the paddle attachment, beat butter for one minute until light and fluffy.
Add granulated sugar and beat to combine. Scrape and beat again.
Add molasses and beat, scrape and beat again.
With mixer running, beat in one egg at a time, scrape and beat again.
Add the pumpkin puree and beat to combine. Scrape and beat again.
Mix dry into wet and mix just to combine.
Lay out five sheets of plastic wrap and scrape the dough between the five sheets using a firm rubber spatula. Using the plastic, form the sticky dough into 8-inch logs. Wrap tight and even and freeze without stacking them so they freeze round.
Let freeze for two hours or longer. I froze mine overnight.
When ready to bake, preheat oven to 350 degrees F and place two oven racks one third and two thirds in oven placement.
Line five cookie sheets with parchment, or simply keep reusing the same cookie sheets.
Pour 1 ½ cups of the Demerara sugar into a pie plate and measure out the rest and set aside.
Unroll one log at a time and cut in half on a cutting board with a sharp knife. Cut each half in half to give four pieces. Then cut each piece into three even circles, giving 12 round pieces per log.
Pick up one circle at a time and press all sides into the Demerara sugar in the pie plate then place 12 on a cookie sheet.
Sprinkle more Demerara sugar over each cookie from the reserved half cup then bake two pans at a time for eight minutes. Turn each pan and rotate between racks and bake for seven more minutes. Feel the top gently. It should be slightly firm with a little bounce back. If it is a little too soft, bake for one more minute.
Remove the pans, sprinkle with even more Demerara sugar and slide onto cooling racks while you bake the next batch. Repeat for the last pan.
Use a spatula or turner to lift from the parchment and store airtight once cooled to room temperature. Then refrigerate.
The finished texture should be light and cakey that compresses to a nice chew when you bite into it with a crunchy top.
---
Notes
When we baked our cookies, we found that one pan took 15 minutes and the second took an extra minute, due to uneven heating from having two pans bake at once. Test each pan before removing. Baking longer than 16 minutes may dry these cookies out.
Keywords: pumpkin spice sugar cookies, soft pumpkin cookies, pumpkin spice cookies