A rich and delicious Polish Tomato Soup made with a flavorful pork broth and crushed tomatoes, then topped with fresh dill, sour cream, and pasta
Jack and I have joined a number of Facebook recipe groups in the last few months, including one devoted entirely to Polish family recipes.
One of the group members shared photos of a tomato soup with chunks of pork in the broth – and Jack and I both thought it looked fantastic! So – that was the inspiration behind today's Polish Tomato Soup.
How do you make Polish Tomato Soup?
You'll start by creating a flavorful broth made with meaty pork ribs, onions, celery, carrots, garlic, bay leaves, and the stems from fresh dill.  (Save the dill fronds for garnish.)
After the broth has simmered and reduced, pick the meat from the bones to add to the finished soup. Remove the bay leaves and puree the broth to a smooth liquid.
Next, saute onions and tomato paste in a large pot. Add the broth, canned crushed tomatoes, the dill fronds, and the cooked pork. Simmer for about 30 minutes.
To serve your Polish Tomato Soup, ladle the soup into a bowl and top with cooked pasta or rice (we chose a mini farfalle), a dollop of soup cream, and more of the dill fronds.
This Polish Tomato Soup is a hearty meal all by itself, and it's especially delicious with some rye bread and butter on the side.
You may enjoy these other tomato recipes:
Print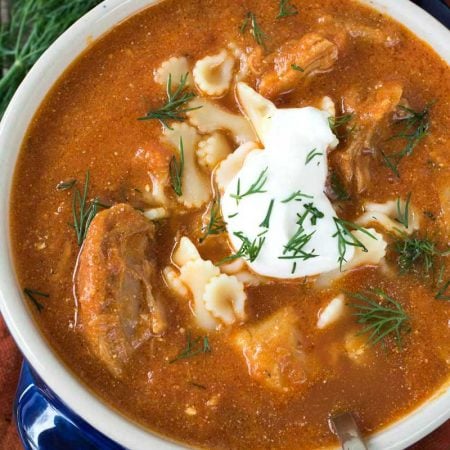 Polish Tomato Soup
Author:

Prep Time:

30 minutes

Cook Time:

3 hours

Total Time:

3 hours 30 minutes

Yield:

12 servings

Category:

soup

Method:

stovetop

Cuisine:

Polish
---
Stock
3 ½ pounds meaty pork bones, such as country ribs
Half of a large sweet onion coarsely chopped, about ½ pound
2 large celery stalks, coarsely chopped
1 medium carrot, peeled and coarsely chopped
½ cup fresh dill (stems only, the fronds will go into the finished soup)
2 large garlic cloves, smashed
3 bay leaves
½ teaspoon black peppercorns
1 teaspoon kosher salt
3 quarts water
Soup
2 tablespoons extra virgin olive oil
1 cup sweet onion, diced
1 6-ounce can tomato paste
2 quarts of stock from above
2 28-ounce cans kitchen ready crushed tomatoes
2 tablespoons dill fronds, minced, plus more for garnish
8 ounces dry small pasta, such as mini farfalle (could also use cooked rice)
1 cup sour cream plus more for garnish
2 tablespoons butter
---
Instructions
The stock can be made a day ahead if you wish.
Place all stock ingredients into a stock pot and bring to a boil.
Lower to a simmer and skim off and discard brown foam that floats to the top.
Simmer stock for two hours.
After two hours, remove pork with tongs and set aside to cool.
Remove and discard three bay leaves.
Use an immersion blender and puree what remains in the pot. There should be exactly two quarts of pureed liquid. If there is more, place it back in the pot and slowly cook down to two quarts being careful that it doesn't stick. If less than two quarts, make up the difference with water. Set aside for now.
Pick meat off of the bones and discard bones, fat and connecting tissue. Break the meat up with your fingers into bite sized or larger pieces and set aside.
In a 6-quart soup pot or Dutch oven over medium heat, add the olive oil and once hot, add the onions.
Cook the onions for five minutes or so until completely tender. It is OK if they start to brown.
Add the tomato paste and cook for three minutes stirring often so it doesn't stick.
Add the stock and scrape any brown bits from the bottom. (If any sediment settled to the bottom of the stock container or pot, stop pouring before you get to it. I had a few peppercorns settle to the bottom which I discarded)
Add the two cans of crushed tomatoes, dill fronds and cooked pork.
Bring to a simmer and place a heat defuser under the pot and a splatter screen over the top and once simmering, cook 30 minutes. Try not to break up the pork too much.
While the soup is cooking, cook the mini pasta and set aside.
After 30 minutes, add in the sour cream and butter off heat and stir gently until they are melted into the soup.
Serve with some of the pasta sprinkled over the top, or stirred in, and top with more sour cream and chopped dill fronds.
---
Keywords: Polish Tomato Soup with Pork