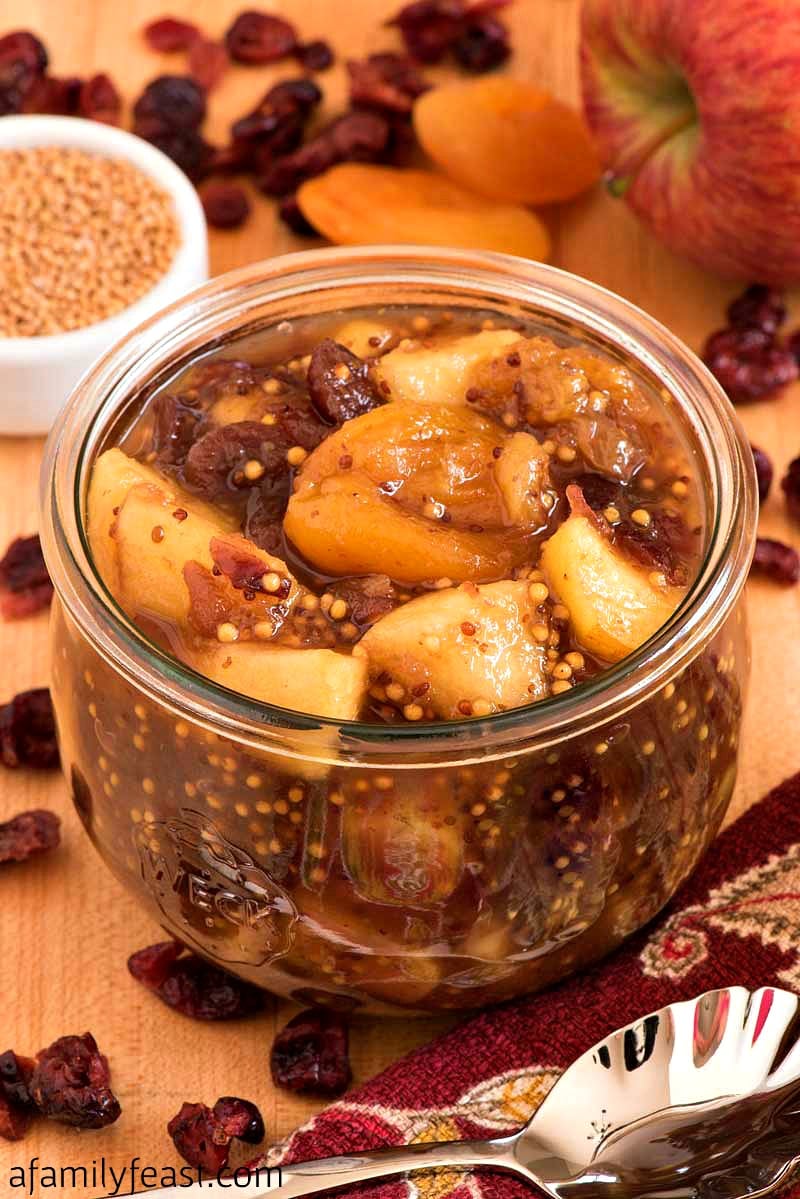 Mostarda is a delicious Northern Italian condiment made with fruits in a mustard-flavored syrup. It's a little sweet, a little spicy, and a little savory – and it all comes together in a unique flavor combination that goes remarkably well together.
Also called Mostarda di frutta – there are many different variations of Mostarda recipes. Some are made with reconstituted dried or candied fruits, while others are made with fresh fruit that is cooked down to the point that the fresh fruit juices create a syrup.
Our Mostarda recipe is a combination of both. We combined fresh in-season, baking apples with dried cranberries and apricots that plumped back up as the fruit cooked in a sauce. The sauce is made with butter, shallots, white wine, sherry, apple liquor, crystallized ginger, whole grain mustard, and a pinch of cayenne pepper.
As the Mostarda slowly simmers on your stove – you are going to be very impatient for your first taste! But when the Mostarda is done cooking, your patient taste buds will be rewarded with a fantastic condiment unlike anything you've had before.
Traditionally, Mostarda was served with boiled meats – but it is now also served as a condiment on a meat and cheese board.  Jack and I can vouch that the Mostarda is equally delicious served spooned over a wedge of sharp cheese as it is dolloped on slices of grilled sirloin tips and pork tenderloin!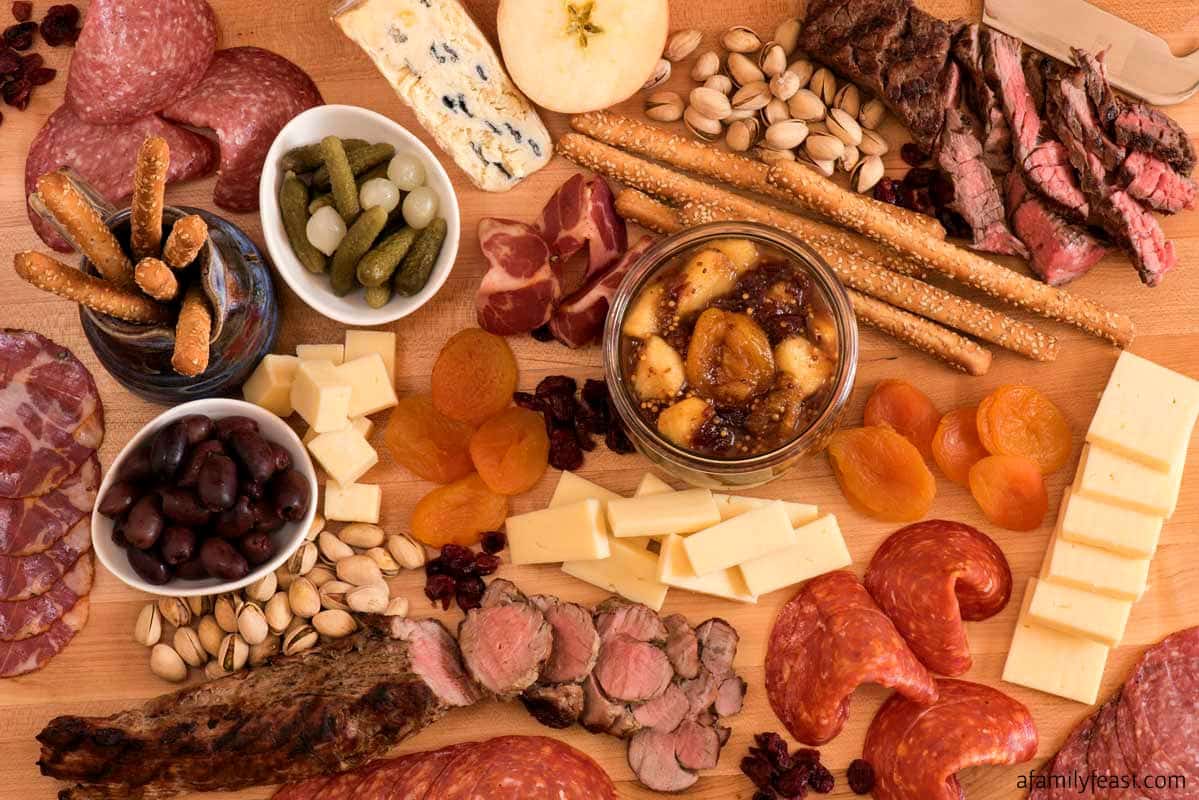 It's also a wonderful complement to salty and spicy Italian cold cuts, as well as crispy breadsticks and toast.  We've been spreading this mostarda on lots of different foods, and it can be eaten warm or chilled. (Both ways are delicious!)
I will point out that our Mostarda recipe makes a generous amount – about six cups. We decided to eat some, then we canned the rest (10 minute water bath method) to enjoy anytime we'd like!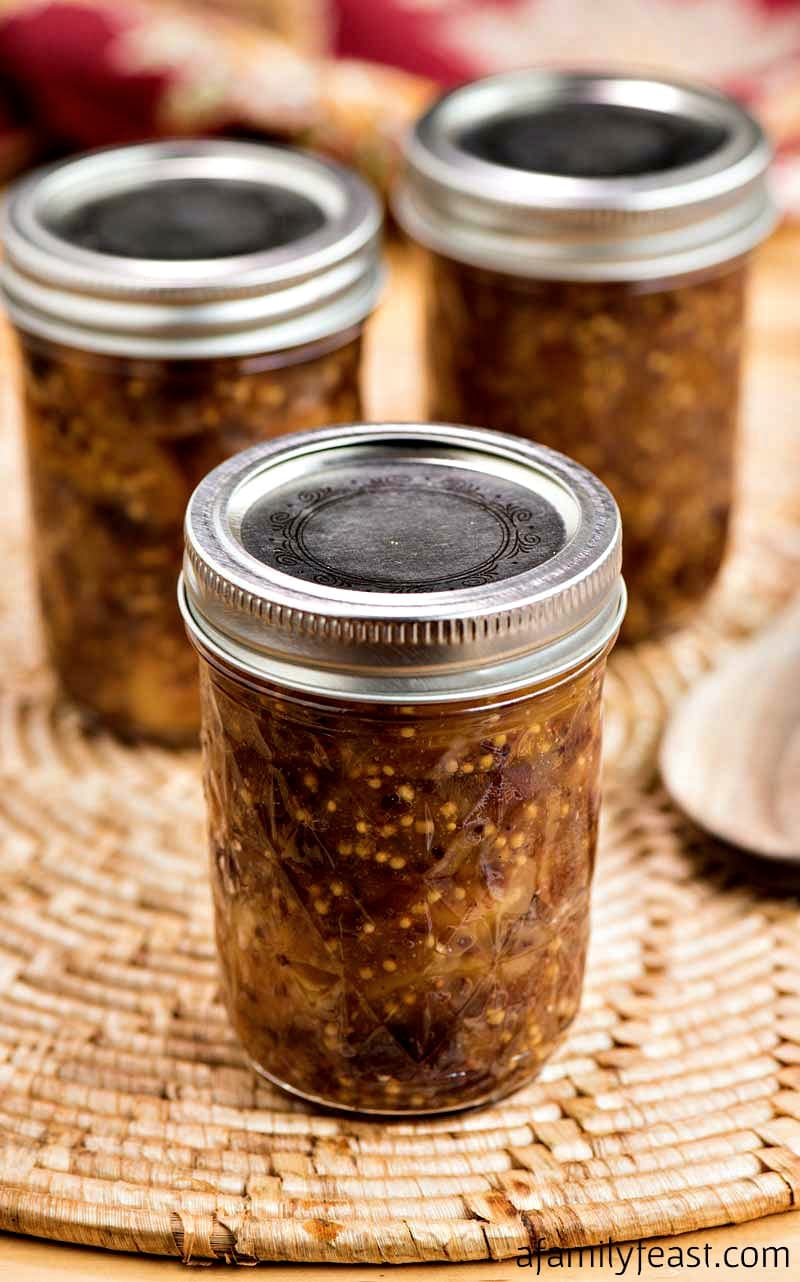 You may also like:
Print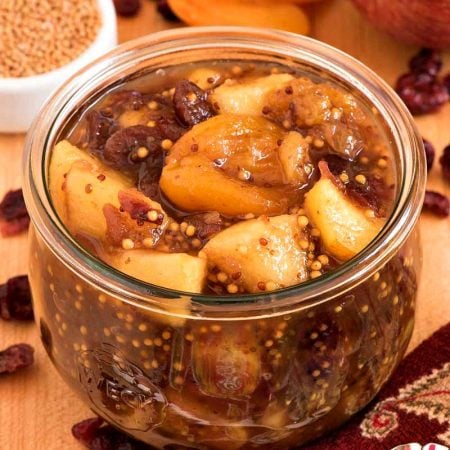 Mostarda
Prep Time:

20 minutes

Cook Time:

50 minutes

Total Time:

1 hour 10 minutes

Yield:

6 cups
---
2 tablespoons butter, divided
1 tablespoon finely minced shallots
1 cup white wine
¼ cup sherry
2 tablespoons Apple liquor such as Apple Jack (optional)
½ cup whole grain prepared mustard
1.4-ounce container whole mustard seeds (1/4 cup)
1 tablespoon minced crystalized ginger
¼ teaspoon kosher salt
¼ teaspoon cayenne pepper
1 ½ cups granulated sugar
4 baking apples, peeled, cored and cut into two-inch pieces (such as Granny Smith, Fuji, etc.)
1 cup dried cranberries
8-ounce container dried apricots left whole
1 cup water
Ideas for serving with the Mostarda:
Grilled pork or beef
Italian cold cuts
Cheddar cheese
Provolone cheese
Blue cheese
Olives, pickles, etc.
Bread sticks or toasted Italian bread
Assorted nuts
---
Instructions
In a large sauce pan, place one tablespoon of butter and keep the remaining tablespoon cold. Add the shallots and cook over medium heat until the shallots are soft but not browned, about 2-3 minutes.
Add all other ingredients and bring to a boil. Reduce to a simmer and cook uncovered for 45-50 minutes or until apples are tender and the mixture has thickened. (If the apples are tender and the mixture hasn't thickened yet, remove fruit with a slotted spoon and cook the mixture down to thicken then add the fruit back in) Remove from heat and stir in the remaining tablespoon of cold butter.
Serve warm or cooled. It will thicken more as it cools.
---
You may also like:
Chicken Breasts with Mushroom and Onion Dijon Sauce