Our Mixed Berry Muffins are a wonderful taste of summer thanks to a generous amount of fresh strawberries, raspberries and blueberries that we loaded into the sweet muffin batter.
Today's recipe is actually an adaptation of the legendary Jordan Marsh Blueberry Muffins recipe that we shared here – but we swapped in a mix of summer berries, and the results are equally delicious!
We also topped our Mixed Berry Muffins with white sparkling sugar – giving these muffins a perfect sugar-topping-crunch that rivals the best of any muffins you'd buy at a professional bakery.  And we used fancier "tulip" muffin papers which you can find online here – for even more of a bakery-style look!
With summer berry season coming to an end, we're baking up a big batch of these Mixed Berry Muffins while we can! And, if you wrap the muffins up tightly and carefully, they do freeze fairly well – so you can enjoy the sweet summer flavors for a breakfast on-the-go once hectic school mornings start up again.
Print
Mixed Berry Muffins
Prep Time:

20 mins

Cook Time:

25 mins

Total Time:

45 minutes

Yield:

10 muffins
---
Pan spray and shortening to prepare muffin pan

4 tablespoons

butter, softened

4 tablespoons

vegetable shortening

1 cup

granulated sugar

2

whole fortified eggs such as Eggland's Best

1 teaspoon

vanilla extract

1 cup

white pastry flour

1 cup

bread flour

½ teaspoon

salt

2 teaspoons

baking powder

½ cup

whole milk

1 cup

fresh strawberries, cut into halves or quarters (depending in the size of the berry)

1 cup

fresh raspberries

1 cup

fresh blueberries

2 tablespoons

white sparkling sugar, for tops
---
Instructions
Preheat the oven to 400 degrees F with rack in the center of the oven.
Spray the inside of a 12 cup muffin tin with pan spray (You will only be using 10 of the 12). Then, using vegetable shortening, liberally grease the top of the pan. Place muffin liners into the sprayed holes. (If using the taller tulip muffin liners that we used in our photos, no need to grease the top of the muffin pan since the batter will stay inside the liners.) Set the pan aside.
In the bowl of a stand mixer, cream butter and shortening for one minute with the paddle attachment.
Add sugar and beat on medium for about one minute.
With the machine on medium, add one egg at a time and blend to mix. Scrape sides then beat on medium for two and a half minutes. This is important to whip air into the batter.
Add vanilla and beat for a few more seconds to combine.
Mix both flours, salt and baking powder in a small bowl. Just stir a few times to mix.
Start adding the flour mixture and the milk a little at a time with the mixer running. Once they are both in, do not mix further. You want to just get them incorporated without over mixing. Otherwise the muffins will be tough.
Remove the mixing bowl to your counter and fold in the mixed berries.
Using an ice-cream scoop, divide the mixture between ten cups of the prepared 12 cup muffin tin. The batter will be piled high above the rim.
Sprinkle the white sparkling sugar over the tops of each muffin (total 2 tablespoons) and immediately place in the oven.
Bake for five minutes then reduce the oven temperature to 375 degrees F and bake for 20 more minutes. (If your oven has a hot spot, rotate pan halfway through. Do not over bake. They will be soft but 25 minutes is plenty of time and they will bake a little further outside of the oven.)
Remove to a rack to cool.
---
Disclosure: This post contains affiliate links.
You may also like:
The Real Jordan Marsh Blueberry Muffins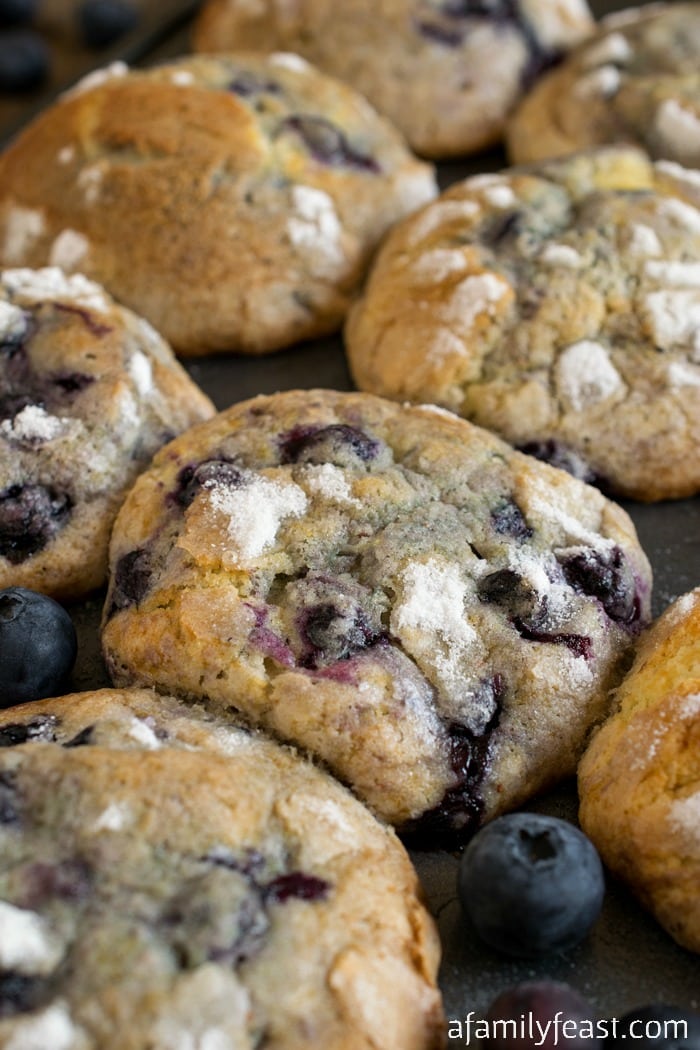 Sour Cream Coffee Cake Muffins