With Cinco de Mayo just a few days away, I'm guessing you might be planning to have some delicious margaritas on the menu too? So – while you've got a pitcher of margaritas already mixed up and ready to drink – why not also make our Margarita Shrimp with Rice as part of your party menu?!
You'll use some of this yummy margarita mix to marinate fresh jumbo shrimp before grilling. It's a blend of lemon and lime juices, tequila and triple sec.
You'll also cook up some rice using more of the margarita mix in the cooking liquid to give the rice a zesty, citrus flavor! We carried the margarita theme even further by serving this Margarita Shrimp with Rice in a margarita glass.
This Margarita Shrimp with Rice is a fun idea to serve at any Cinco de Mayo party. Or a great way to use up any leftover margarita mix the day after. Enjoy!
Print
Margarita Shrimp with Rice
Prep Time:

30 minutes

Cook Time:

20 minutes

Total Time:

50 minutes

Yield:

4 servings

Category:

entree

Method:

grilled

Cuisine:

Mexican
---
1 pound Jumbo raw shrimp (16–20 per pound)
1 cup margarita mix (see recipe here)
1 tablespoon chili garlic sauce
1 teaspoon ginger, grated fine
2 tablespoon cilantro, chopped fine
To Make Rice
1 tablespoon peanut oil
¼ cup red onion, minced
1 teaspoon jalapeno, minced fine
1 cup white rice
1 teaspoon chili garlic sauce
1 cup Margarita (see recipe here)
1 cup water
2 tablespoons cilantro, chopped
3 tablespoons peanut oil, for grilling the shrimp
---
Instructions
Soak 8 long wooden skewers for one hour.
Clean shrimp of all shells including tail and if not deveined, remove vein.
In a medium bowl, mix margarita, chili garlic sauce, ginger and cilantro and add shrimp.
Marinate for 30 minutes, no longer.
Make rice by heating the peanut oil in a medium sauce pan that has a tight-fitting lid over medium heat.
Add onion and jalapeno and sauté for 3 minutes.
Add rice and chili sauce and sauté for 2 minutes.
Add margarita and water and bring to a boil. Reduce to low, cover and cook 15 minutes.
Remove from heat, add in cilantro and toss then cover for 5 more minutes.
Drain shrimp and pat completely dry.
Run two wooden skewers through the shrimp, putting five to six per set. To start, hold shrimp with tail away from you and run the skewer through fat end then through the tail. Repeat until 5 or 6 are on the skewer. Then take the second skewer and run it through all, running parallel to the first skewer. This will keep the shrimp from spinning on a single skewer.
Heat a ribbed grill pan over medium high heat.
Brush both sides of the shrimp (not the pan) with the oil.
Once the pan is hot, grill both sides for 1-2 minutes per side until done.
Note, I needed to trim the ends of the skewers off so they would fit my grill pan.
Once the shrimp are done, slide from the skewer to the platter.
We served ours by adding rice to margarita glasses and topped with the cooked shrimp however feel free to serve any way you wish.
---
Disclosure: This post contains affiliate links.
You may also like: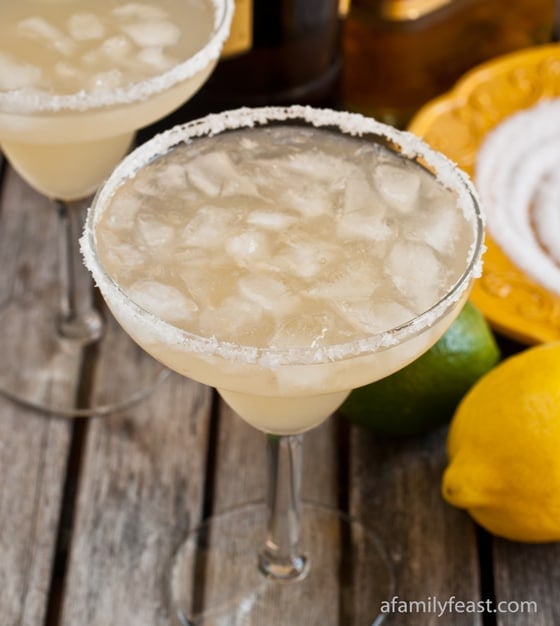 Watermelon and Pink Grapefruit Margaritas