Lemon Butter Sauce is a deliciously smooth and zesty addition to vegetables, seafood or meat. Whisk up a batch and enjoy!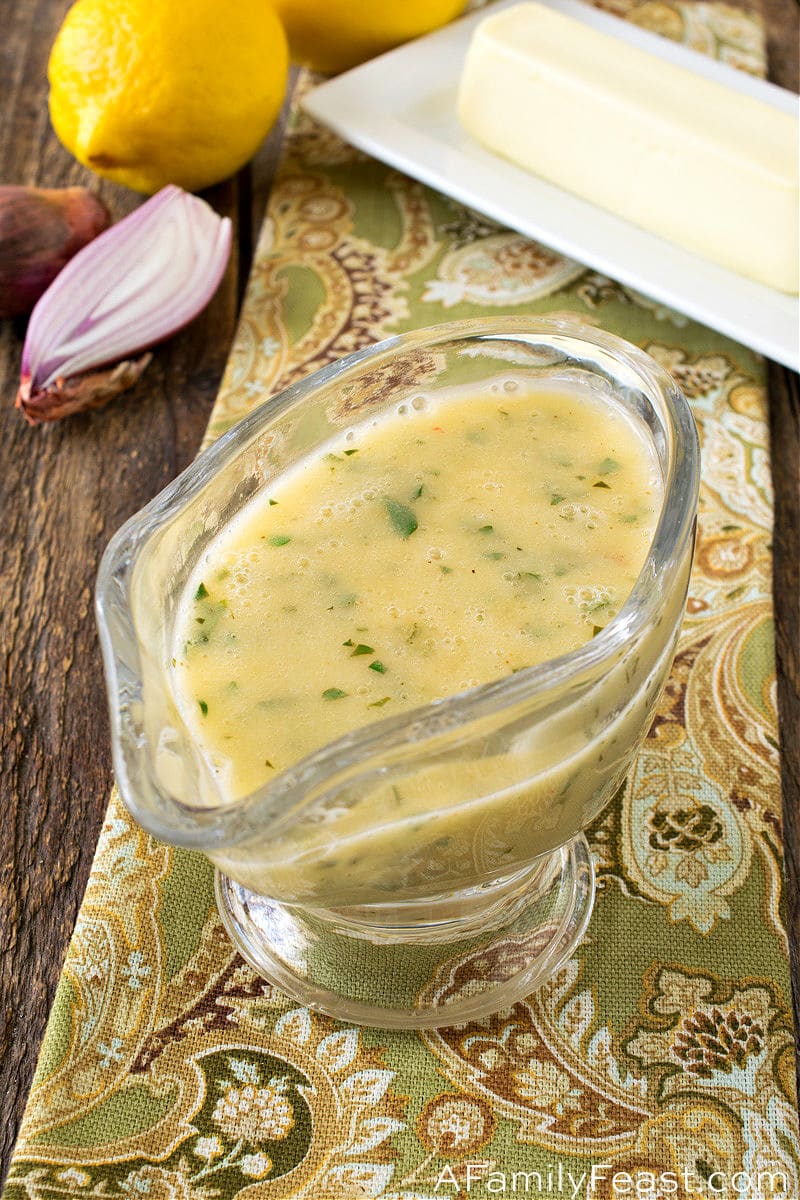 Our luscious Lemon Butter Sauce will brighten up the flavors of any dinner! It's so good (and so easy to prepare) you'll be whisking up this recipe every chance you can get!
Why You'll Love This Sauce

All that flavor! This sauce is so good, you'll be tempted to eat it with a spoon!
Its versatility. This sauce is wonderful drizzled over poultry and seafood, or used as a dip or topping for vegetables. It's even delightful on eggs.
It's fast and easy to make. This recipe whips up rather quickly, and you'll want to serve it warm right away.
Chef's Tip

This sauce comes together so quickly, you'll want to have all of your ingredients ready before you start cooking. Be sure to read Cook Like a Pro with Mise en Place for tips on recipe preparation and organized cooking.
What is Lemon Butter Sauce?
Lemon Butter Sauce is exactly what it sounds like – a sauce made with butter, broth or wine and seasonings – in our case, lemon and shallots.
There's no need to add flour to the sauce because the butter emulsifies and serves as its own thickening agent.
Chef's Tip

Because there is no flour used to thicken this sauce, it's low carb and great for keto diets!
Beurre Blanc vs. Lemon Butter Sauce
This recipe is similar to a Beurre Blanc where both involve stirring cold butter into an acid to form an emulsion – but there are some differences between the two sauces as well.
Beurre blanc typically includes white vinegar as well as heavy cream (among other ingredients for flavor).
This lemon butter sauce adds lemon juice as both the acid and for flavor. It omits the cream, instead relying upon the milk solids in the butter to thicken the sauce.
White wine and shallots are used in both sauces, however white pepper seasons a beurre blanc, and fresh parsley seasons the lemon butter sauce.
Key ingredients and Substitutions:
White Wine – We like to use Chardonnay, but any white wine will work in this sauce. Whichever kind you choose, this will be reduced with the lemon juice. It enhances the other flavors in the dish, and cuts some of the acidity of the lemon to achieve a nicely balanced flavor.
Shallots – The most mild and sweetest of the onion family, shallots add flavor and texture as they are cooked with the wine.
Lemon Juice – Always use freshly squeezed lemon juice for the superior flavor it adds to the sauce. Bottled lemon juice often tastes too tart, so avoid using it in this recipe.
Ice Cold Butter – This is used as an emulsifier to thicken the sauce so it's important to use super cold butter. Add the butter in small amounts – the icy temperature will cause it to melt more slowly, which gives you enough time to thoroughly whisk and create that perfect emulsion.
Fresh Parsley and Spices –Fresh parsley adds a fresh note to the rich lemon butter sauce and a tiny pinch of cayenne cuts the richness. Season with salt and pepper as well.
How Do I Make Lemon Butter Sauce?
Prep the ingredients – Measure out all of the sauce ingredients before starting to cook. This includes slicing pats of butter and placing them on a plate in the freezer so they have some time to get icy cold.
Reduce – Add the wine and shallots to a heated sauté pan and cook until the wine reduces some and the shallots soften. Careful – the wine may splatter a bit as it's poured into the hot pan.
Reduce again – Add the lemon juice to your skillet and simmer to reduce. This step will really intensify the lemon flavor.
Whisk – Slowly add the ice-cold butter to the pan, a few pats at a time, and whisk the butter as it melts. You'll see the sauce begin to thicken.
Season – Remove the pan from the heat at this point, and add the chopped fresh parsley and other seasonings. Serve immediately.
How Do I Serve Lemon Butter Sauce? 
This Lemon Butter Sauce is absolutely divine served over fish such as salmon, on shellfish such as shrimp or prawns, over sliced roasted chicken, or on steamed vegetables such as asparagus or broccoli. You could even toss this sauce with pasta, or spoon it over poached or scrambled eggs.
Frequently Asked Questions:
Can I make lemon butter sauce ahead of time? Not really. Because of the butter emulsion, this sauce doesn't reheat very well. While technically, it can be done, you will lose most of the thick, rich smoothness of the sauce by preparing it ahead of time and reheating.
How can I keep this sauce warm during my meal? Fill a wide pan with a little water and heat to hot. Pour the finished sauce into a small bowl and set the bowl in the hot water (a similar process to cooking in a double boiler). Stir occasionally.
How do I store this sauce? As stated above, this sauce is best served immediately after it's made.  If you do decide to store it for another meal, chill it in the refrigerator. Then reheat following the same process as above to keep the sauce warm. You can also add another pat or two of butter to try to thicken the sauce again – but it won't be exactly the same as fresh made.
Will lemon curdle the butter? If you follow the exact steps in this recipe, the lemon should not curdle. You will be slowing introducing the butter to the lemon juice, and whisking as you go, so that should prevent the butter from separating in the sauce.
You may enjoy these other savory lemon recipes:
Print
Lemon Butter Sauce
Author:

Prep Time:

10 minutes

Cook Time:

5 minutes

Total Time:

15 minutes

Yield:

1 1/2 cups

Category:

sauce

Method:

stovetop

Cuisine:

American
---
12 tablespoons unsalted butter, cut into thin pats
2 tablespoons white wine (we used Chardonnay)
2 tablespoons finely minced shallots
½ cup freshly squeezed lemon juice
Large pinch kosher salt
Few grinds fresh black pepper
Small pinch cayenne
2 tablespoons fresh flat leaf parsley, chopped fine
---
Instructions
Cut the butter into thin pats and lay out on a dinner plate and place the plate in the freezer.
In a medium to large sauté pan, heat over high heat and once hot, add the wine and shallots. (Careful – the wine will splatter.). We do not suggest using a nonstick pan for this recipe.
Stir for 30 seconds then add the lemon juice and cook until the lemon juice is reduced by half, about 1-2 minutes.
Lower to medium low and start whisking in pats of ice-cold butter a few at a time. Whisk continually and only add the next few pats of butter after the first few have melted. Keep this up until all of the butter is in and whisked into the sauce.
Remove from heat and add in the salt, pepper, cayenne and parsley and serve immediately.
To hold the sauce warm until serving, heat a pan with a little water to hot. Pour the freshly made sauce into a small metal or glass bowl and place in the water to keep warm. The sauce must stay warm to maintain the emulsification.
---
Keywords: lemon butter sauce