Over the New Year's holiday, we spent the evening at a neighbor's house. While the kids played in the other room, the adults divided up into teams and played "Catch Phrase" – an electronic guess-the-phrase game that was a lot of fun to play!
One of the words that came up during the game was "hermit." It was my husband Jack's turn to give the clues to his team so they could guess the phrase, and in addition to giving the clue of "someone who lives in seclusion," Jack also gave the clue that it was a "baked good."
I was on the other team (it was guys vs girls) and as soon as he gave the "baked goods" clue, I knew that he was talking about Hermits – a delicious, rich, sweet molasses cookie made with dried fruits and nuts. But a few of our neighbors had never heard of Hermits – so they were stumped!  Fast forward a few weeks from that evening, and Jack made a batch of hermits for our neighborhood Super Bowl party so everyone could taste them!
Hermits are a classic New England recipe dating back to the 1800's.  Hermits were made and then stored in the cupboard to soften up before eating (hence the name "hermit" because they were hidden away before eating). Once the hermits are soft, they can be cut and glazed as we show here in our photos. (We baked ours in a flat loaf and then sliced them, but you can also make them in round cookie shapes if you prefer.)
And, if you're interested in checking out the fun "Catch Phrase" game that inspired today's recipe, you can see it here. (Disclosure: Affiliate link)
Print
Hermits
Prep Time:

20 mins

Cook Time:

20 mins

Total Time:

40 minutes

Yield:

3 dozen bars
---
Description
Note: This recipe can easily be cut in half to make a lesser quantity. Prep time listed does not include time to allow the hermits to rest and soften before glazing.
---
2 cups

chopped dried fruit such as figs, dates, raisins, currants or cherries

1 cup

buttermilk, divided

8 tablespoons

(

1

stick) butter, softened

¼ cup

vegetable shortening

1 cup

sugar

2

eggs

½ cup

molasses

4 cups

flour

½ teaspoon

ground cloves

1 teaspoon

cinnamon

½ teaspoon

ground nutmeg

½ teaspoon

ground allspice

1 ½ teaspoons

baking soda

1 teaspoon

salt

2 tablespoons

instant dry coffee

1 cup

walnuts roughly chopped
For the Glaze
1 ½ cups

powdered sugar

2 tablespoons

milk
---
Instructions
In a microwave safe bowl, place all cut up fruit with ½ cup of the buttermilk. Cover and microwave on high for one minute. Leave cover on and set aside.
Preheat oven to 350 degrees.
In the bowl of a stand mixer with paddle attachment, beat butter and shortening until creamy. Add sugar and beat until smooth.
With mixer running, add one egg at a time mixing the first egg in before adding the second.
Add molasses and mix to combine.
In a large bowl sift flour, cloves, cinnamon, nutmeg, allspice, baking soda and salt. Stir dry instant coffee into dry mix.
With mixer running on low, alternate adding dry ingredients and remainder of buttermilk. Just mix to combine.
Remove mixing bowl and stir in bowl of dry fruit with liquid and chopped nuts. Mix just to combine.
Line two cookie sheets with parchment paper and spray the paper with non stick cooking spray.
Divide the dough into quarters and form each quarter into a long flat bar (two bars per pan). With wet fingers, press and shape the dough into even smooth flat bars about four inches from each end. The bar will expand so leave room between each bar.
Bake one pan at a time for about 20 minutes of until a toothpick inserted into center comes out clean. Slide the parchment onto a rack to cool while you bake the next batch.
Once completely cool, slide back onto pans and cover tightly with plastic. Place a kitchen towel over each pan and let sit overnight.
The next day, using a sharp knife or bench scraper, cut each bar on the diagonal into 9 pieces. Separate each slice from the one next to it.
Mix the powdered sugar and milk in a small bowl to make the glaze, and place in a pastry bag with a small round tip.
Squeeze the glaze out on all four bars going up and down from end to end. Let the glaze drip down between pieces.
Serve or store covered for up to three days refrigerated.
---
You may also like: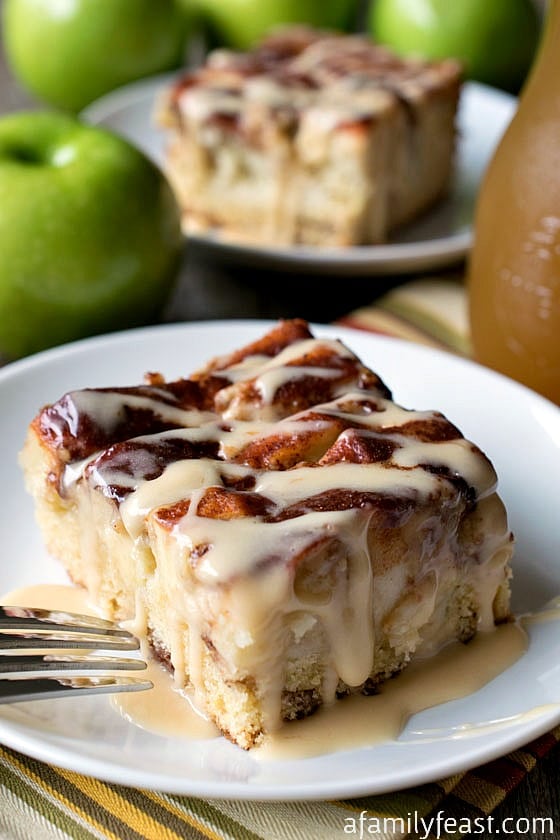 New England Pumpkin Caramel Pudding