Hazelnut Affogato is a fantastic and creamy dessert made by pouring hot espresso over vanilla ice cream.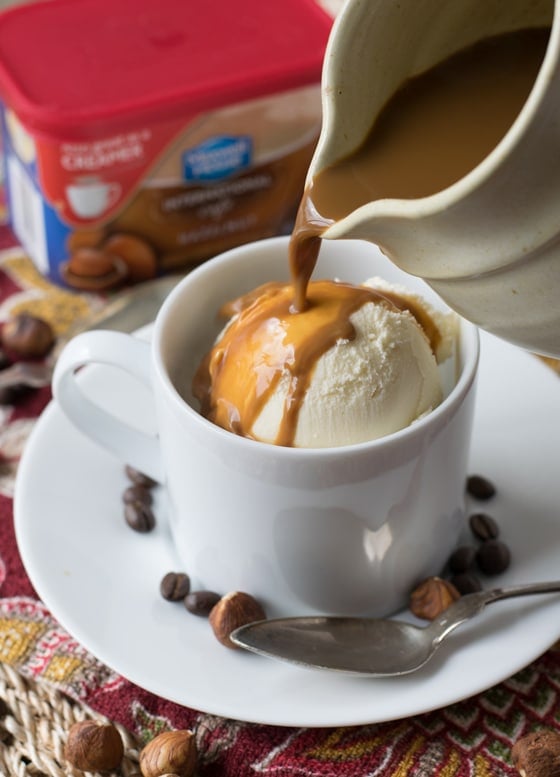 This post is brought to you by Maxwell House International.
In the past, you've likely enjoyed Maxwell House International as a delicious café style coffee beverage, but did you also know that it makes a delicious creamer when added to your coffee? Just a few spoonfuls instead of creamer, and your coffee will be transformed café-style!
With wonderful flavors like French Vanilla, Vanilla Nut, Hazelnut, Suisse Mocha, Vanilla Caramel, and Café Vienna (just to name a few) – you'll feel like you've been transported to another country all in the comfort of your own kitchen!
I personally love the rich, creamy flavors. Plus, it's so convenient to be able to make an indulgent cup of coffee any time the mood strikes! A few spoonfuls instantly adds some romance to your regular cup of coffee – just in time for Valentine's Day. Speaking of which…
I'm so lucky to have a husband who is a complete romantic! And when Valentine's Day comes around each year, Jack tries very hard to make it special for me. He knows (after all our years together) that my idea of a perfect gift is really quite simple…a heartfelt, handwritten note or a wonderful home-cooked meal of all of my favorite foods. Don't get me wrong – flowers and jewelry are great – but a gift from the heart is the best of all!
So when Jack cooks that special meal for me, dessert will almost always include my favorite – ice cream! And today, we're sharing one of my favorite ways to enjoy ice cream – this Italian-inspired Hazelnut Affogato.
Affogato means "drowned" in Italian – and it is simply vanilla ice cream (or gelato to be authentically Italian) topped with a shot of hot espresso. It's a fantastic flavor combination, and the rich, hot espresso against the cold, sweet ice cream is out of this world!
Sometimes when serving an affogato, a shot of amaretto or other liqueur is added to the espresso, but instead, we flavored ours using the delicious Hazelnut flavored Maxwell House International. It adds a wonderful rich sweetness to the espresso along with delicious flavor!
Print
Hazelnut Affogato
Author:

Prep Time:

5 mins

Cook Time:

5 mins

Total Time:

10 minutes

Yield:

2 servings
---
1 cup

freshly brewed espresso

2

–

4

heaping tablespoons Hazelnut flavored Maxwell House International

1 pint

super-premium vanilla ice cream
---
Instructions
In a small pitcher, combine freshly brewed espresso with the flavored Maxwell House International. Stir to combine well.
Place 2 scoops of vanilla ice cream each in shallow cups.
Gently pour a small amount of the hazelnut coffee mixture into the cup with the vanilla ice cream, adding more as desired.
---