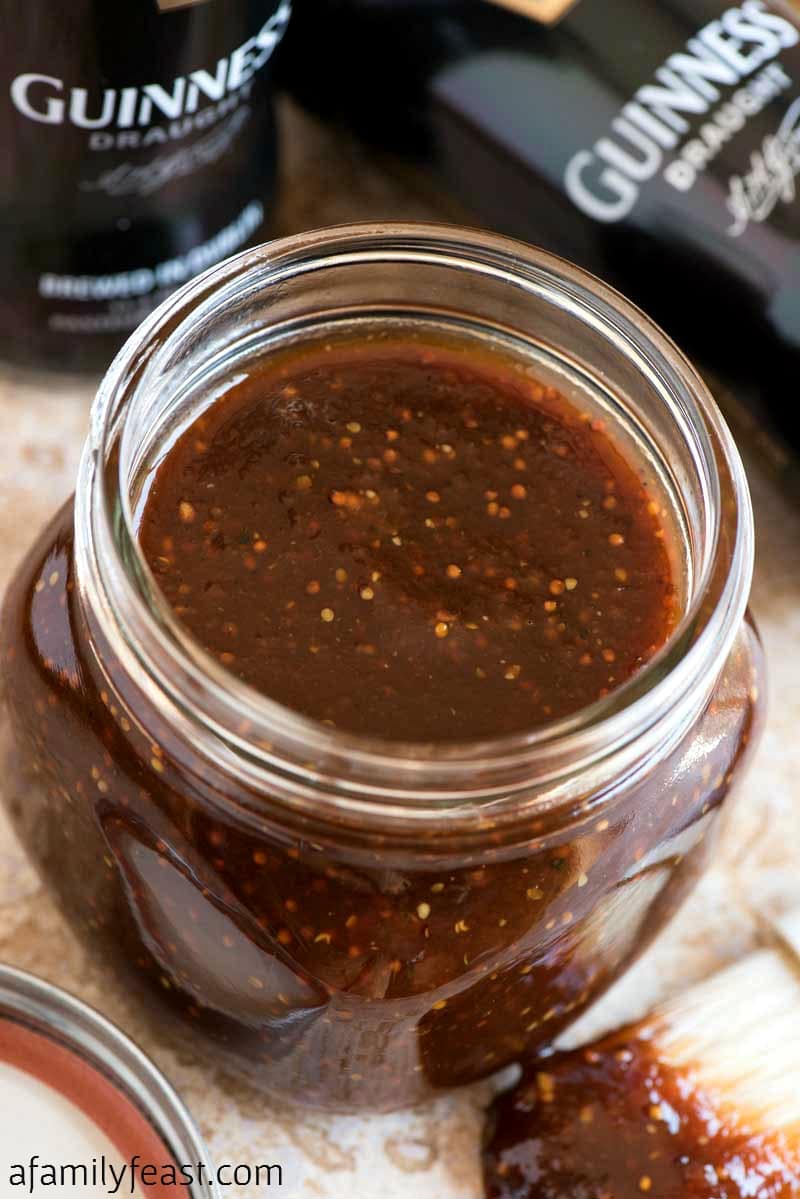 This easy Guinness Barbecue Sauce will add a fantastic kick of flavor to any grilled meat!
The spare refrigerator in our basement has become a gathering place for a rather eclectic collection of beer. It never fails – we host a party or a family dinner, and at the end of the night, there is always one or two bottles of beer leftover from a six-pack that one of our guests brought to the party.
For months now, we've been staring at a couple of bottles of Guinness in that refrigerator. While Jack and I love to cook with (and even bake with!) Guinness, it's not our first choice for drinking. So – in the interest of using up those leftover bottles – we made this wonderful Guinness Barbecue Sauce.
All of the credit for this easy, zesty Guinness Barbecue Sauce belongs to Epicurious.com where we found the recipe. The flavors are wonderfully complex – but it's made with ingredients you might already have on hand in your kitchen: Guinness, ketchup, brown sugar, whole grain Dijon mustard, honey, hot sauce, salt and pepper – plus star anise is optional. (We did add the star anise to our sauce – it adds a unique spicy note to the sauce!)
This Guinness Barbecue Sauce is fantastic on any grilled meat – especially these amazing Guinness Barbecue Pork Tips!
Print
Guinness Barbecue Sauce
Prep Time:

5

Cook Time:

15

Total Time:

20 minutes

Yield:

2 cups
---
---
2 cups Guinness ale
1 cup ketchup
¼ cup whole grain Dijon mustard (we used Maille)
1/3 cup honey
2 tablespoons hot sauce (we used Cholula)
2 teaspoons kosher salt
2 teaspoons freshly ground black pepper
---
Instructions
In a medium saucepan, boil the Guinness and star anise over high heat until reduced by half.
Add the remaining ingredients and simmer for 5-10 minutes, or until the sauce has thickened. (In our experience making this recipe, this sauce never got to a super thick consistency.)
Remove saucepan from heat and cool.  Remove star anise from the sauce and discard.
Use this Guinness Barbecue Sauce in our recipe for Guinness Barbecued Pork Tips.
Pour extra sauce into a lidded jar or other container with a tight cover. Store refrigerated for up to one week.
---
Disclosure: This post contains affiliate links.


You may also like:
Beef and Guinness Casserole with Noodles