We served this Espresso Black Bottom Pie for Thanksgiving dessert last week – and wow – was it good!  We've rearranged our calendar this week to get this recipe shared with all of you as soon as possible!
This amazing pie has a chocolate Oreo cookie crust, a chocolate mousse layer in the center, and is topped with an espresso-infused whipped cream topping.  If you are a coffee or chocolate lover – this pie is for you!
Adapted from the cookbook License to Grill
, author Chris Schlesinger says this pie is an old traditional Southern recipe.  It is a bit time-intensive to make, but mostly because there is some refrigeration time required between making the layers of the pie.  But the time spent is completely worth it and we'll be making this recipe a New England family tradition in our house.
Disclosure: This post contains affiliate links.
Print
Espresso Black Bottom Pie
Prep Time:

4 hours

Cook Time:

30 mins

Total Time:

4 hours 30 minutes

Yield:

6-8 servings
---
Description
A decadent pie made with an Oreo cookie crust, chocolate mousse layer in the middle and topped with an Espresso-infused whipped cream.
---
For the Crust
1 teaspoon

cold unsalted butter

3 cups

Oreo cookie crumbs (about ¾ of a

15.5 ounce

package)

¼ cup

unsalted butter, melted
For the Mousse
¼ cup

unsalted butter

¼ cup

sugar

2

large eggs

2 tablespoons

heavy cream

8 ounces

semisweet chocolate chips, melted

1 teaspoon

vanilla
For the Espresso Cream
6 tablespoons

sugar

1 ½ tablespoons

cornstarch

2

large egg yolks

1 ½ cups

whole milk, divided

1 teaspoon

unflavored gelatin

2 tablespoons

cold water

6 tablespoons

ground espresso beans (or

2 tablespoons

instant espresso powder)

1 cup

heavy cream
---
Instructions
Preheat the oven to 350 degrees.
To make the crust: Butter a 9 inch deep dish pie plate with the cold butter. In a food processor, pulverize the Oreos into crumbs. Pour crumbs into a mixing bowl and add the melted butter, stirring until fully combined. Pour the crumbs and butter mixture into the pie plate and press to evenly spread the crumbs across the bottom of the plate and up the sides. Press the crumbs firmly in place. Bake at 350 degrees for 10 minutes. Remove from the oven, let cool and refrigerate.
To make the mousse: In a mixing bowl, cream the butter and sugar with an electric mixer until light and fluffy. Add the eggs and mix until just blended. Add in the cream, cooled melted chocolate, and vanilla and mix until smooth. Pour into the chilled pie crust and then chill for one hour.
To make the espresso cream: In a small bowl, whisk together the sugar and corn starch and set aside. In a second small bowl, whisk together the egg yolks and ¼ cup of the milk. Set aside. In a third small bowl, combine the gelatin and water. (Stir if necessary so that the gelatin fully dissolves.) Set aside.
In a small saucepan, combine the remaining 1 ¼ cups milk and the espresso. Heat over medium high heat just until small bubbles start to form around the edges of the milk—but do not allow the milk to boil. If you are using espresso beans, strain the mixture (it's ok if some of the espresso bean grinds remain but you want to strain out most of them). If you are using the instant espresso, no straining is necessary.
Whisk the sugar and cornstarch mixture into the hot milk mixture. Add a few tablespoons of the milk mixture at a time into the egg mixture to warm it up (this is called tempering and it will prevent the eggs from cooking and turning into scrambled eggs!); then add the egg mixture to the rest of the milk mixture in the pan. Cook the milk-egg mixture on medium heat until it thickens up slightly (about 2-3 minutes). Add the gelatin mixture and stir well until the gelatin is fully dissolved.
Remove the pan from the heat and pour into a bowl. Place this bowl over a larger bowl of ice water (called an ice bath) and stir constantly to cool and thicken some more (do not allow any of the ice water to get into the milk mixture). Keep stirring every few minutes to keep the mixture smooth.
In a large bowl, whip the heavy cream until stiff peaks form (being careful not to over whip the cream). Fold the espresso cream and whipped cream together until incorporated. Refrigerate about 30 minutes until cold.
Pour the espresso cream mixture over the mousse in the prepared pie crust and chill for 2 hours to set up before serving. (May be refrigerated overnight as well.)
---
You may also like: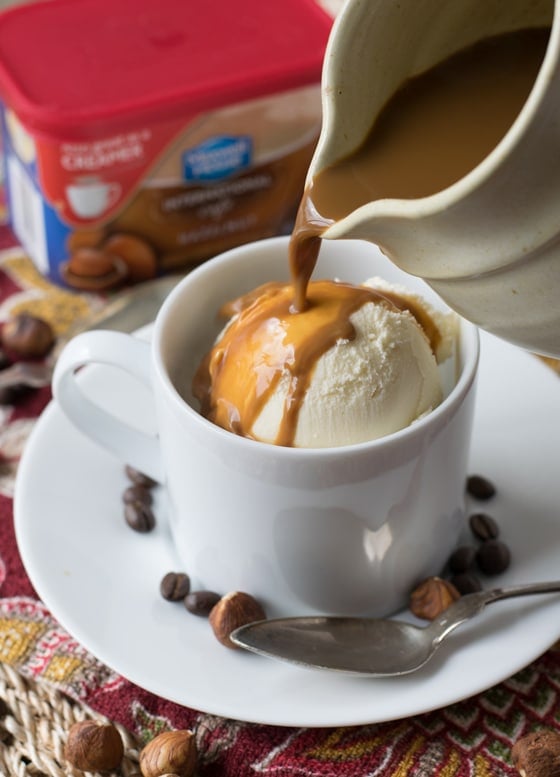 30+ Recipes for Malted Milk Lovers