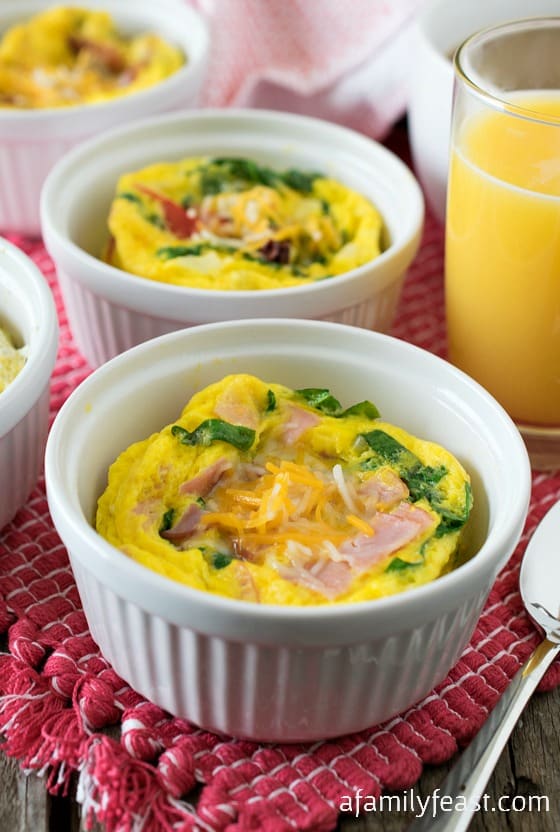 I'm sharing these Easy Brunch Egg Cups made with Target Grocery Essentials as part of a sponsored post for Socialstars. #TargetCrowd
This time of year, we do a ton of entertaining at home. Our daughter's first communion is coming up in a few weeks, followed by Mother's Day, a dance recital, our annual end-of-the-school-year kids' party…and more! So my husband Jack and I have been brainstorming some easy and delicious spring brunch menu ideas where we can go and enjoy our family event – and then come back home, and quickly feed a hungry crowd of family and friends!
These Easy Brunch Egg Cups are a perfect idea for stress-free entertaining. In fact – they're also a really fun way to get your guests involved in the kitchen!
Just put out a variety of ingredients for your family and friends to choose from such as cheese, chopped fresh vegetables like spinach, tomatoes, and onions, diced or crumbled meats like ham, bacon and sausage, plus some already-prepared foods like pesto and jarred sun dried tomatoes – then your guests make their own easy brunch egg cups using whatever ingredients they like! (The Lorraine Egg Cup is shown above.)
We're showing you a Caprese Egg Cup below – but use whichever ingredients you prefer!  Just a quick mix of your favorite ingredients in a microwave-safe ramekin….
…then microwave for just two minutes on high.  Add an extra sprinkle of cheese on top, and you've got a delicious and Easy Brunch Egg Cup ready to eat!
And, here's another tip for stress-free spring entertaining…your can shop for everything you see here at your local Target store! Target Grocery carries a great variety of grocery essentials including all of your spring brunch favorites like bacon, cheese, eggs, juice, fresh fruits and vegetables, baked goods, as well as a wide selection of brand-name items.  You won't need to shop anywhere else because Target makes it easy to get everything you need in one place, and I know that I'm getting a great value too.
In our recipe below, we've suggested a complete list of ingredients for you to have on hand to make your own Egg Cup Brunch Bar at your next family gathering!  These Easy Brunch Egg Cups are a delicious way to please the Meat Lover in your family…
…as well as the Vegetarian…
…and with a great selection of ingredients from Target, everyone is sure to find something they will love!
We were inspired to create our own Easy Egg Cup Brunch Bar after seeing this recipe over at Target's recipe collection.  And for more information about Target Grocery Essentials, click here.
Print
Easy Brunch Egg Cups (& Make-Your-Own Brunch Bar Ideas)
Prep Time:

5 mins

Cook Time:

2 mins

Total Time:

7 minutes

Yield:

6 servings
---
Description
This recipe is written for 6 servings, however feel free to adapt the recipe and quantities based on the number of people at your brunch. The various packages of filling ingredients will definitely serve more than 6 people.
---
Base Ingredients
6

8-ounce microwave-safe ramekins (available at Target)
Non-stick cooking spray

1

dozen Simply Balanced Cage-free eggs, 2 per portion
Fillings (Note: Quantities will vary based on the combinations you choose to add. Each Egg Cup used approximately ¼ cup of mixed fillings and ¼ cup of cheese total.)
Diced, fresh green and red peppers
Diced onion
Fresh Spinach, julienned
Sun dried tomatoes in oil, drained and sliced
Archer Farms Applewood Thick Cut Bacon, cooked and diced
Sliced deli ham, diced
Cooked sausage, diced
Pesto (jarred or fresh)
Sun dried tomatoes (jarred)
Fresh grape tomatoes, quartered
Market Pantry brand shredded Cheddar Jack Blend
Market Pantry brand shredded Mozzarella
Market Pantry brand sliced Swiss cheese, diced
---
Instructions
Lightly spray each ramekin with non-stick cooking spray.
Add 2 eggs to each ramekin and beat well with a fork. (Alternately, in a small to medium bowl, beat the twelve eggs and divide evenly between the six prepared ramekins.)
Add the filling ingredients and cheese depending on which version you will be making (see below for recommended flavor pairings) and gently stir to combine.
Place filled egg cup in microwave one at a time, cover and heat on high for 30 seconds. Remove, stir and place back in the microwave uncovered and heat on high for 45 – 60 seconds or until puffed up and cooked in the center. If the center of the eggs are a little wet, remove them anyway as they will continue to cook in the hot dish. (Be careful as the ramekins get hot so use pot holders).
Repeat for the remaining egg cups and serve immediately.
---
Notes
For the Vegetarian
2 tablespoons diced peppers, 2 teaspoons diced onion, 2 tablespoons fresh spinach, 2 teaspoons sliced sun dried tomatoes, ¼ cup cheese of your choice
For the Meat lovers
2 tablespoons diced bacon, 1 tablespoon diced ham, 2 tablespoons diced sausage, ¼ cup cheese of your choice
For the Caprese
2 tablespoons grape tomato pieces, 2 tablespoons sausage, 1 teaspoon pesto (gently swirled in at the end), ¼ cup mozzarella cheese
For the Lorraine
2 tablespoons ham, 2 tablespoons Swiss cheese, 2 tablespoons sliced spinach, 2 teaspoons diced onion