I don't mean to be a food snob by saying this – but I've never been a fan of dishes that use canned soups to flavor the sauce in the recipe!
Sure – I can totally understand the convenience of opening up a can of condensed cream of mushroom soup – but for me (and for my husband Jack too) adding canned soups to a recipes also adds a funky, metallic and chemical taste I just can't get past.
So I'm delighted to share our recipe for homemade Condensed Cream of Mushroom Soup with all of you today. Once you try our version and you taste how good it is – and you find how easy it is to make too – you'll never open up another can again!  (Plus – look at all of those mushrooms!)
Our homemade Condensed Cream of Mushroom Soup makes a delicious soup in and of itself – just add enough milk to yield a creamy soup consistency. And, our version can also be used in any recipe that calls for the canned variety – including Green Bean Casserole that so many families make around the holidays!
Please try this recipe – and let us know which you prefer!
Print
Condensed Cream of Mushroom Soup
Prep Time:

10 mins

Cook Time:

15 mins

Total Time:

25 minutes

Yield:

2 cups
Ingredients
1 tablespoon extra virgin olive oil
4 tablespoons butter
½ cup onions, chopped
1 tablespoon fresh garlic, minced
8 ounce package baby bella mushrooms, sliced thin
1 teaspoon kosher salt
¼ teaspoon white pepper
¼ teaspoon freshly grated nutmeg
1 teaspoon dry thyme
2 teaspoons dry parsley flakes
3 tablespoons all-purpose flour
1 cup vegetable stock
½ cup half-and-half or light cream
Instructions
In a non-stick medium sauce pan, heat oil and butter over medium heat and add onions and garlic. Sauté for five minutes just until the onions start to brown.
Add mushrooms, salt, pepper, nutmeg, thyme and parsley. Sauté for five more minutes.
Add flour and stir and cook for three minutes.
Add stock and stir until bubbly.
Remove from heat and stir in cream.
This mixture can now be used in a variety of recipes that call for canned cream of mushroom soup. To use just as soup, add enough milk to yield a creamy soup consistency.
You may also like:
Chicken Breasts with Mushroom and Onion Dijon Sauce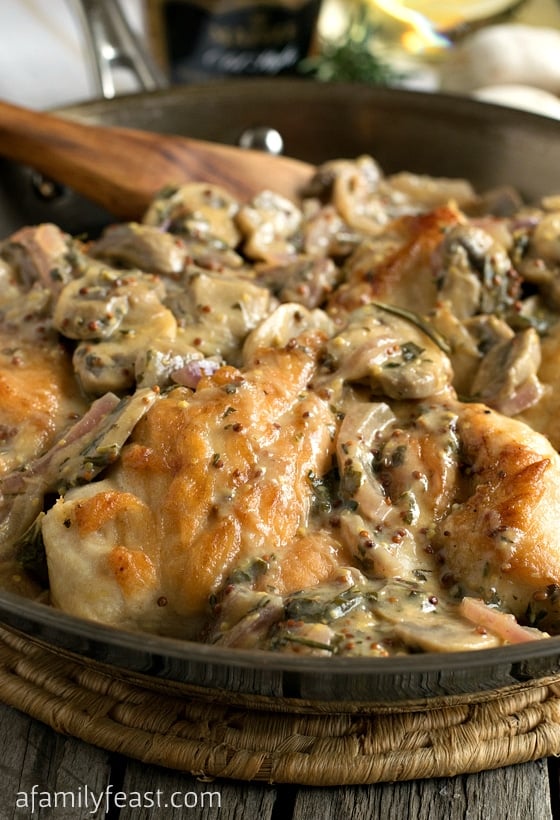 Sausage Stuffed Mushrooms with Mascarpone