This no-bake Chocolate Peanut Butter Pie is a decadently delicious dessert that everyone loves!
Whenever I make this Chocolate Peanut Butter Pie, the following scenario typically plays out: As everyone starts to eat this luscious dessert, the room falls silent. Then someone – usually with their mouth still full of pie – mutters, "Oh. My. GAWD! This pie is amazing!!"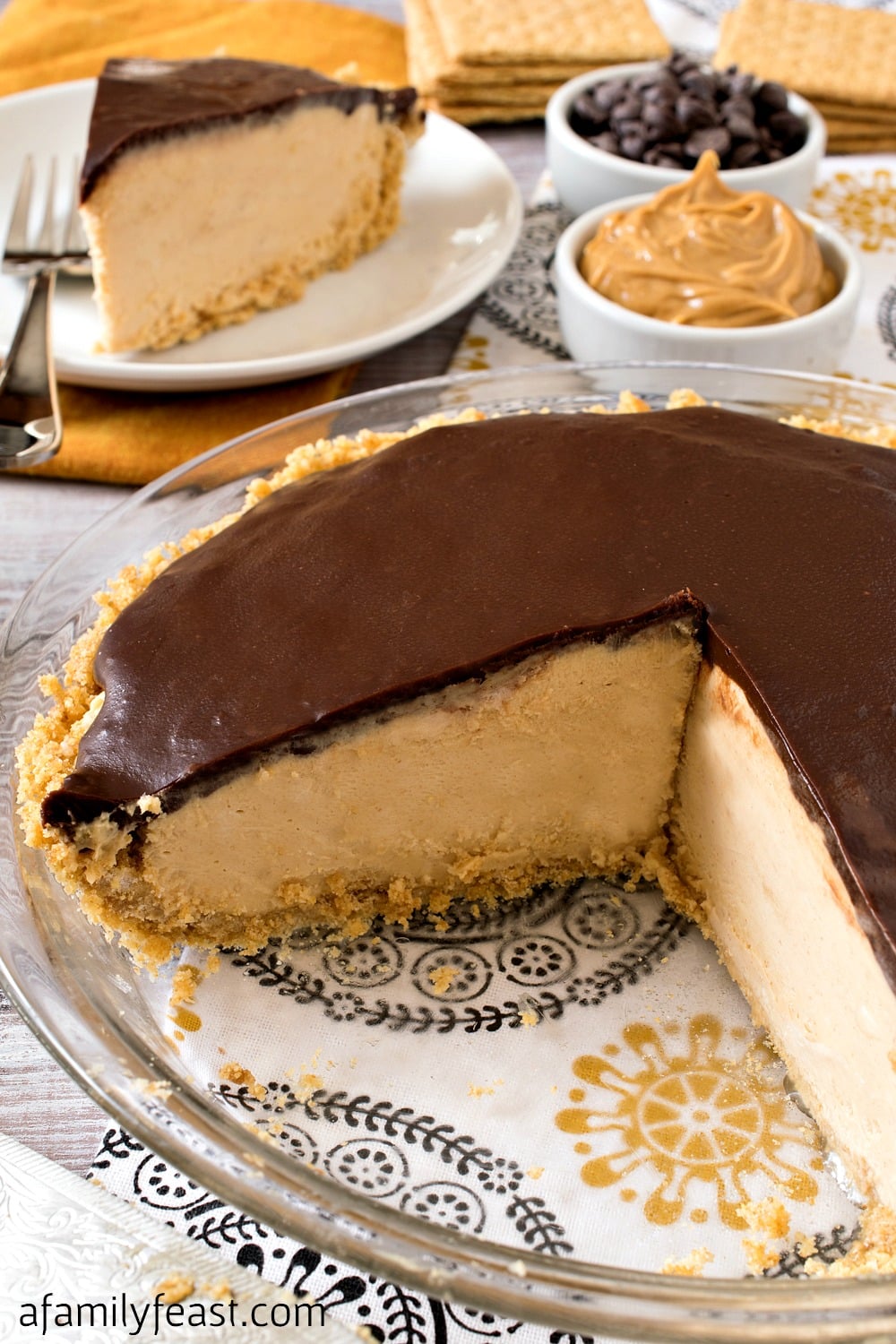 And it is a really, REALLY good Chocolate Peanut Butter Pie!  A light and creamy peanut butter filling made with creamy peanut butter, cream cheese and whipped cream is spooned into a  sweet, buttery graham cracker crumb crust. Then, the pie is topped with a rich chocolate ganache. No matter how many times I've made (and eaten) this pie – it makes me swoon!
I first had this amazing Chocolate Peanut Butter Pie at the East Coast Grill in Cambridge, Massachusetts, the now-closed but once-legendary barbecue and seafood restaurant owned by grilling expert Chris Schlesinger. When he published his cookbook, The Thrill of the Grill
, I myself was thrilled to discover that the recipe for this pie was included.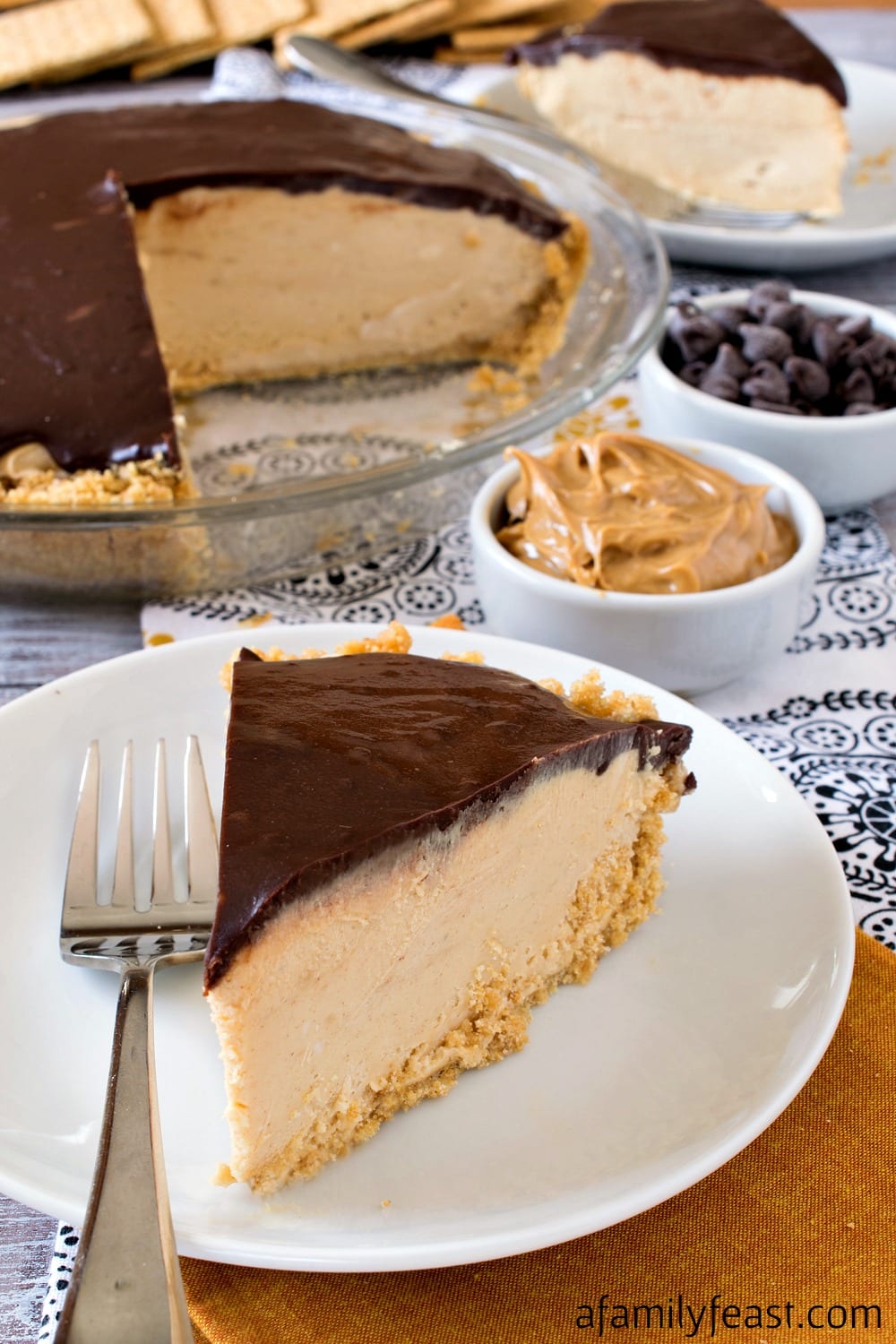 Over the years, I've made this Chocolate Peanut Butter Pie so often that I know the recipe by heart.  And every time I make this pie, I get asked for the recipe! My nephew Ryan loves this pie so much that every year for his birthday, he requests this dessert instead of a birthday cake.
(It's seriously good…especially if you love the combination of chocolate and peanut butter together!)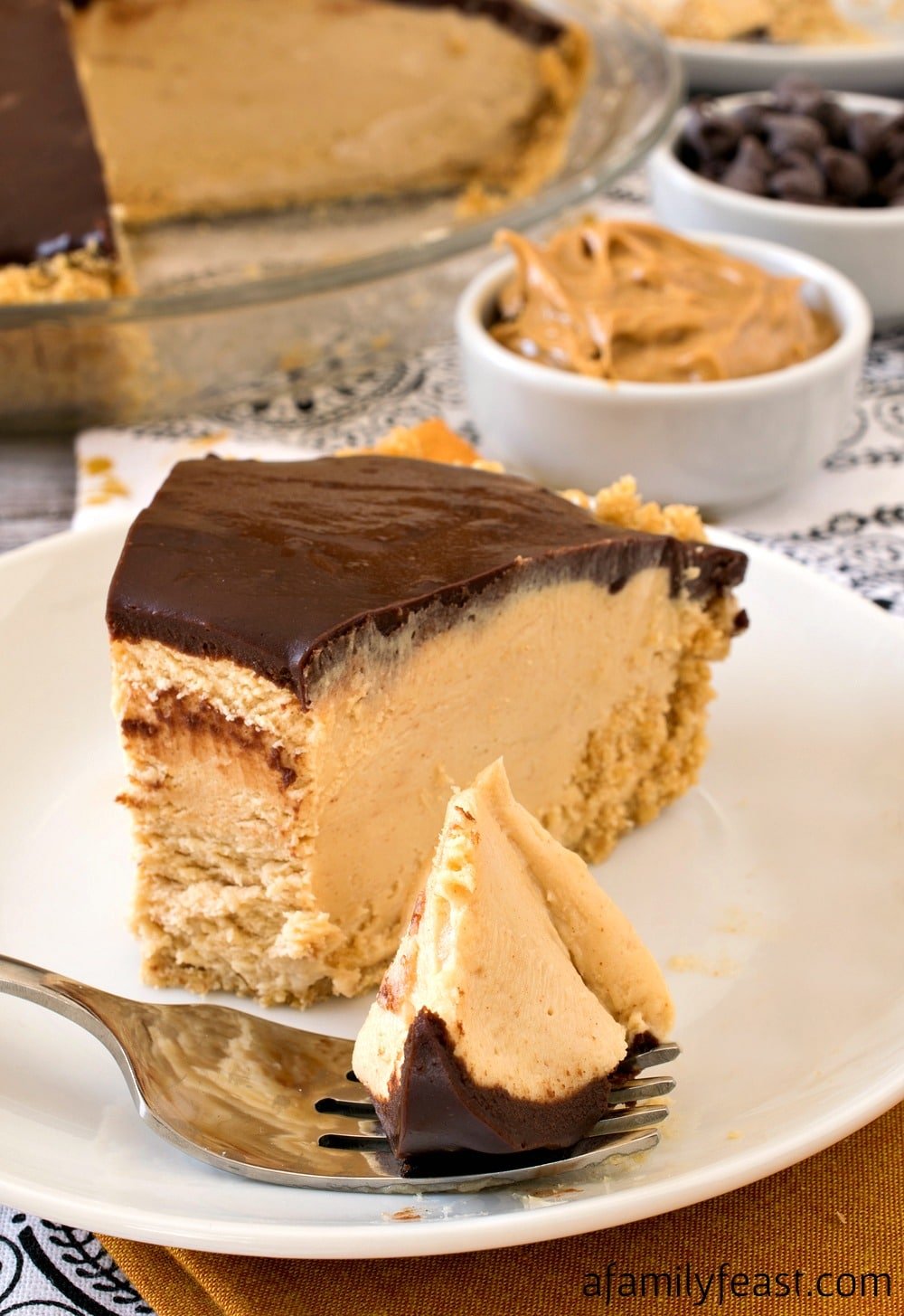 We've gently adapted this pie recipe from the original found in the cookbook.  At the restaurant, this Chocolate Peanut Butter Pie was served just slightly chilled so the filling was soft and creamy. But, we actually prefer this pie served slightly frozen with a firmer, almost ice cream-like consistency. Either way you eat it, this is one very memorable dessert!
You may also like these other decadent desserts:
Disclosure: This post contains affiliate links.


Print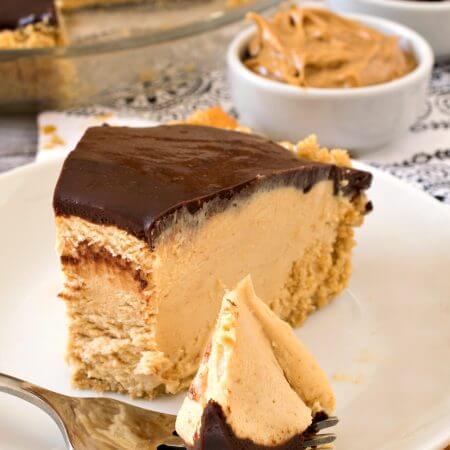 Chocolate Peanut Butter Pie
Prep Time:

30 mins

Cook Time:

60 mins

Total Time:

1 hour 30 minutes

Yield:

8-10 servings

Category:

dessert

Method:

no-bake
---
Description
An amazingly good chocolate peanut butter pie! Graham cracker crumb crust, filled with a creamy peanut butter filling and topped with chocolate ganache.
---
For the crust
3/4 cup

graham cracker crumbs

1/4 cup

granulated sugar

2 tablespoons

brown sugar

4 tablespoons

melted butter
For the filling
1 1/2 cups

heavy cream

8 ounces

cream cheese softened

3/4 cup

granulated sugar

1 cup

creamy peanut butter

1 tablespoon

vanilla
For the ganache topping
1/2 cup

heavy cream

1 cup

semi-sweet chocolate chips
---
Instructions
To prepare the crust, blend graham cracker crumbs, granulated sugar, brown sugar and melted butter in a bowl until fully combined. Press mixture into a 9″ pie plate, covering bottom completely and pushing the crumbs about 1-2 inches up the side of the pie plate. Put the pie crust into the freezer while preparing the filling.
Whip the 1 1/2 cups heavy cream until it holds peaks. Set aside in refrigerator while preparing the rest of the filling.
In a large bowl, beat cream cheese until smooth. Add sugar and mix until blended. Add peanut butter and vanilla, mixing well. (Scrape the sides of the bowl as needed to ensure that the ingredients are fully blended.)
Fold whipped cream into the peanut butter mixture, blending well. Pour filling into the prepared pie crust. Place filled pie into the freezer.
To prepare the ganache, in a small saucepan (use one with a lid), slowly bring the remaining 1/2 cup of heavy cream to a boil (be careful not to scald the cream). Turn off the heat and add chocolate chips, pushing the chips into the cream until almost completely covered. Put the lid on the pan and let sit on the stove.
After 10 minutes, stir until the chocolate chips are melted and fully blended into the cream. Cool to room temperature, then pour sauce over pie. Place in freezer for 30 minutes before serving.
Note: If serving pie more than 1/2 an hour after final preparation, store in the freezer. Thaw for 20 minutes before serving for a frozen, ice cream-like consistency. (If you are having difficulty cleanly removing the pie crust from your pie plate, submerge the very bottom of the dish in some hot tap water – about 1/2 inch water in your kitchen sink – to loosen the crust being careful not to get water in the pie itself.) Or thaw for longer in the refrigerator for a gooey, soft pie.
Keywords: chocolate, peanut butter, pie, no-bake dessert