Chicken Supreme is a boneless, skin-on chicken breast that is roasted to juicy perfection, then served with an easy, savory cream sauce on top.
Hi everyone – it's Jack. Chicken Supreme is a classic French chicken recipe that somehow, over the years, mistakenly became synonymous with some sort of baked chicken, topped with canned cream of chicken or cream of mushroom soup as the sauce. But that is NOT. AT. ALL. what Chicken Supreme should be. So today we're sharing the recipe for Chicken Supreme – the way it should be.
And, you might be surprised to discover that this delicious, classic Chicken Supreme recipe is easier than you think – so there's no need to take any of those canned-soup-related short cuts.
What is Chicken Supreme?
The term 'chicken supreme' (or in French, suprême de volaille) actually comes from a cooking term that refers to boneless, skin-on chicken breast.
In some professional kitchens, the upper joint of the wing or wingette is also left intact – and that is known as a "Frenched" chicken breast (or sometimes an "airline" cut because it resembles the wing of an airplane).
In our Chicken Supreme recipe today, we are just using the chicken breast – which is first seared in a pan, then roasted in the oven to cook through. Then it is served with a simple, delicious sauce made with cream and chicken stock.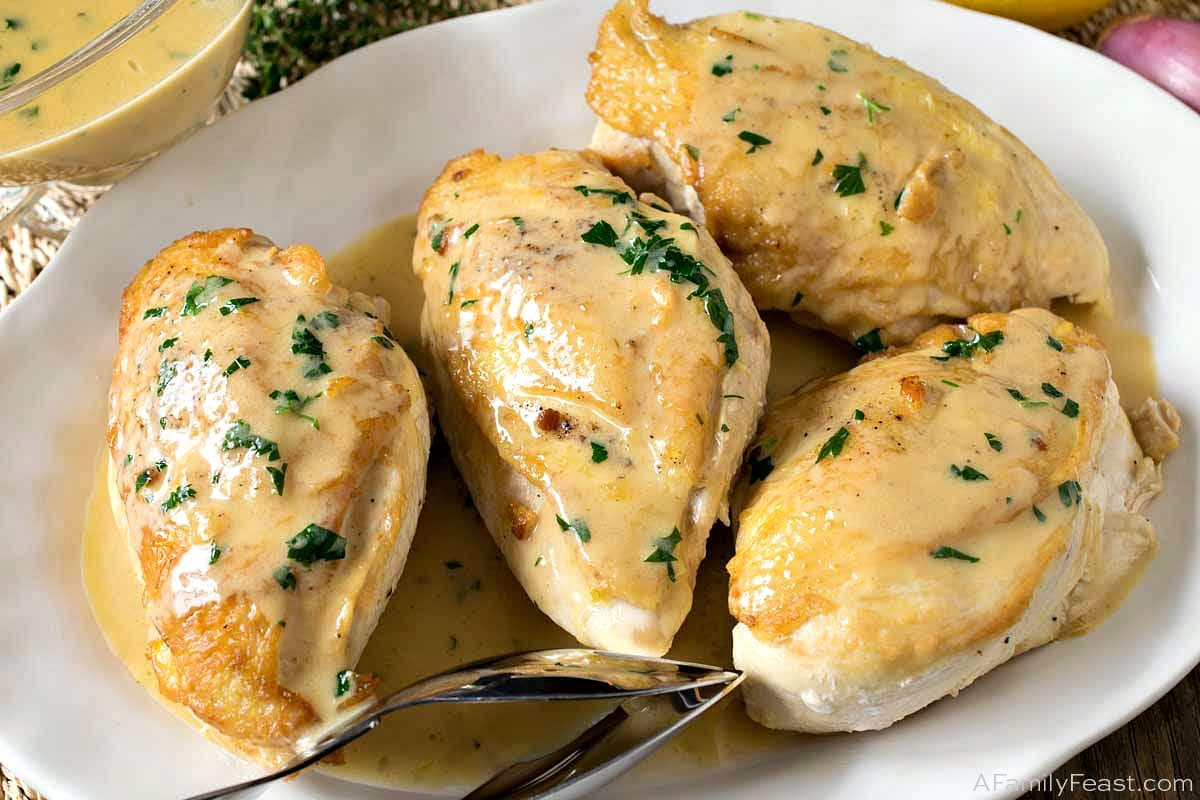 How do you prepare Chicken Supreme?
Back during my food service days, boneless chicken breasts – with the skin still on – could easily be purchased for professional kitchens.
But today, most supermarkets only sell boneless, skinless chicken breasts for the home cook – so you will need to buy split chicken breasts which are skin-on chicken breasts with the bone still attached.
I share step-by-step instructions in the recipe below, so you can see how easy it is to remove the bone from the breast.
Why do all this?
Boneless, skinless chicken breast – while very convenient to buy and cook – is known for being somewhat finicky. It can easily become dry and flavorless after cooking.
When you make Chicken Supreme, by taking a little extra effort to keep the skin on the breast, your  chicken breast will turn out super moist and juicy – plus it adds great flavor.
In my recipe below, I even have you take the extra step of searing the bones you removed, along with the chicken breast – because the bones add a ton of flavor. (You can skip this step if you'd like, but you'll be missing out on a lot of deliciousness in the finished dish.)
The chicken breasts get seared in a hot skillet, then baked with lemon and fresh thyme sprigs until cooked through.
What kind of sauce is served with Chicken Supreme?
The sauce on your Chicken Supreme is good enough to eat with a spoon. Saute shallots and garlic in a skillet, then deglaze the pan with vermouth (or white wine).  Add chicken stock and cream – and those previously-cooked bones (for more flavor) – and simmer until thickened.
Strain the sauce, add some butter and chopped fresh parsley – then spoon over your cooked Chicken Supreme. Enjoy!
You may like these other easy chicken recipes:
Print
Chicken Supreme
Author:

Prep Time:

15 minutes

Cook Time:

45 minutes

Total Time:

1 hour

Yield:

4 servings

Category:

entree

Method:

seared, roasted

Cuisine:

French
---
4 split chicken breasts (skin-on and bone-in), any size breast is fine
4 tablespoons extra virgin olive oil, divided
½ teaspoon kosher salt
¼ teaspoon freshly ground black pepper
½ lemon, cut into four pieces
3 large sprigs fresh thyme, left on the stem
1 cup shallots, sliced
1 tablespoons garlic, chopped
¼ cup vermouth or white wine
2 cups chicken stock
½ cup heavy cream
4 tablespoons cold butter
2 tablespoons fresh parsley, minced
---
Instructions
Bring the chicken to room temperature. Lay out on your cutting board and pat dry.
Place skin down and with a very sharp small tipped knife, slide the knife tip between the ribs and the meat and easily separate the two, see pictures below:
Preheat oven to 325 degrees F.
In a very large oven-proof skillet or sauté pan that has a cover, heat the pan over medium high with two tablespoons of the oil.
Once the oil is hot and shimmering, add the four sets of bones and sear on both sides for about 4-5 minutes per side until browned.
Remove the bones to a plate but do not discard.
Salt and pepper the skin side of the breasts.
Add one more tablespoon of oil and once the oil is hot, add the four breasts skin side down not touching each other and sear for five or more minutes until the skin is nice and brown and crispy and doesn't stick to the pan bottom when lifted.
Flip skin side up and add lemon wedges, fresh thyme and the chicken bones along with any juice that collected in the plate. Cover and place in the oven for 10-20 minutes depending on how thick the breasts are. An instant-read thermometer poked into the thickest part should register 155 degrees F. Our breasts were large and took the entire 20 minutes in the oven. Do not overcook.
Remove the breasts to a platter and cover loosely with foil. Discard the lemon wedges. Pour the remaining pan contents into a bowl but do not discard.
Place the pan (being careful – your pan handle may still be hot) back on the burner with the last tablespoon of oil and turn the heat to medium.
Once hot, add the shallots and garlic and cook for about five minutes until the shallots start to brown slightly.
Add the vermouth and cook for about a minute to evaporate the liquid.
Add the chicken stock and the contents of the bowl including the bones and cook to reduce the mixture by half, about 5-10 minutes.
Add the cream and again cook to reduce, about five minutes. The mixture will be slightly thick.
Remove and discard chicken bones, they have done their job.
Off heat, stir in the cold butter, then pour the mixture through a strainer and discard all solids.
Stir the parsley into the sauce and serve on the side next to the chicken.
---
Keywords: Chicken Supreme