Sometimes, menu inspiration strikes at the market and that's exactly what happened this weekend. We spotted some beautiful ripe fresh figs in the produce section of our local market and immediately thought of this delicious recipe originally published in Southern Living.  Our advice: Anytime you find fresh figs at the market – buy them!
The combination of flavors in this appetizer is what makes it so good – sweetness from the fig and honey, the tanginess of the goat cheese, the saltiness from the bacon, and the hint of pecan and thyme really makes for a unique and delicious combination.
Print
Baked Fig Crostini
Prep Time:

30 mins

Cook Time:

7 mins

Total Time:

37 minutes

Yield:

24 crostini
Ingredients
4 ounces cooked bacon, chopped
1 tablespoon toasted and chopped pecans (about 6-8 pecans)
4 ounces goat cheese, crumbled and softened
1 teaspoon fresh thyme, finely chopped
12 fresh figs
24 baguette slices
honey to drizzle
Instructions
Preheat oven to 350 degrees.
On a griddle or frying pan, cook the bacon until crisp. Place on paper towels to absorb any excess fat and let cool. Chop bacon into small pieces.
In a small dry frying pan, toast about 6-8 pecans until very lightly golden brown. Remove from heat and let cool. Chop pecans into small pieces.
In a bowl, combine bacon, pecans, goat cheese, and thyme.
Cut figs in half, removing stems. Press the back of a small spoon into the centers of the fig halves making a small indentation in each. Spoon a heaping teaspoon of bacon mixture into each fig half.
Place fig halves on one side of foil lined sheet pan and baguette slices on the other half and bake for 7 minutes at 350 degrees.
Remove the baking sheet from the oven. Place the now-toasted baguette slices on your serving dish and place one fig half on the baguette. Drizzle honey over the fig and serve immediately.
You may also like:
Prosciutto and Fig Pizza with Arugula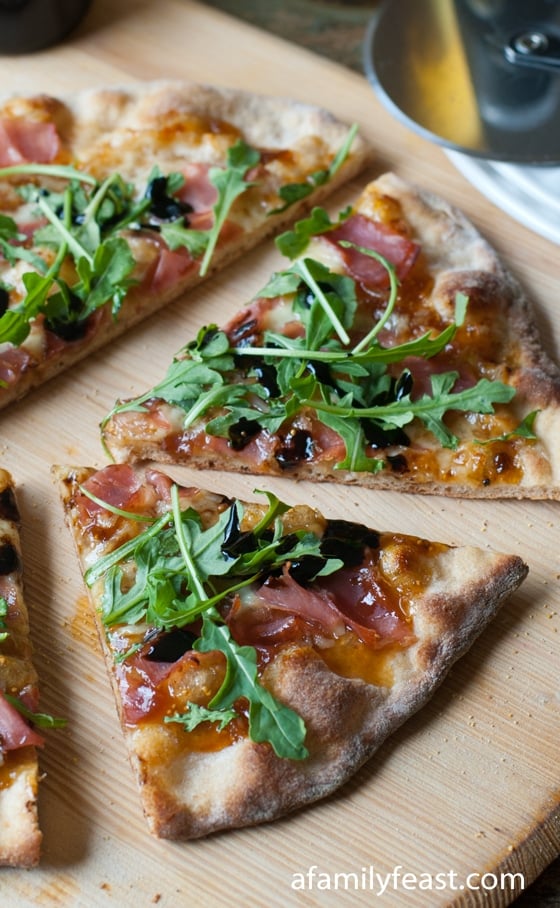 Glazed Fig Salad with Prosciutto and Feta Cheese