Anytime we need a quick and easy dessert – biscotti are usually one of the first sweet treats I think of to make.  Biscotti are crisp, twice-baked, oblong-shaped cookies or biscuits originating in the city of Prato, which is located in the Tuscany region of Italy.
Aside from being very simple to bake, biscotti freeze very well – so you can bake a batch ahead of time and keep on hand (tightly-wrapped) in the freezer. Then thaw – and serve your biscotti with a cup of frothy cappuccino, a glass of Vin Santo (or any other sweet dessert wine), or alongside a scoop of creamy gelato – and you've got a delicious and elegant dessert!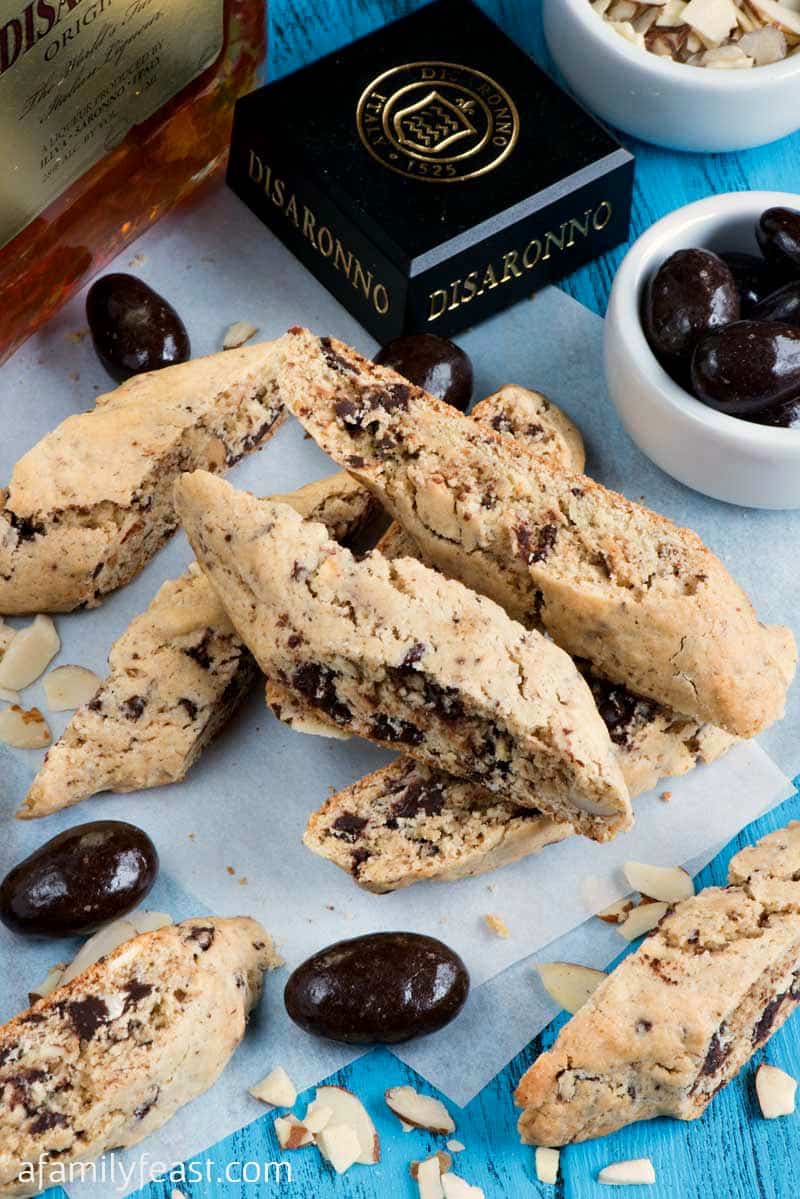 For years, we've had a number of favorite go-to biscotti recipes – but today's Amaretto Biscotti are so delicious, this recipe has jumped right to the top of the list!
As you can probably tell from the name, today's Amaretto Biscotti have a distinctive amaretto flavor from the addition of both almond extract and amaretto liqueur to the biscotti batter.  Additionally, chopped chocolate-covered almonds and toasted slivered almonds get mixed into the batter – so there is no denying that delicious almond flavor and crunch!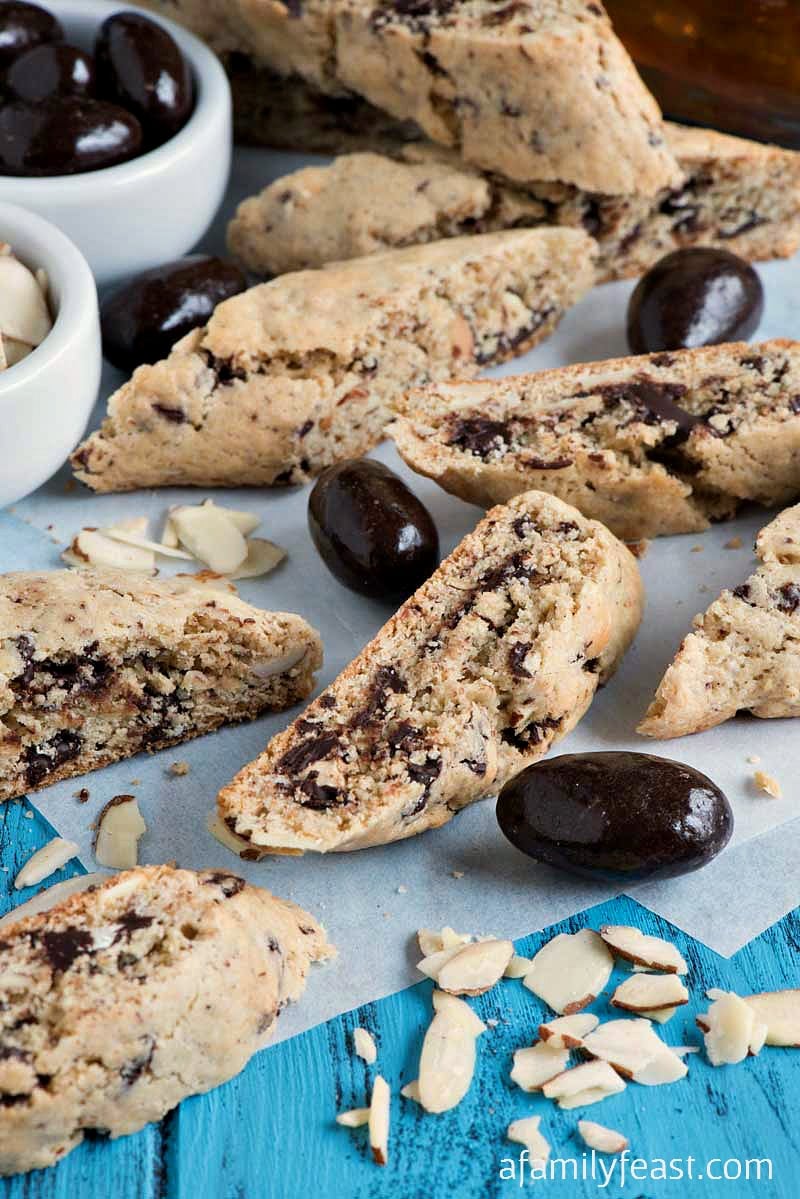 Just in case you are worried about 'almond flavor overload' in these Amaretto Biscotti – the batter is very nicely balanced with vanilla and a touch of ground cinnamon – a very unique and wonderful flavor combination that is unlike any other biscotti recipe I have tried. Jack and I loved these Amaretto Biscotti so much we couldn't stop sneaking bites of these sweet, flavorful cookies!
This recipe is adapted from The Food Network Kitchens. The original recipe included an additional drizzle of chocolate, but we felt these biscotti were sweet enough and perfect as is.
Print
Amaretto Biscotti
Prep Time:

20 min

Cook Time:

45 minutes

Total Time:

1 hour 5 minutes

Yield:

3 dozen
---
2 ¼ cups all-purpose flour
2 teaspoons baking powder
1/2 teaspoon ground cinnamon
1/2 teaspoon salt
5 tablespoons unsalted butter, softened to room temperature
1 cup sugar
2 large eggs
2 tablespoons amaretto liqueur
1 teaspoon almond extract
1 teaspoon vanilla extract
1 cup slivered almonds, lightly toasted
1 cup chocolate-covered almonds, chopped
---
Instructions
Preheat the oven to 350 degrees F. Line a baking sheet with parchment paper. Set aside.
In a medium bowl, whisk together flour, baking powder, cinnamon and salt. Set aside.
In the bowl of a stand mixer, cream together butter and sugar on medium-high speed until light and fluffy (about 3 to 5 minutes).  Add eggs, amaretto liqueur, and both almond and vanilla extracts and mix until combined. Reduce the mixer speed to low and slowly add the flour mixture, mixing until just incorporated. Fold in the slivered and chopped chocolate-covered almonds.
Divide dough into thirds and shape into three 12-inch long logs. Place onto parchment-lined baking sheet about 3 inches apart, pressing just slightly to flatten the top.  Bake until puffed and set, about 20-25 minutes. Remove from oven and cool on baking sheet for 10 minutes.
While baked biscotti logs are cooling, reduce the oven temperature to 250 degrees F.
Carefully transfer cooled logs to a cutting board. Slice the logs slightly on the bias and 1-inch thick. Arrange cut-size down on the baking sheet. Bake for 20-25 minutes until dry and golden. Remove to wire rack to cool completely.
Once cooled, store in an air tight container for up to 3 days – or wrap tightly and freeze until ready to eat.
---
Disclosure: This post contains affiliate links.
You may also like: