We're back today with another great recipe from my mother's old recipe box – these incredible Almond Malted Brittle Bars – and we think this is one of the best recipes yet!
My husband Jack has been happily browsing through my mom's recipe box over the last few months for some new recipe inspiration – and when he showed me this Almond Malted Brittle Bars recipe, I commented to him that my mother was "ahead of her time with this one."
Although she wrote this recipe down many years ago (and we unfortunately don't know where the recipe came from), it is the type of cookie recipe that is very much on-trend today with brittle and bark-type cookies and brownies being so popular!
It's actually very simple to achieve the "brittle" texture in these almond malted brittle bars. In fact, the recipe resembles a typical cookie recipe – but without any sort of leavening agent such as baking powder or baking soda in the batter. These bars have an incredible flavor – a mix of malted milk powder and almond extract along with semi-sweet chocolate chips and chopped almonds – that is addictively delicious!
I remember my mother – a prolific recipe collector but interestingly, not really someone who spent a lot of time in the kitchen – joked that she would someday publish a cookbook called, "1001 Recipes I Never Tried." Although many of the recipes we've found in her collection are long-time family favorites, others are recipes she simply wrote down with the intention of trying — someday! She had a great eye for delicious recipes and I think she'd get a huge kick out of knowing that her recipes are finally being shared here on A Family Feast.
Hope you enjoy these almond malted brittle bars as much as we do!
Print
Almond Malted Brittle Bars
Prep Time:

15 mins

Cook Time:

25 mins

Total Time:

40 minutes

Yield:

8-10 servings
---
½ cup

(

1

stick) butter, softened

4 teaspoons

malted powder (such as Ovaltine)

½ teaspoon

salt

½ teaspoon

almond extract

½ cup

granulated sugar

1 cup

flour

½ cup

semi-sweet chocolate chips

½ cup

chopped almonds (in a food processor until chopped semi-fine but not too fine)
---
Instructions
Preheat oven to 375 degrees.
In the bowl of a stand mixer with paddle attachment, cream butter, malted powder and salt.
Add almond extract and mix to combine.
With mixer on low, slowly pour in sugar then mix until mixture is creamy, about two minutes.
Remove from mixer and stir flour in by hand with a wooden spoon until a stiff rather dry dough forms.
Stir in chocolate chips.
Press mixture into an ungreased quarter sheet pan (about 9X12), pressing to edges.
Sprinkle top with nuts and press into dough. Any loose nuts will fall off after baking if not pressed in.
Bake for 25 minutes.
Remove and cool in pan.
Once cool, flip pan over and break into irregular-sized pieces. Store in air tight container.
---
You may also enjoy:
Chocolate Chip Caramel Crumble Bars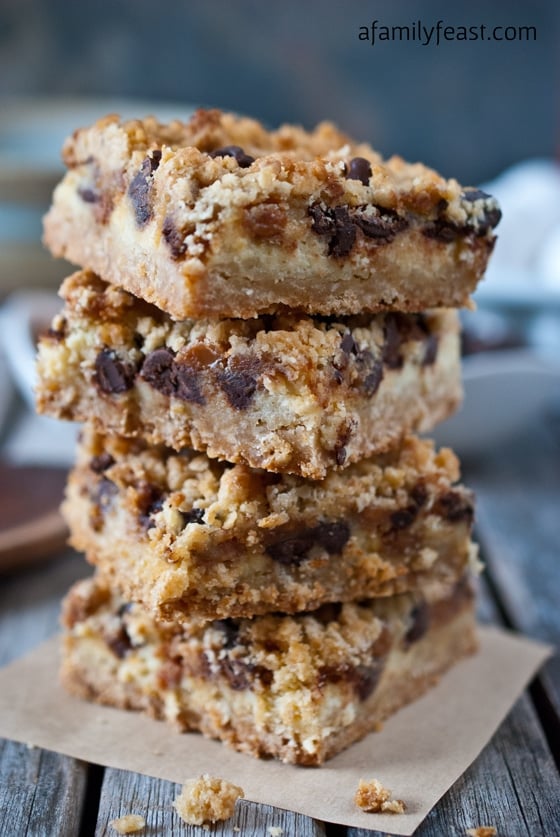 Chocolate Chip Cookie Dough Bars