This recipe for Lentils with Brown Rice and Feta is a delicious and healthy option for a Meatless Monday meal.
This hearty salad is made with lentils and brown rice, plus diced zucchini, sweet red peppers, scallions and feta cheese add a burst of fresh flavors to the dish.  Finished with a simple dressing of extra virgin olive oil and red wine vinegar – this salad can be a filling meal all by itself.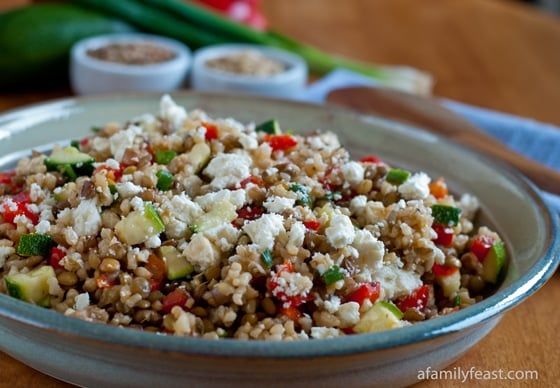 This recipe for lentils with brown rice and feta, originally clipped from the pages of the Boston Globe, was developed by Jean Kressy, food editor for the Boston Globe, as well as a contributing editor for Cooking Light.
Print
Lentils with Brown Rice and Feta
Prep Time:

10 mins

Cook Time:

50 mins

Total Time:

1 hour

Yield:

6-8 servings
Ingredients
1 cup brown rice, uncooked
2 cups vegetable stock or water (for cooking rice)
1 cup brown lentils, rinsed and picked over
1 bay leaf
4 cups water
4 scallions, both white and green parts
1 medium-sized sweet red pepper
1 medium-sized zucchini
½ cup crumbled feta cheese
2 tablespoons extra virgin olive oil
2 tablespoons red wine vinegar
½ teaspoon dried thyme (or ¾ teaspoon fresh thyme leaves)
Salt and pepper to taste
Instructions
In a large saucepan, combine brown rice and either stock or water. Cook rice according to package directions.
While rice is cooking, prepare lentils as follows: In a medium saucepan, combine the lentils, bay leaf and 4 cups of water. Cover and bring to a boil. Reduce heat and gently boil uncovered for 15 minutes or until the lentils are tender but still have a bite.
While rice and lentils are cooking, thinly slice the scallions and cut the red peppers and zucchini into small ½ inch dice.
Drain the lentils and discard the bay leaf. Transfer to a large bowl. Add the cooked rice, scallions, red pepper, zucchini, feta, oil, vinegar, thyme, salt and pepper and combine with a large spoon.
You may also like:
Quinoa Salad with Pecans, Orange and Currants