Pick a peck of peppers – then make our delicious Pickled Peppers to enjoy all winter long! (Say THAT five times fast!) 🙂
When my husband Jack and I first decided to share our Pickled Peppers recipe here on A Family Feast, we wanted to write this entire post as a variation of the Peter Piper Pickled Pepper tongue-twister.  We really tried…but it was too hard! So instead, we'll get right to our recipe inspiration.
Every year, Jack plants a variety of pepper plants in our backyard garden – and for various reasons – most years we are lucky if we get only one or two plants to grow. But this year – cooler weather conditions made our garden pepper plants very, very happy – and we ended up with a bumper crop of several varieties of bell peppers, banana peppers, jalapeno peppers and even habanero peppers!
With all of those gorgeous peppers ready to pick – we decided to make jars of Pickled Peppers that we could enjoy all winter long.
Pickling peppers is so easy to do: Simply slice up your peppers (we wanted thin strips, but you can cut them any size you'd like) and toss together with slices of red onion and garlic. Place the pepper mixture in sterilized mason jars.
Then make a brine with white vinegar, cider vinegar, water, sugar, and spices and seasonings such as whole black peppercorn, coriander seeds, star anise, juniper berries, celery seeds, and bay leaves. Bring the brine to a boil – then pour over the peppers in the jars.
Today's Pickled Peppers recipe can be made with any variety of peppers you like – including hot peppers!  Just be warned: Adding hot peppers to the mix will make ALL of the peppers in the jar hot and spicy once you add the brine, so add them sparingly. (Or jar the hot peppers separately.)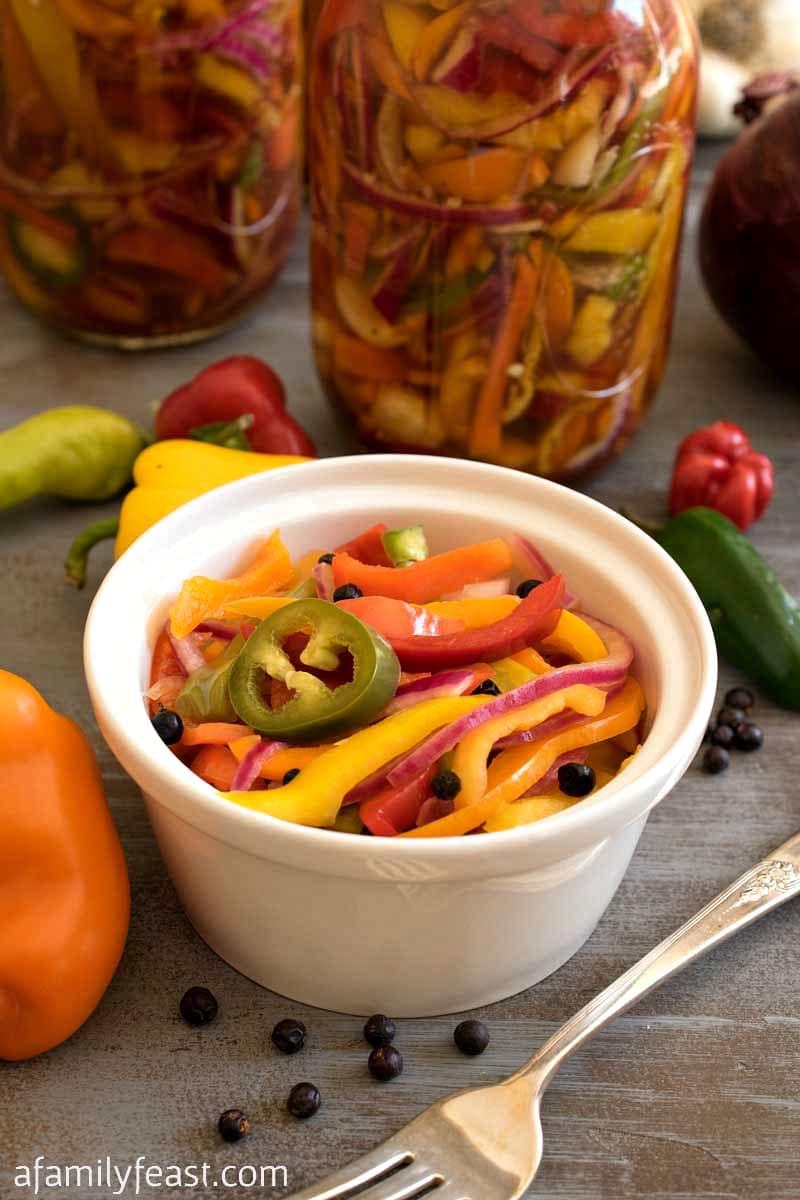 These Pickled Peppers are a delicious topping for sandwiches, chopped up and added to mayonnaise to make a zesty tartar sauce, added to salads, or simply served alongside meat and fish.
Print
Pickled Peppers
Prep Time:

30 minutes

Cook Time:

30 minutes

Total Time:

1 hour

Yield:

4 quarts
---
Description
This recipe is easily adaptable if you have a lesser amount of peppers to pickle. Our recipe below used 12 cups of sliced peppers and a corresponding amount of brine to yield 4 quarts of pickled peppers.  Just cut back on the brine ingredients if you are processing fewer peppers.
---
12 cups fresh garden peppers, cored, seeded and cut into strips or slices
1 large red onion, cut into half-moon thin slices
8 large garlic cloves slightly smashed but left whole
Brine
2 ½ cups white vinegar
2 cups cider vinegar
4 cups water
½ cup granulated sugar
5 tablespoons kosher salt
4 tablespoons whole black peppercorns
1 tablespoon coriander seeds
1 teaspoon star anise seeds or one whole star anise pod
2 teaspoons juniper berries
1 teaspoon celery seeds
3 bay leaves
---
Instructions
Slice all of the peppers and onions and mix together with the garlic in a large bowl. Press into four sterilized quart-sized mason jars.
Heat all of the brine ingredients in a large sauce pan and boil for five minutes.
Pour the liquid into each jar, filling to within ½ inch from the top.
Cover each tightly, and boil jars for ten minutes in a hot water bath to seal, or refrigerate and eat within one month.
For more specific canning instructions, visit FreshPreserving.com.
---
Disclosure: This post contains affiliate links.


You may also like: