These Low Carb Pancakes with Blueberry Sauce are light, fluffy and delicious!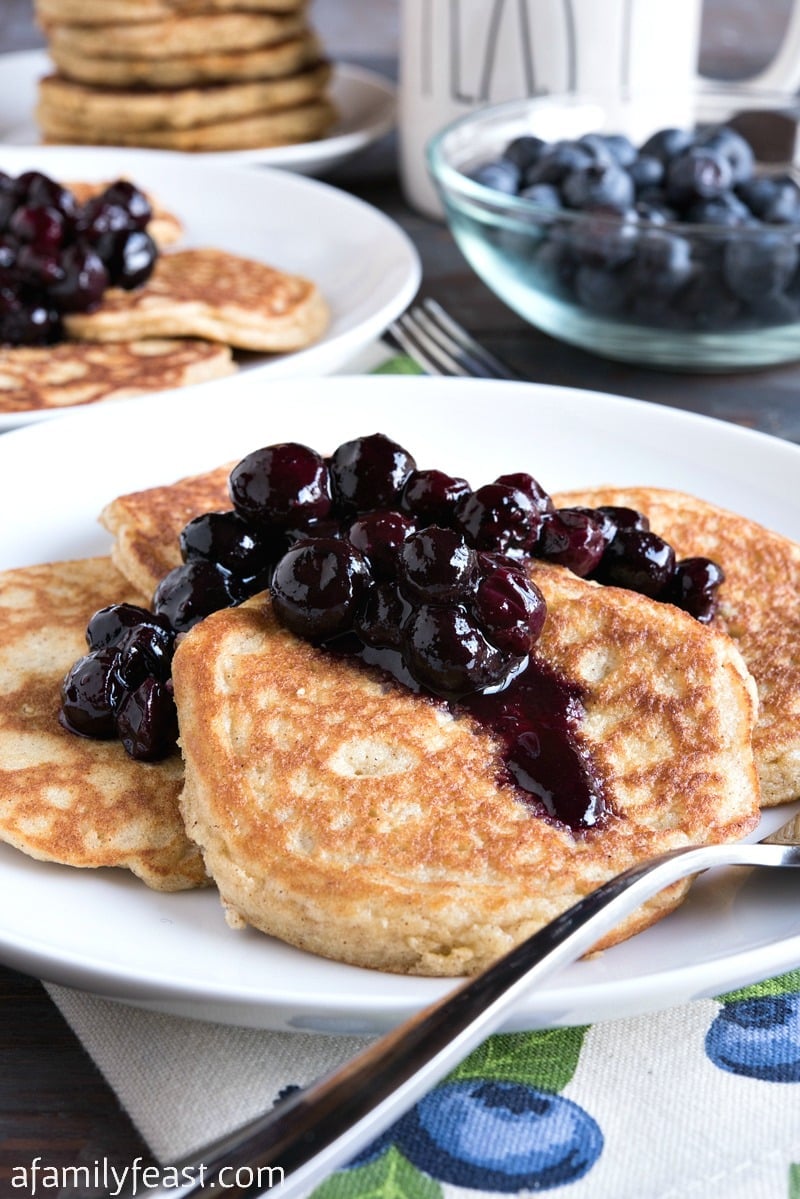 I mentioned a few weeks ago that my husband Jack has been eating a lower carb diet. But just because he's eating low carb – that doesn't mean he can't enjoy some delicious pancakes for breakfast!
This Low Carb Pancakes with Blueberry Sauce recipe is adapted from one we found in this cookbook. The big swap that reduces the carbs in these pancakes comes from replacing all-purpose flour with a blend of coconut flour and almond flour – both of which are naturally lower in carbs and can be used in many recipes.
The trick to achieving a light, thick and fluffy low carb pancake is to cook them low and slow on your griddle pan. If you try to rush things with a higher heat, the outside of the pancakes will brown before the inside cooks through.
These Low Carb Pancakes have a touch of sweetness and cinnamon flavor – and we served them with a delicious homemade blueberry sauce. (Full disclosure: The blueberry sauce is not super low carb so use it sparingly or just serve the pancakes with butter instead.)
Even our picky 11-year-old who loves her favorite, traditional Sunday morning pancakes gladly ate these Low Carb Pancakes!
And – if fresh blueberries aren't in season, feel free to use frozen blueberries instead. Also, you can make these pancakes gluten-free as long as your baking powder is gluten-free (such as this one.)
Print
Low Carb Pancakes with Blueberry Sauce
Prep Time:

10 minutes

Cook Time:

20 minutes

Total Time:

30 minutes

Yield:

16 3-inch pancakes
---
---
Pancakes
4 eggs
6 tablespoons melted butter
6 tablespoons heavy cream
½ cup whole fat coconut milk
1 teaspoon vanilla extract
½ cup coconut flour
6 tablespoons almond flour*
Pinch of salt
1½ teaspoons gluten-free baking powder
1 teaspoon ground cinnamon
2 teaspoons Stevia, or your favorite artificial sweetener
Butter or coconut oil to grease the pan
Sauce
2 cups fresh blueberries
2 tablespoons water
2 tablespoons lemon juice
1 teaspoon Stevia or your favorite artificial sweetener
1 teaspoon ground cinnamon
Pinch of nutmeg
---
Instructions
Mix all of the wet pancake ingredients in a medium bowl and all of the dry ingredients in another bowl. Mix the two together and let sit five minutes. The mixture will be thicker than regular pancake batter but will soften once it hits the heat. Don't be tempted to thin this thick batter out, again it will thicken as it sits then soften as it cooks.
While that mixture sits, place all sauce ingredients in a small sauce pan and bring to a simmer and simmer five minutes. Remove from heat and set aside.
Heat a grill pan over low heat, making sure the pan is fully heated before starting.
Grease the pan lightly with a little butter or coconut oil and using a soup or table spoon, spoon batter onto the preheated pan, using the back of the spoon to spread the batter to about 3" wide. Cook as many per pan as will fit.
Keep the burner on low and do not flip or move until fully browned on one side. (take a peak with a spatula). Once the bottoms are fully browned, carefully flip and repeat. The whole cooking time could be as long as ten minutes per batch. Flipping too soon will not allow center to cook through.
Repeat for the remaining batter. I fit eight per batch and made 16 pancakes total.
Serve hot with the optional reserved blueberry sauce or serve with butter to keep the carb count even lower.
---
Notes
*In the original recipe we adapted, ground macadamia nuts were used instead of almond flour.
Disclosure: This post contains affiliate links.