This Lemon Loaf Cake is easy, delicious and full of lemon flavor!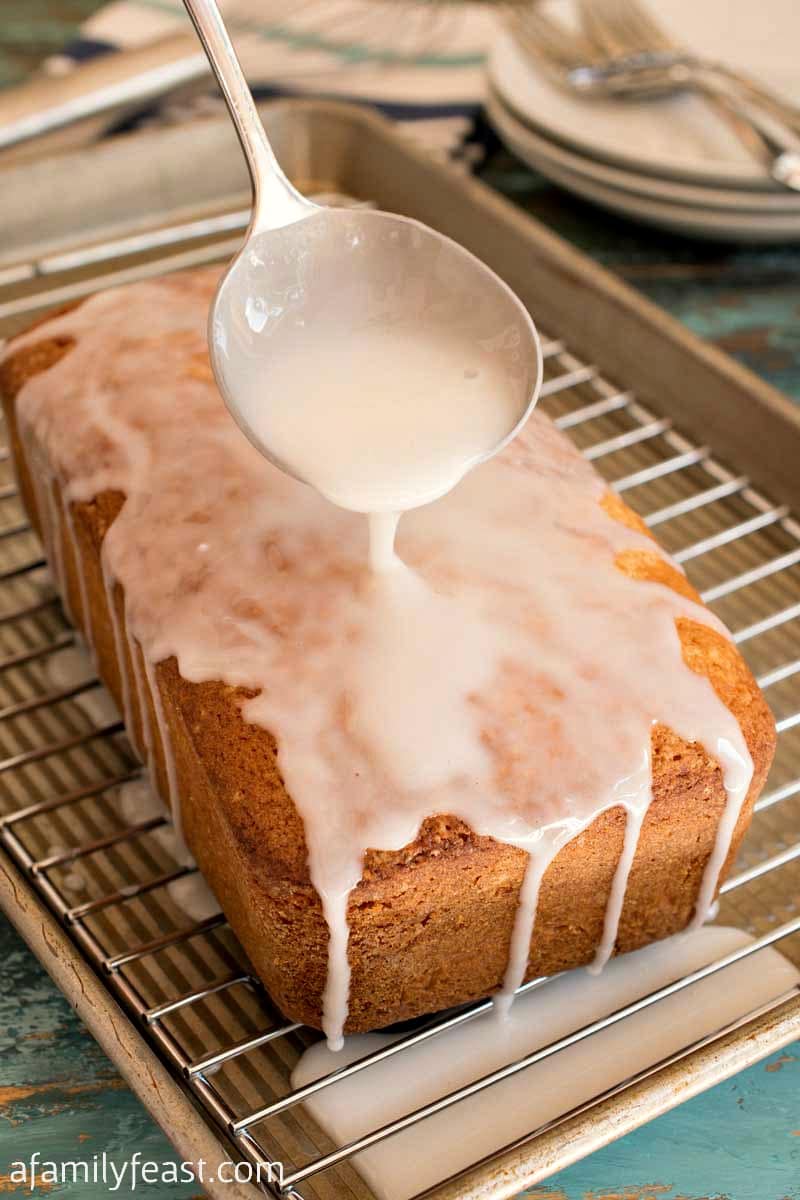 Today I'm so pleased to share this delicious Lemon Loaf Cake recipe from the new cookbook, Kid Chef Bakes. (Affiliate link.)
This wonderful cookbook is written by my friend and fellow food blogger, Lisa Huff from The Snappy Gourmet. Inside Kid Chef Bakes you'll find the recipe for this sweet and tender Lemon Loaf Cake, plus 75+ other sweet and savory recipes, baking tutorials, recommended kitchen tools and supplies, and more!
Lisa is a mom herself to two children, and her cookbook strikes the perfect tone for teaching kids ages 8-13 (or so) how to bake without being overly juvenile. Kid Chef Bakes includes recipes for cookies, cakes, pizza, bread, pies, pastries and more – so beginner chefs will find plenty of recipes they will love to try baking.
Our almost 11-year-old daughter loves this cookbook, and she was so excited to bake the Lemon Loaf Cake recipe from the book – all by herself!
The recipe instructions are well organized and easy to follow, and Lisa includes lots of helpful tips along the way that help aspiring bakers of any age see success in the kitchen.
This Lemon Loaf Cake recipe came out perfectly for our daughter – a moist lemon and vanilla cake that baked up light and tender. A sweet-tart lemon icing was the perfect topping.
You can order your own copy of Kid Chef Bakes on Amazon now, and makes a great gift for any aspiring baker in your life!
Print
Lemon Loaf Cake
Prep Time:

20 minutes

Cook Time:

45 minutes

Total Time:

1 hour 5 minutes

Yield:

1 loaf (12 servings)
---
Description
Recipe from Kid Chef Bakes reprinted with permission by Rockridge Press.
---
For the Cake
Butter or shortening, for greasing the pan
Flour, for dusting the pan
1/3 cup (2% or whole milk)
2 tablespoons freshly squeezed lemon juice
1 ½ cups all-purpose flour
¼ teaspoon baking powder
¼ teaspoon baking soda
¼ teaspoon table salt
½ cup (1 stick) unsalted butter, at room temperature
1 cup granulated sugar
2 large eggs, at room temperature
½ teaspoon vanilla extract
1 tablespoon freshly grated lemon zest
For the Glaze
¾ cup confectioners' sugar
2 teaspoons lemon juice
1 tablespoon milk (2% or whole), plus more as needed
---
Instructions
Preheat the oven to 350 degrees F. Grease and lightly flour a loaf pan. Set aside.
In a small bowl, add 1/3 cup of milk and 2 tablespoons of lemon juice, and stir to combine. Let sit about 10 minutes. (The mixture will curdle into sour milk.)
In a medium bowl, whisk together the flour, baking powder, baking soda, and salt.
In a large bowl, beat the butter with an electric mixer on medium speed for about 10 seconds, or until smooth.  Beat in the granulated sugar until well blended and light and fluffy, about 2 minutes. Beat in the eggs, one at a time, beating after each egg is added. Beat in the vanilla and lemon zest.
Alternate adding the flour mixture and the milk mixture to the butter mixture, beating on low after each addition, until the batter is just combined.
Pour the cake batter into the prepared pan.  Bake in preheated oven for 45 minutes (or until a toothpick inserted into the middle comes out clean).  Cool slightly, then remove the cake from the pan to finish cooling on a wire rack.
Once the cake has cooled, make the glaze. In a medium bowl, whisk together the confectioner's sugar, 2 teaspoons of lemon juice, and 1 tablespoon of milk. (Whisk in more milk as needed until thick and spreadable.  Add more confectioner's sugar if necessary.)
Spoon the glaze over the top of the cake, so it can drizzle down the sides.
---