This creamy and delicious Double Chocolate Pudding is a family favorite at our house – especially around the holidays! Thank you to Horizon® Organic for sponsoring this recipe.
Christmas is just ten days away…are you ready?!?
I'm happy (and relieved) to report that most of our own holiday preparations are nicely under way.  We have a big family dinner this weekend with my husband Jack's side of the family – so we had to get most of our own prep done early.
Our eleven-year-old daughter Emma has also been a really great helper this year with decorating the tree, wrapping gifts, and even baking and cooking. In fact, Emma was the one who suggested that we make this homemade Double Chocolate Pudding for the holidays.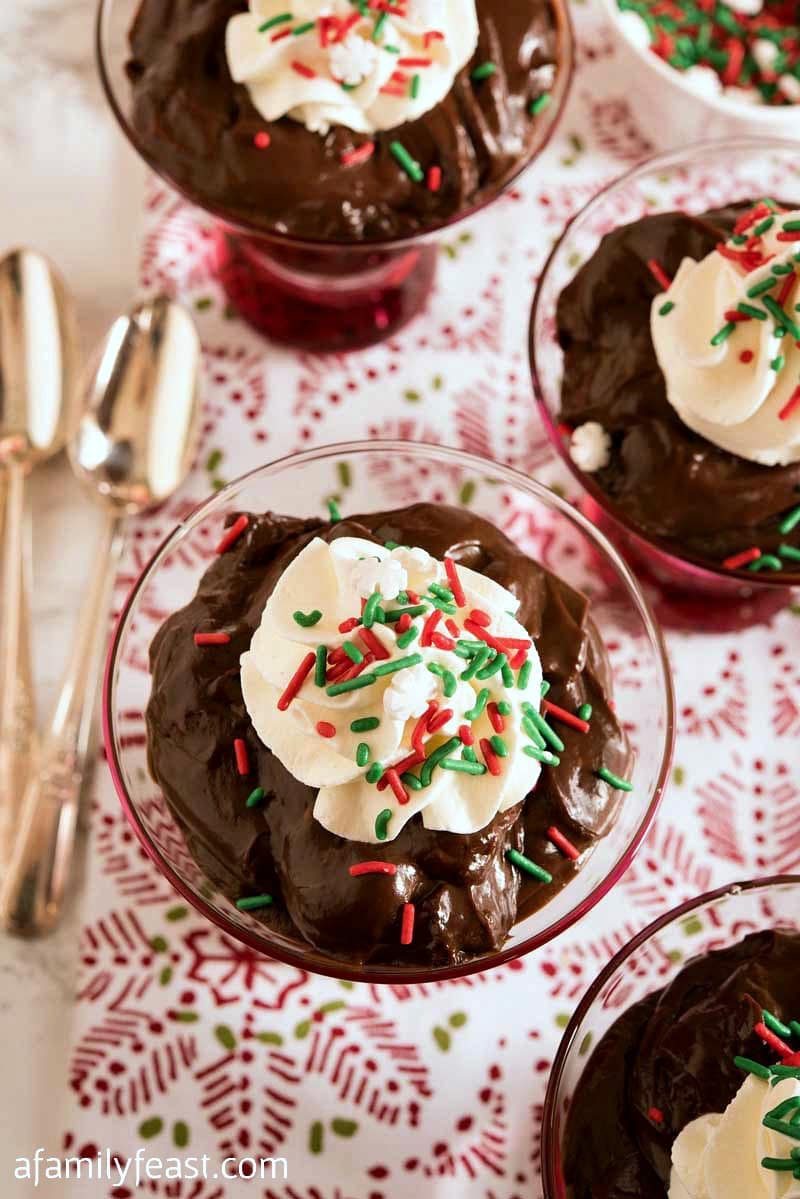 Chocolate pudding is one of Emma's favorite desserts any time of the year – but we're making today's version a little fancier for the holidays. With a double dose of chocolate, a piped dollop of whipped cream, and some holiday sprinkles on top, this Double Chocolate Pudding is going to be the hit of our dessert table!
This Double Chocolate Pudding is super easy to make too. (Scroll below to our recipe card to watch a video of Emma making this recipe.)
Jack and I believe that cooking with kids – especially around the holidays – is a wonderful way to make memories that later become family traditions. And, whether we are putting out some freshly-baked cookies for Santa along with a glass of milk, or making this wonderful Double Chocolate Pudding for our family's special holiday – we reach for Horizon® Organic.
More than 20 years ago, Horizon helped pioneer the organic dairy movement by becoming the first company to supply organic milk nationwide. Horizon Organic is a brand we've trusted in our own home ever since Emma was a toddler, and today we still choose Horizon Organic dairy products because we know that there are no artificial colors, flavors, or preservatives, and no GMOs.
We used Horizon Whole Milk, Horizon Heavy Whipping Cream, plus some Horizon Butter in our luscious Double Chocolate Pudding.  For Emma, Horizon is milk that just tastes really good – but for us parents, it's reassuring to see Horizon on the carton or package, because we know that the milk and other dairy inside comes from happy, healthy cows raised on family-run organic farms that follow mandatory USDA organic certification guidelines.
For more information about Horizon Organics, visit them at Horizon.com.  And here's that delicious creamy Double Chocolate Pudding recipe!
Print
Double Chocolate Pudding
Prep Time:

20 minutes

Cook Time:

10 minutes

Total Time:

30 minutes

Yield:

4-6 servings
---
1 cup granulated sugar
½ cup unsweetened cocoa powder
¼ cup corn starch (4 tablespoons)
¼ teaspoon salt
1 ¾ cup Horizon Organic Whole Milk
1 cup Horizon Organic Heavy Whipping Cream
2 teaspoons vanilla extract
2 tablespoons Horizon Organic Unsalted Butter
4-ounce bar of dark chocolate with at least 60% cocoa, grated fine
Toppings
1 cup Horizon Organic Heavy Whipping Cream, for topping
Festive sprinkles, optional
---
Instructions
In a medium sauce pan, off heat, add sugar, cocoa powder, corn starch and salt. Whisk to combine or sift together.
Add Horizon Organic Whole Milk and whisk to combine, then add Horizon Organic Heavy Whipping Cream and whisk again to make sure there are no lumps.
Place on burner over medium to medium high and bring to boil. Once it starts to boil, lower heat to medium and cook one minute, stirring continually. Remove from heat.
Stir in vanilla and Horizon Organic Unsalted Butter and grated chocolate. Cover and let sit five minutes covered then stir again. Spoon into four 8-ounce serving bowls.*
*If pudding will not be served right away, cover each cup with plastic, pressing plastic right down onto the surface of the pudding to prevent a skin from forming.
While pudding cools, whip Horizon Organic Heavy Whipping Cream in a cold bowl with a whisk until stiff peaks form. Spoon into a pastry bag with a star tip for a decorative top. Serve whipped cream over pudding. Sprinkle with colorful sprinkles if desired.
This is a sponsored conversation written by me on behalf of Horizon. The opinions and text are all mine.
You may also like: