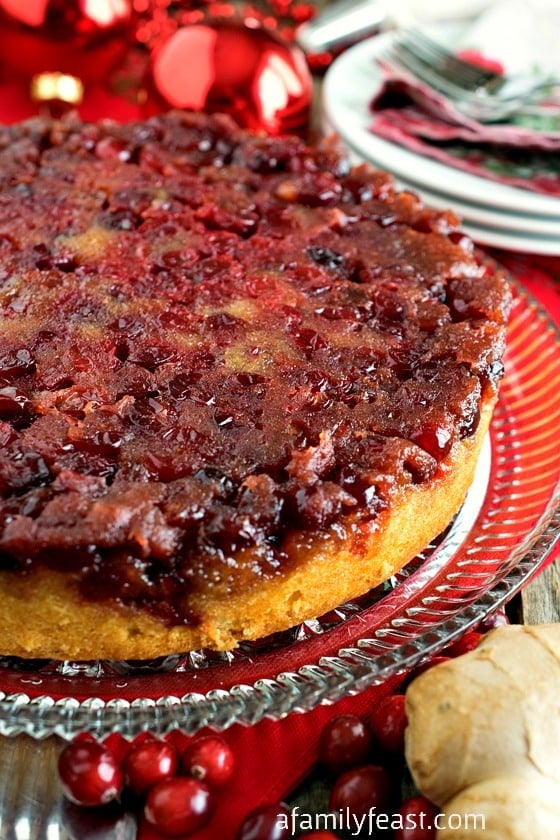 We made this Cranberry Ginger Upside Down Cake with Rum Whipped Cream as part of a sponsored post for The Chew and She Knows Media.
This past weekend we hosted an 'ugly sweater' holiday party at our house. The adults wore their tackiest Christmas sweaters, while the kids served as the judges and voted to pick the winning (aka 'the ugliest') sweater! It was a really fun party with a great group of friends and neighbors – and of course, some delicious food!
This fantastic Cranberry Ginger Upside Down Cake with Rum Whipped Cream stole the show on our dessert table. Created by one of my favorite chefs – Mario Batali – we found the recipe over on The Chew!
OUR LATEST VIDEOS
All month long, you can join in on the fun of The Chew Holidays, weekdays at 1:00 E|12:00 C|P on ABC. Whether you're looking for great recipes, crafts or tips to help you prepare for the holidays, The Chew is a great resource for all things holiday-related. (In fact, they recently had their own ugly sweater party on The Chew – and we got lots of ideas for our party!)
I will admit, I love taking a break from my day around lunchtime by watching The Chew! The co-hosts are entertaining to watch – bantering back and forth with each other – and I always learn something new! And this time of year, it's like a holiday party in the kitchen every day during the week.
This light, sweet Cranberry Ginger Upside Down Cake with Rum Whipped Cream has a sweet-tart cranberry and ginger topping that is perfectly complemented with rum-laced whipped cream on top! (We made this recipe for Thanksgiving – and it is so delicious, we'll make it again for Christmas!)
You can find the recipe for this amazing Cranberry Ginger Upside Down Cake with Rum Whipped Cream by clicking here – and there are so many more recipes of all kinds from The Chew right here. #ChewHolidays