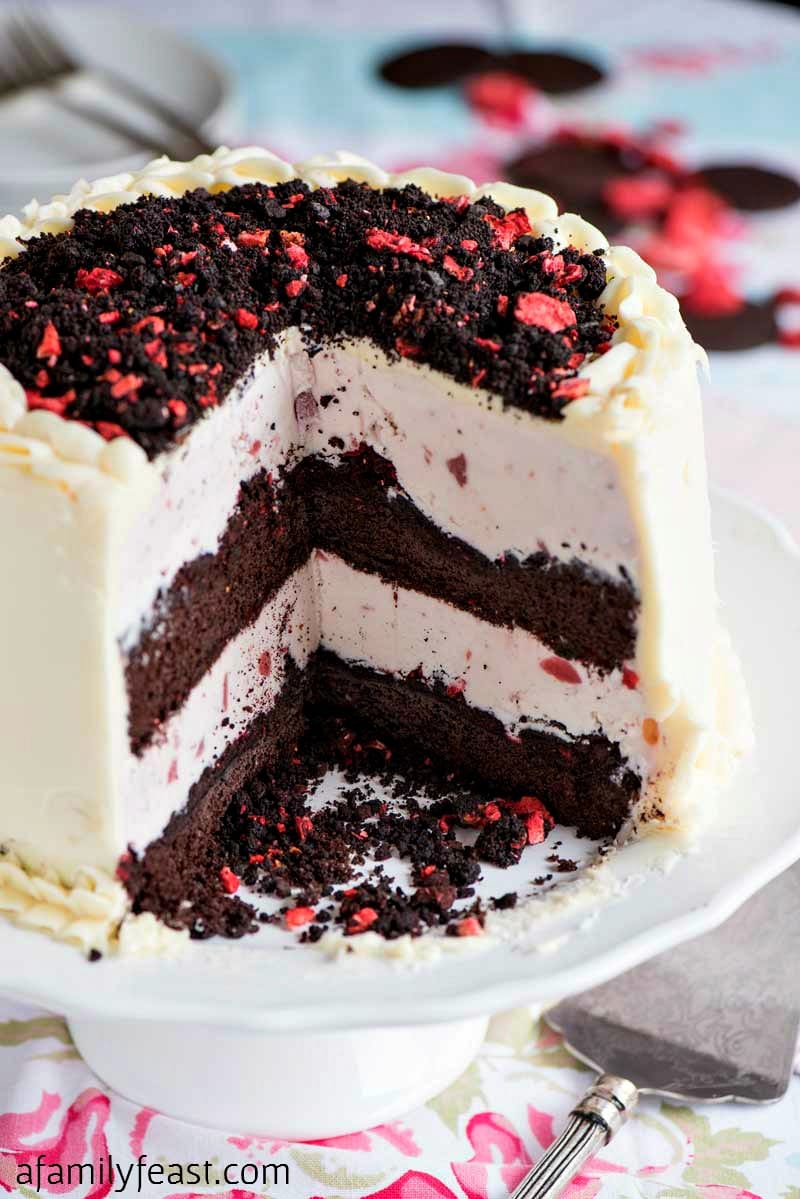 This Chocolate Crunch Strawberry Ice Cream Cake recipe is sponsored by Peapod as part of our ongoing ambassadorship with the brand.  All opinions are 100% mine.
I've been looking at my calendar – we have so many Springtime celebrations coming up! Mother's Day, Father's Day, birthday parties, and we always host an 'end of the school year' kids' picnic for our daughter and her friends. Not to mention Memorial Day and July 4th are just around the corner too.
OUR LATEST VIDEOS
Needless to say – the next few months are going to be very busy with lots of entertaining and celebrating! And of course – you'll need a delicious dessert like our Chocolate Crunch Strawberry Ice Cream Cake.
To keep things simple, we've taken some shortcuts – but the results are pretty and delicious! Chocolate cake layered with strawberry ice cream, and a fantastic chocolate cookie crunch layer with an extra touch of sweetness and color from crumbled freeze dried strawberries.
We also used that same chocolate cookie-strawberry crunch layer as a decorative topping on the whipped cream cheese frosting. You can also follow this same recipe idea – swapping in your own favorite cake, ice cream, cookie and frosting flavors.
Another way we're keeping things simple?  Ordering our groceries and other Springtime celebration supplies from Peapod's grocery delivery service!
Peapod carries thousands of items (including everything to make this Chocolate Crunch Strawberry Ice Cream Cake). On Peapod.com, you'll find weekly specials, seasonal items, and more! Just place your grocery order online or via the Peapod mobile app, and schedule delivery when it is most convenient for you.
See this Chocolate Crunch Strawberry Ice Cream Cake recipe here. Over on FromThePod.com you'll also find lots of other recipes from your favorite bloggers – all using groceries from Peapod.
You may also like these other recipes made with groceries from Peapod: