I made these adorable Carrot Cupcakes with Ginger-Orange Cream Cheese Frosting and some incredible Easter Baskets (all made with Target Grocery Essentials) as part of a sponsored post for Socialstars. #TargetCrowd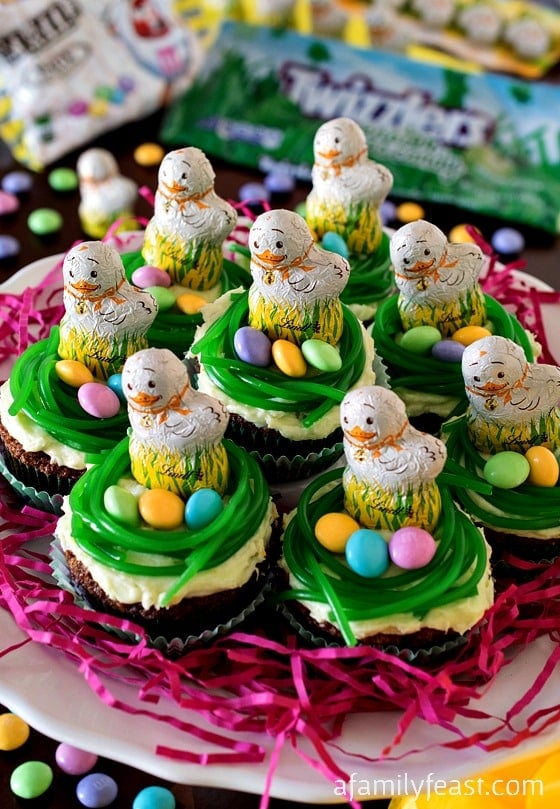 I don't know who gets more excited about the holidays – me or all of the kids in our family! This time of year – Easter is right around the corner – and for weeks I've been looking forward to shopping at my local Target store for my holiday supplies!
I call Target "my happy place" (seriously – as soon as I walk in the door of the store I'm smiling) and at Target I know that I'm sure to find everything I need – all in one place and at great prices!
Check out all of the wonderful items I scored on my last shopping trip: Easter candy, baskets, grass, plastic eggs, greeting cards, gifts, and more!  (They have everything I need to make the ultimate Easter baskets this year!)  Plus, Target Grocery carries so many Grocery Essentials there's really no reason to shop anywhere else!
I've just started to do some holiday baking too – and that includes making these super cute Carrot Cupcakes with Ginger-Orange Cream Cheese Frosting.  It's a spicy carrot cupcake topped with a sweet cream cheese frosting flavored with fresh orange zest and candied ginger.  And I've decorated the top to look like a little bird's nest – using some Twizzler's Easter Grass, a mini Lindt Chocolate Chick for the mama bird, and some Easter-colored White Chocolate M&M's for the eggs. (Aren't they cute?)
And did you know that Target has Easter candy exclusives that you can only find at your local Target store?  No matter what your family's favorite candy is, Target carries a great selection!  Here's a look at some of the delicious candy that the 'Easter Bunny' 🙂 is putting in our baskets this year:
Cadbury White Chocolate Mini-Eggs, Limited Edition Fudge-Covered Peeps in Orange, Lemon and Lime Delight flavors, Twizzler's Easter Grass Candy and Lindt Chocolate Chicks…
…Sweet Tarts Bunny Gummies and White Chocolate M&M's…
…and a Godiva Dark Chocolate Bunny, Brach's Fruit Creme Jellybeans, and Starburst Sweet & Sour Jellybeans!
I always like to include some other goodies from Target in our family's Easter baskets – and I found some really cute gift ideas in Target's affordable One Spot section. I also found some Easter-themed kitchen towels, napkins and dishes too (for myself!) and we decorated the house with the cutest Easter décor – all from Target!
Click here for more information about all of the great Easter treats you'll find at Target this year! And you can find more delicious recipes like our Carrot Cupcakes with Ginger-Orange Cream Cheese Frosting right here.  Happy Easter everyone!
Print
Carrot Cupcakes with Ginger-Orange Cream Cheese Frosting
Prep Time:

20 mins

Cook Time:

25 mins

Total Time:

45 minutes

Yield:

12 cupcakes
---
Ingredients
For the Cupcakes
1 cups all-purpose flour
1 teaspoon baking soda
¾ teaspoon ground cinnamon
½ teaspoon ground ginger
½ teaspoon salt
½ teaspoon baking powder
1 cup sugar
¾ cup vegetable oil or canola oil
2 large eggs
1½ cups finely grated peeled carrots (about 8 ounces carrots)
1/3 cup pecans or walnuts, chopped
1/3 cup dark or golden raisins
1/8 cup minced crystallized ginger
1/2 tablespoon grated orange peel
For the Frosting
One 8-ounce package cream cheese, room temperature
6 tablespoons unsalted butter, room temperature
1 ½ cups powdered sugar
1 teaspoon vanilla extract
1/8 cup minced crystallized ginger
1 teaspoon grated orange peel
For the Decoration
1 package Twizzlers Easter Grass Candy
12 Lindt Mini Chocolate Chicks
Assorted colors White Chocolate M&M's (or jellybeans)
---
Instructions
FOR THE CUPCAKES:
Preheat oven to 350 degrees F. Line standard sized muffin cups with paper liners.
Whisk flour, baking soda, cinnamon, ground ginger, salt and baking powder in medium bowl to blend. Using electric mixer, beat sugar and oil in large bowl until well blended. Add eggs, 1 at a time and beat until well blended. Add flour mixture and beat just until blended.
Stir in grated carrots, pecans, raisins, crystallized ginger and orange peel; blend well. Divide batter evenly among prepared muffin cups.
Bake cupcakes until tester inserted into center comes out clean, about 20-25 minutes. Cool cupcakes in pan 20 minutes. Turn cupcakes out onto rack and cool completely.
FOR THE FROSTING:
Using electric mixer, beat cream cheese and butter in large bowl until smooth. Add powdered sugar and vanilla and beat until smooth. Beat in crystallized ginger and orange peel. Chill until firm enough to spread, about 30 minutes.
Spread frosting thickly over top of cupcakes. Or if desired, transfer frosting to pastry bag fitted with large star tip and pipe frosting in lattice pattern over top of cupcakes.
Decorate the cupcakes as shown in the photo by creating a nest using pieces of Twizzlers Easter Grass Candy. Add a Lindt Mini Chocolate Chick and M&M's or Jelly Beans to the nest.
DO-AHEAD TIP:
Can be prepared 2 days ahead. Place cupcakes side by side in storage container and cover with lid. Or wrap cupcakes individually in plastic wrap, leaving space between top of cakes and wrap, so as not to disturb frosting.