Beef Stew with Dumplings is a delicious, classic recipe and the ultimate comfort food!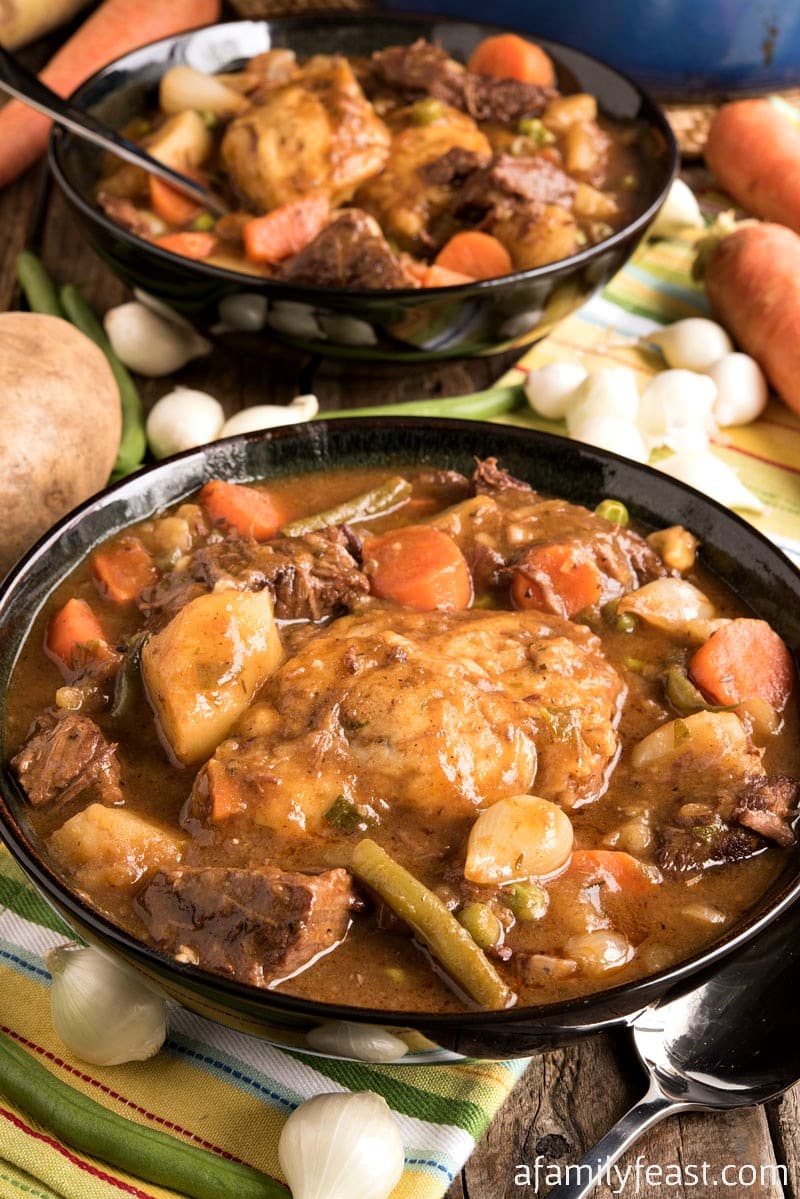 I'm often told that I am very lucky to have a husband who loves to cook – and they are absolutely correct.  It's an added bonus that he also happens to be a very, very good cook!  So – lucky me –  this past weekend Jack was in the mood to make this savory Beef Stew with Dumplings for us, and the aromas filling the house were just amazing!
This Beef Stew and Dumplings recipe is one of the very first recipes we shared here on A Family Feast when we started our blog over five years ago, and with so many other recipes to make over the years, this oldie but goodie has been hidden in the archives.  So, with a pot of beef stew simmering away on the stove, we decided to update the pictures too, and reshare this delicious recipe today.
A good Beef Stew with Dumplings is one of those classic recipes that everyone should have in their family's recipe collection! This Beef Stew with Dumplings starts out like most other beef stew recipes: tender chunks of beef, carrots, potatoes and onions layered in a thick gravy.  But what really makes this special is the addition of some red wine, tomato paste, thyme and other seasonings that you might not expect – that really enhance the flavors of the meat and vegetables.
Full disclosure: This Beef Stew with Dumplings is a somewhat time-consuming recipe as it will take about three hours to cook. (Most of that cooking time is with the pot simmering away on the stove so you can go do other things around the house.) But after one bite, I think you'll agree that the time it takes to make this Beef Stew with Dumplings is totally worth the wait!
This Beef Stew with Dumplings recipe makes a fairly large quantity as well so it's great for feeding a crowd, or for enjoying as leftovers the next day.
Print
Beef Stew with Dumplings
Prep Time:

1 hour

Cook Time:

3 hours

Total Time:

4 hours

Yield:

8-10 servings
---
For the beef stew
1/2 cup all-purpose flour
1 teaspoon kosher salt
1/2 teaspoon freshly ground black pepper
3 tablespoons extra virgin olive oil, separated
3 tablespoons unsalted butter, separated
2 1/2 pounds beef chuck cut into 2" cubes
2 cups onion, chopped
2 tablespoons garlic, chopped
2 tablespoons tomato paste
1/2 cup red wine
3 quarts beef stock
1 quart water
2 bay leaves
2 teaspoons dried thyme
1 teaspoon paprika
1 tablespoon Worcestershire sauce
1 teaspoon granulated sugar
4 cups carrots, peeled and cut into bite-sized pieces (1 1/2 pounds)
4 cups russet potatoes, peeled and cut into bite sized pieces (1 1/2 pounds)
1/2 pound green beans, trimmed and quartered
2 10-ounce packages pearl onions, *see below for instructions
1/4 cup fresh flat leaf parsley chopped
1 cup frozen green peas, thawed
For the dumplings
1 cup all-purpose flour
1 1/2 teaspoons baking powder
1 teaspoon granulated sugar
1/2 teaspoon kosher salt
1 teaspoon dried thyme
2 tablespoons unsalted butter
3/4 cup whole milk
---
Instructions
Mix flour, salt and pepper together in a bowl. Dredge beef cubes in flour and remove, shaking off excess flour.
Over medium high heat, melt one tablespoon of butter and one tablespoon of oil in 6-quart heavy bottomed stock pot or Dutch oven until slightly brown and frothy. Place half of the beef in the hot fat making sure that meat pieces do not touch each other. Sear two minutes per side. Remove from pan and heat another tablespoon of butter and oil then cook the second half of the meat. Remove meat from pan when done and set aside. Total time to sear all the meat is 15 minutes.
Turn heat to medium and add the remaining butter and olive oil to the pan. Add in chopped onions and cook three minutes. Add chopped garlic and cook for one more minute. Add tomato paste and cook for an additional minute.
Add in red wine to deglaze pan, scraping up any brown bits from bottom.
Add browned beef cubes, stock, water, bay leaf, thyme, paprika, Worcestershire sauce and sugar. Bring to a boil then turn heat down to a simmer and cover pot with lid slightly ajar. Simmer for 2 ½ hours or until beef is tender, adjusting water as needed. If all of the liquid does not fit, set some aside and add later as the liquid in the pan evaporates. Either way, check at the two hour mark and if needed, add more liquid. We used exactly four quarts of liquid (Three quarts beef stock and one quart of water).
After 2 1/2 hours, add in carrots, potatoes, green beans, pearl onions and parsley and simmer for 15 minutes or until vegetables are tender.
While vegetables are cooking, prepare dumpling batter as follows: Sift flour, baking powder and sugar together. Add salt and thyme into the bowl and then cut in butter with a fork until pieces are rice size. Add milk and stir with spoon until mixed.
Add green peas to stew, adjust seasoning and turn heat to low. Remove and discard bay leaves.
Drop heaping tablespoons of dumpling batter into stew until all batter is used. (Do NOT just pour the dumpling batter in all at once.) Cover and cook 15 minutes without lifting the lid. Check and if they are not puffed up enough, cook for another minute or two covered. Ours took exactly 15 minutes .
Serve bowls of stew with dumplings on top.
---
Notes
To clean the pearl onions, bring a sauce pan of water to a boil and add onions with the skin on and once boiling, time three minutes. Have a bowl of ice water standing by. After three minutes, use a spider or strainer and scoop out onions into the ice water. Drain and cut the root ends off of each onion then holding the other end, squeeze, and the onion will pop out of its skin.
You may also like: