Baked Enchilada Meatballs are super tender and loaded with flavor – thanks to a surprise ingredient!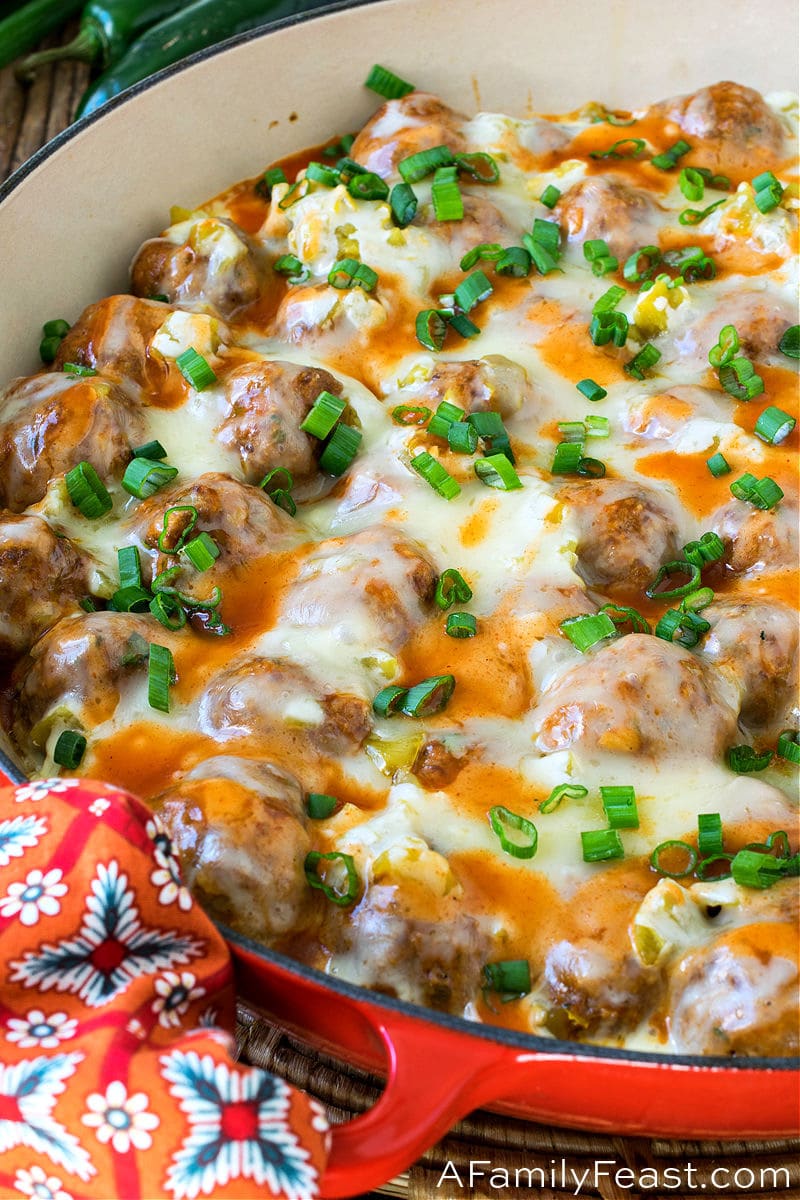 Everyone loves meatballs…tender little bites of meat that can be eaten on their own, made into subs, or smothered in a delicious sauce and served over mashed potatoes or pasta.
My husband Jack as been testing out different variations of Baked Enchilada Meatballs, and with today's recipe, he's really hit it out of the park! These are delicious, tender meatballs with a touch of heat and tons of flavor.
After baking our enchilada meatballs on a sheet tray, we then placed them in a pan on a bed of cooked white rice. Enchilada Sauce, chopped green chiles, and shredded Monterey jack cheese were placed on top – then the pan was placed in the oven to heat through and melt the cheese before serving.
Key Ingredients
Ground beef – We almost always use 80/20 ground beef in our recipes because it's the perfect ratio of meat to fat – and, let's face it, fat equals flavor! If your budget allows, we also recommend a grass-fed ground beef. The difference in flavor is noticeable!
Enchilada Sauce – You can make this recipe with canned enchilada sauce if you'd like, or cook up a batch of our Homemade Enchilada Sauce for even more delicious flavor. We used enchilada sauce both to form the meatballs, as well as a sauce on top of the final dish.
Cornmeal & Bread Crumbs – We used a combination of yellow cornmeal (our secret ingredient) and plain bread crumbs in the meatball mix. The corn meal adds a sweet, distinctive flavor, as well as a soft, tender texture.
Other flavors – Our enchilada meatball mix is seasoned with minced, fresh jalapenos, diced scallions, garlic, fresh cilantro, plus cumin and coriander. We also included some finely shredded Monterey jack cheese in the meatball mix.
How do I make Baked Enchilada Meatballs?
Mix:  You'll start by making the meatballs – mixing all of the ingredients just until combined.
Scoop: Use a one-ounce scoop and place them on a baking sheet lined with a sheet of parchment paper. (affiliate link) Bake until cooked through.
Bake: While the meatballs bake, cook some white rice. Then, spread the rice in the bottom of a baking dish. (We used a pan like this, but a 9×13 baking dish will also work.)
Melt: Place the cooked meatballs over the rice, then drizzle enchilada sauce over the top. Add chopped green chiles and shredded Monterey Jack cheese on the top and bake until the cheese is melted.
Serve: Serve immediately with more enchilada sauce on the side.
COOKING TIP

Avoid over-mixing the meatballs – mix just until combined for the most tender meatballs. Over-working the mixture can activate the gluten in the bread crumbs which will make the meatballs tough and overly firm.

Substitutions
You can make these Baked Enchilada Meatballs with other meats if you'd like. You can use a mix of ground beef, pork and/or veal.
You can also use ground turkey or ground chicken – although you'll want to add some oil to the mixture to compensate for the lower fat in the meat.
In a pinch, and to save some time, you could make this recipe with pre-made, frozen meatballs – but you will miss out on the delicious flavors of making the meatballs from scratch.
Can I freeze the leftovers?
We would suggest freezing the meatballs separately from the rice. Then when you're ready to serve, heat the meatballs in the oven, and cook fresh rice – following the recipe below from that point forward.
You might like these other meatball recipes:
Print
Baked Enchilada Meatballs
Author:

Prep Time:

30 minutes

Cook Time:

45 minutes

Total Time:

1 hour 15 minutes

Yield:

8 servings

Category:

entree

Method:

baked

Cuisine:

Mexican
---
Meatballs
4 tablespoons extra virgin olive oil
½ fresh jalapeno, 1 ½ tablespoons minced
1 bunch scallions, whites only diced, ½ cup (save tops for garnish)
2 teaspoons finely minced fresh garlic
1 10-ounce can red enchilada sauce (*Note: You'll need additional cans – see below in the Other Ingredients section) or make our Homemade Enchilada Sauce recipe
½ cup yellow corn meal
¼ cup whole milk
½ cup plain bread crumbs
2 pounds 80/20 ground beef
3 tablespoons fresh cilantro, minced
2 whole eggs
1 teaspoon kosher salt
½ teaspoon freshly ground black pepper
½ teaspoon ground cumin
½ teaspoon ground coriander
1 cup finely shredded Monterey Jack cheese
Other Ingredients
4 cups cooked white rice
2 10-ounce cans red enchilada sauce
4 ounces diced green chiles
2 cups Monterey Jack, shredded
Scallion tops, diced for garnish
---
Instructions
Preheat oven to 375 degrees F.
In a medium saute pan, place olive oil, jalapeno, scallion whites, and garlic and saute over medium low heat for 2-3 minutes or until the scallions and jalapeno start to soften.
Add 10 ounces of enchilada sauce and increase heat to medium high and bring to a quick boil.
Remove from heat and stir in the corn meal. Cover the pan and let sit off heat for five minutes.
Remove cover after five minutes and stir in milk and bread crumbs then pour onto a plate or small pan and refrigerate to cool slightly. The mixture will be thick and pasty.
While that mixture is cooling, in a large bowl place ground beef, cilantro, eggs, salt, pepper, cumin, coriander and the one cup of finely grated Monterey Jack cheese.
Add the cooled corn meal mixture and mix to combine.
Line a sheet tray with parchment and using a one-ounce scoop, scoop out 32 balls onto your counter or cutting board, dipping the scoop in water every so often to help the meatballs slide out.
Wet your hands and roll the 32 balls and place on the prepared sheet tray and bake for 18-20 minutes until cooked through.
While the meatballs are cooking, prepare the four cups of cooked rice.
Leave the oven at 375 degrees F and place the cooked rice into the bottom of a casserole dish that has been sprayed with kitchen pan spray. My pan was round but a standard 9X13 pan will work.
Lay the 32 meatballs over the top of the rice.
Drizzle all but ¼ cup of the 20 ounces of enchilada sauce over the meatballs and top with the green chiles.
Sprinkle all of the two cups of shredded Monterey Jack cheese over the top then drizzle the last ¼ cup of enchilada sauce over the cheese, cover and bake to heat the mixture and melt the cheese.
I used room temperature rice, sauce and meatballs and my finished dish took 25 minutes to bake.
If your rice, meatballs and sauce are hot to start, the end time will be less. (Everything is cooked, this last step is just to heat and melt the cheese.)
Dice the green scallions tops and sprinkle over the melted cheese and serve immediately.
Keywords: Baked Enchilada Meatballs