As a life-long resident of New England, American Chop Suey is a dish that brings back memories of school cafeteria lunches from my childhood!  Most people immediately recognize this dish of elbow-shaped pasta, seasoned beef, green peppers, onions, and tomato sauce – and although we call this meal American Chop Suey here in New England, this classic dish goes by many other names all across the country like goulash or chili mac!
American Chop Suey is classic, New England comfort food (with a distinct Italian influence) and it has universal appeal for kids and grown-ups alike!  In addition to being a dish regularly featured on school and office cafeteria menus (my husband Jack made it countless times during his food service days), it's also a favorite option for an easy weeknight dinner, or served at many church potlucks.
We stayed with tradition and made our version of American Chop Suey in a large, deep skillet on the stove top and sprinkled cheese on top – but some people like to finish this dish by baking it in the oven with melted cheese on top!  (Both versions are very delicious!)  We also used a non-traditional ingredient of V-8 juice in the sauce which adds a distinct flavor profile while staying true to the basic tomato sauce of this dish.
In the interest of making this recipe a little heart-healthier, we also drained most of the fat from the cooked ground beef and replaced it with a fraction of the amount of olive oil.  The result is a less greasy dish with a cleaner taste!
Please leave a comment below and tell me – what do YOU call this dish?
Print
American Chop Suey
Prep Time:

15 mins

Cook Time:

1 hour

Total Time:

1 hour 15 minutes

Yield:

6-8 hearty servings

Category:

entree

Method:

stovetop

Cuisine:

American
---
2 tablespoons

plus ¼ cup extra virgin olive oil, divided

3 cups

diced onion (divided as

1 cup

fine dice and

2 cups

¾ inch dice)

3 cups

diced green bell pepper (divided as

1 cup

fine dice and

2 cups

¾ inch dice)

2 tablespoons

minced garlic

2

pounds 80/20 ground beef

1

28-ounce can crushed tomatoes (we like Pastene)

1 cup

tomato sauce

1

5.5 ounce can of V-8 juice

1 tablespoon

Worcestershire sauce

2 tablespoons

tomato paste

2

–

3

Fresh Parmesan rinds, about 4 inch squares (optional)

1 ½ tablespoons

fresh chopped mint (if using dried, use half that amount)

2 tablespoons

fresh chopped basil (if using dried, use half that amount)

1 tablespoon

fresh chopped oregano (if using dried, use half that amount)

1 teaspoon

salt

½ teaspoon

freshly ground black pepper

1 teaspoon

sugar

1

pinch red pepper flakes

12 ounce

dry elbow macaroni noodles

½ cup

grated Parmesan cheese, for serving
---
Instructions
In a heavy bottomed Dutch oven or nonstick pot over medium high, heat 2 tablespoons of the olive oil and add one cup of the fine diced onions, one cup of the fine diced peppers and the garlic and sauté for one minute. Add the ground beef and cook until no longer pink, breaking it up into small pieces.
When the beef is cooked, pour the entire contents into a strainer and strain off the liquid. Place the beef mixture back into the pan along with the quarter cup of olive oil. Add canned tomatoes, tomato sauce, V-8, Worcestershire sauce, tomato paste, the optional Parmesan rinds, chopped mint, chopped basil, chopped oregano, salt, pepper, sugar and pepper flakes.
Using a heat diffuser under pot (see here), cover pot and simmer 30 minutes.
After 30 minutes add the two cups ¾ inch diced onion and two cups ¾ inch diced bell pepper. Cover and simmer 30 more minutes.
Fifteen minutes after adding the second batch of onions and peppers to the tomato beef mixture, in a large separate pot of salted water, bring to a boil and cook elbow noodles until just slightly under cooked.
After the tomato mixture has cooked for the second 30 minutes (60 minutes total), with a spider or strainer, add noodles and one cup of pasta water to the tomato beef mixture. Heat and stir for five minutes or until the pasta is perfectly cooked.
With a spoon or tongs, remove the Parmesan cheese rinds and discard.
To serve, ladle into bowls and spoon freshly grated Parmesan cheese over each bowl.
You may also like these other easy and delicious family meal ideas:
Slow Cooker Tomato and Tortellini Soup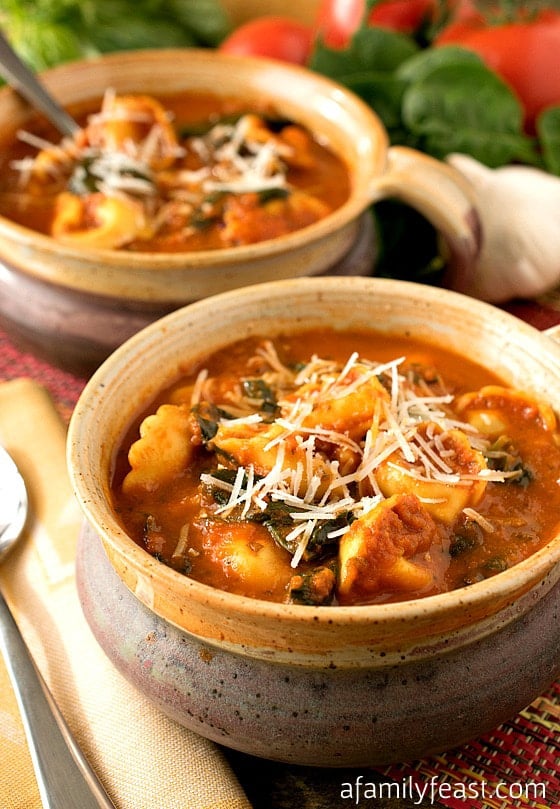 Israeli Couscous with Chicken and Peas