This delicious Air Fryer Cauliflower Crust Pan Pizza will satisfy any pizza craving!
Hi Everyone – This is Jack.  Ever since we bought an air fryer earlier this year, I've been tinkering around with some new recipes to eventually share here on A Family Feast. I'm also eating low(er)-carb these – but I love (and miss) eating pizza.
So, with all of that in mind, I came up with this delicious Air Fryer Cauliflower Crust Pan Pizza.
In this recipe I've used the air fryer in two ways. First, to help dry and drain the moisture out of the shredded cauliflower before making it into a crust. Second, to actually cook the pan pizza.
I used both a 3-inch deep and 1-inch deep pan that fits our air fryer brand.  Not all air fryers come with both sizes of these pans, so you might need to buy an accessory kit.
How do you make cauliflower pizza crust in the air fryer?
First of all, removing the moisture from the cauliflower is key to making a successful cauliflower pizza crust that isn't soggy – no matter what cooking method you use. I used the air fryer (which really is just a small convection oven) to make this step easier.
You'll start by shredding the cauliflower using the large holes of a box grater.  Next, pour the shredded cauliflower into a 3-inch deep pan that fits your air fryer, and 'air fry' (bake) the shreds to dry them out.
After that, pour the dried cauliflower shreds into a dish towel. Give it a good squeeze to remove any last remaining moisture.
In a bowl, I mixed the dried cauliflower with eggs, two kinds of cheese (Mozzarella and Parmesan), and seasonings – including basil and oregano. (Feel free to change up the seasonings if you prefer.)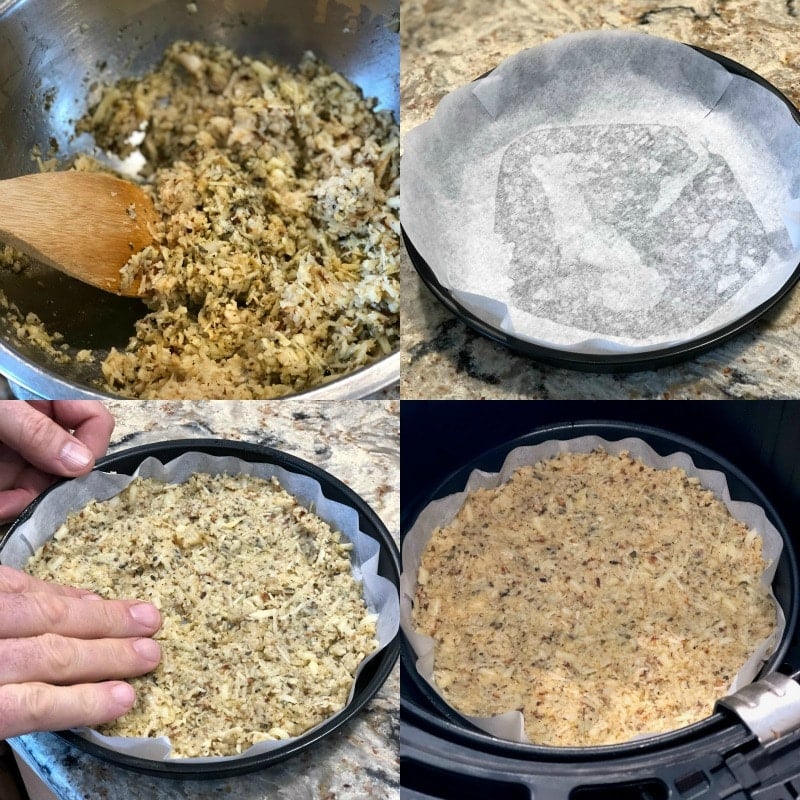 Then, I poured the crust mixture into a 1-inch deep air fryer pan that I first lined with round parchment paper.
I air-fried the crust for about five minutes, then added my toppings (our Easy No-Cook Pizza Sauce, more cheese, and cooked sliced sausage) and air-fried the pizza again for another 5 minutes until done.
This Air Fryer Cauliflower Crust Pan Pizza recipe makes enough crust for two individual-sized air fryer pan pizzas. Enjoy!
You may enjoy these other Air Fryer recipes:
Print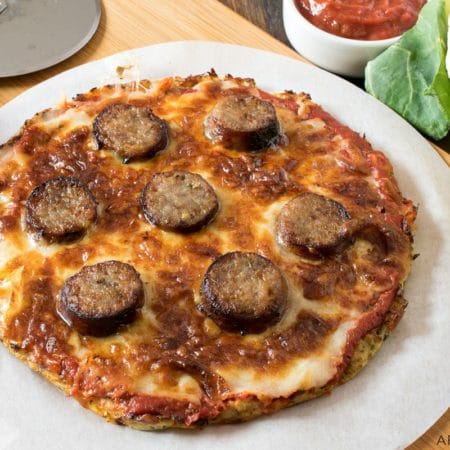 Air Fryer Cauliflower Crust Pan Pizza
Author:

Prep Time:

30 minutes

Cook Time:

1 hour

Total Time:

1 hour 30 minutes

Yield:

2 pan pizzas

Category:

pizza

Method:

air fry

Cuisine:

Italian
---
Description
Note: Process photos are included in the post above.
---
3 cups shredded raw cauliflower (use large holes on box grater)
1 tablespoon olive oil
2 fresh Italian sausage links
1 teaspoon kosher salt
½ teaspoon freshly ground black pepper
¼ cup freshly grated Parmesan cheese
1 ¼ cups shredded mozzarella cheese, divided
2 medium eggs or one jumbo egg
1 teaspoon dry basil
1 teaspoon dry oregano
½ cup of your favorite pizza sauce, divided (here's our easy no-cook recipe)
¼ cup shredded sharp cheddar cheese, divided
---
Instructions
Preheat the air fryer at 400 degrees F and have a 3" high round pan-insert ready.
Spray the pan with pan spray and add the raw shredded cauliflower.
Place the shredded cauliflower in the pan and with a fork, toss it a bit so it is not pressed into the bottom.
Air fry at that high temperature for five minutes, remove and toss then place back in for five more minutes. Repeat tossing and air frying five more minutes, total 15 minutes*.
Pour cooked cauliflower into a tea towel or cheese cloth and twist and squeeze to squeeze out as much water as possible. Really squeeze hard to get out every last drop.
Place in a medium bowl along with salt, pepper, Parmesan, ¼ cup of the mozzarella, eggs, basil and oregano and mix to combine.
*While cauliflower is cooking and drying out, add the olive oil and sausages into a small saute pan over medium heat and cook for 3-4 minutes on all four sides. Remove to a cutting board and once cool, slice into 7 slices each, total 14 pieces.
Take a one-inch high air fryer pan and spray bottom. Then take a parchment round and make a small slit in four corners and press into the pan then spray the top. The slits are so it will fold and fit into the pan.
Press half of the cauliflower mixture into the pan and place in preheated air fryer at 400 degrees F for five minutes.
Lift the pizza shell out by grabbing the parchment edges and then place a new parchment in with more pan spray and the remaining cauliflower mixture.
Place the second pizza shell in and air fry again for five minutes. Leave air fryer on 400 degrees F and leave this last pizza shell in the pan and parchment after cooking for the five minutes.
Divide the sauce, cheddar, mozzarella and sausage slices between the two pizza shells.
Place the one in the pan into the air fryer for 4-5 minutes. Remove once browned and melted and lift out pizza by the parchment and place the second pizza in for another 4-5 minutes.
Remove, slice and serve immediately.
---
Keywords: Air Fryer Cauliflower Crust Pan Pizza